Upholstered leather furniture always conveys a noble household. But if you don't care for the valuable furniture properly, the leather quickly cracks. Even with the inevitable stains, you have to be careful not to ruin the elegant seating permanently. Here are the best leather furniture care tips for your furniture to always stay in a pristine condition.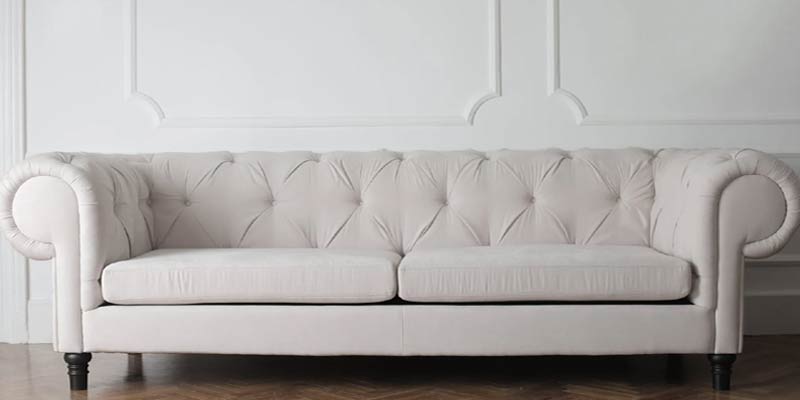 Leather Care After the Summer – Leather Furniture Care Tips
Especially after the summer, the leather furniture needs special care. For furniture made of smooth leather, treatment with a balm or care milk is recommended. Rubbing in keeps the material pliable and prevents cracks from forming prematurely. This type of care is particularly necessary when the furniture is exposed to direct sunlight even for a short while or indirect sunlight behind a large pane of glass over the summer. The leather not only becomes more supple after the treatment but the colours also shine more brightly.
Clean leather with neutral soap
1. Vacuum the furniture before treatment.
2. Use only distilled water and neutral soap and a clean cloth for cleaning.
3. Calcareous water can leave unsightly stains on the surface.
To avoid water stains, remove the soap thoroughly from the leather afterwards. This works best with a soft, slightly damp cloth. Don't go too hard on this because the leather is more sensitive when wet.
Suggested Read: Reducing the Risk of Infection – How to Keep Indoors Corona-Free?
Remove Stains in Leather
Leather furniture is also not immune to stains. But what should you do if a cup of coffee accidentally spills over the expensive furniture? To prevent liquids from getting into the leather, it helps to treat the cover regularly with leather grease. The fat forms a protective layer that prevents liquids from penetrating the pores. Besides, the leather remains soft, supple, and elastic.
If a mishap still occurs, the stain should be wiped up as quickly as possible with a slightly damp cloth. It is advisable to use distilled water for this so that no lime stains remain. Then dab on the remaining dirt with a slightly damp cloth and do not put pressure on the area until it has dried sufficiently. After the stain has been removed, you can treat the area with a little leather grease.
Treat Grease Stains Properly – Leather Furniture Care Tips
Stains from greasy substances such as sauces or cosmetics are particularly difficult to remove. It is better not to use harsh cleaning agents on leather. Therefore, you need to be careful when removing grease stains. There are various fat-dissolving leather care products that you should test in advance in a protected area before treating the stain with them.
Fresh grease stains must be bound as quickly as possible and Powders are ideal for this. When the fat is bound, the powder is simply swept up. You can use the household flour as well for this purpose. Generally speaking, the fresher they are, the easier it is to remove all stains. You should avoid rubbing too hard because it will put additional strain on the surface.
It is Best to Cool Stains Caused By Chewing Gum – Leather Furniture Cleaning
If a piece of chewing gum gets stuck on the smooth leather couch, ice helps. Cool the chewing gum leftovers with an ice pack. As a precaution, pack the cooling element in a plastic bag so that the adhering ice does not leave any new stains. The cold makes the residue hard and brittle. They are easier to scrape off gently.
Eraser Against Jeans Stains
Dark jeans often leave unsightly stains on light upholstered leather furniture. Due to the warmth and the evaporated moisture, the jeans dye settles on the leather surface. The leather is dyed here, which makes cleaning the blue areas particularly difficult.
As soon as you see such signs of use, you should deal with them immediately because once the stains have moved in, it is very difficult for them to come out again. It is best to use a light cleaning foam for this.
Every Type of Leather Needs a Different Care Product – Leather Furniture Care Tips
Not all smooth leather is the same. When cleaning upholstered furniture with this material, you should take special care of certain types of leather. Use care products with more fatty components for high-quality natural aniline leather. Also, you should apply a light protection grease.
Suggested Read: Konmari: The New Age Magic Home Cleaning and Organization Method
Before caring for your leather furniture, it's a good idea to clean it. This leaves the pores free and able to absorb the care components. It is best to repeat the cleaning every six months and ideally once before and once after the summer season.