Veere Di wedding had tons and tons of it. Perhaps Hum Aapke Hain Kaun, Hum Saath Saath Hain, Kabhi Khushi Khabhi Gham served a master-class in endorsing it beautifully albeit extensively.
And flicks such as Vivah and Mere Yaar Ki Shaadi Hai had it in the first to the end sequence and pretty much everywhere in the movie. There's something about the Lehenga now, isn't it?
There's always been something alluring and catchy about the quintessential bridal lehenga or the wedding lehenga that makes it such a coveted outfit in the end. If in case you were wondering and still weren't convinced as to how on earth was the wedding lehenga such a coveted dressing item, then consider the simple statement of fact.
Find for yourself, if not more, then merely five women in your locality, residential complex or from the close vicinity who would have worn their wedding lehenga- well according to them, the best wedding lehenga- for at least five occasions (i.e., as many occasions).
The thing about wedding lehenga is such that those who've worn it, swear by it. And those who do wear it once or twice, the latter, often being a rarity, swear to never repeat it. After all, it's got a special feeling and emotion tied to it that one doesn't feel like repeating it in life.
That's the real essence of the wedding lehenga. And truth be told, whether it's your own sister, our mother, our Masi (mother's sisters), Bua (father's sister), Chachi (father's sister-in-law) or any other family member, no one, just no one wishes to ever repeat the traditional albeit fancy wedding attire.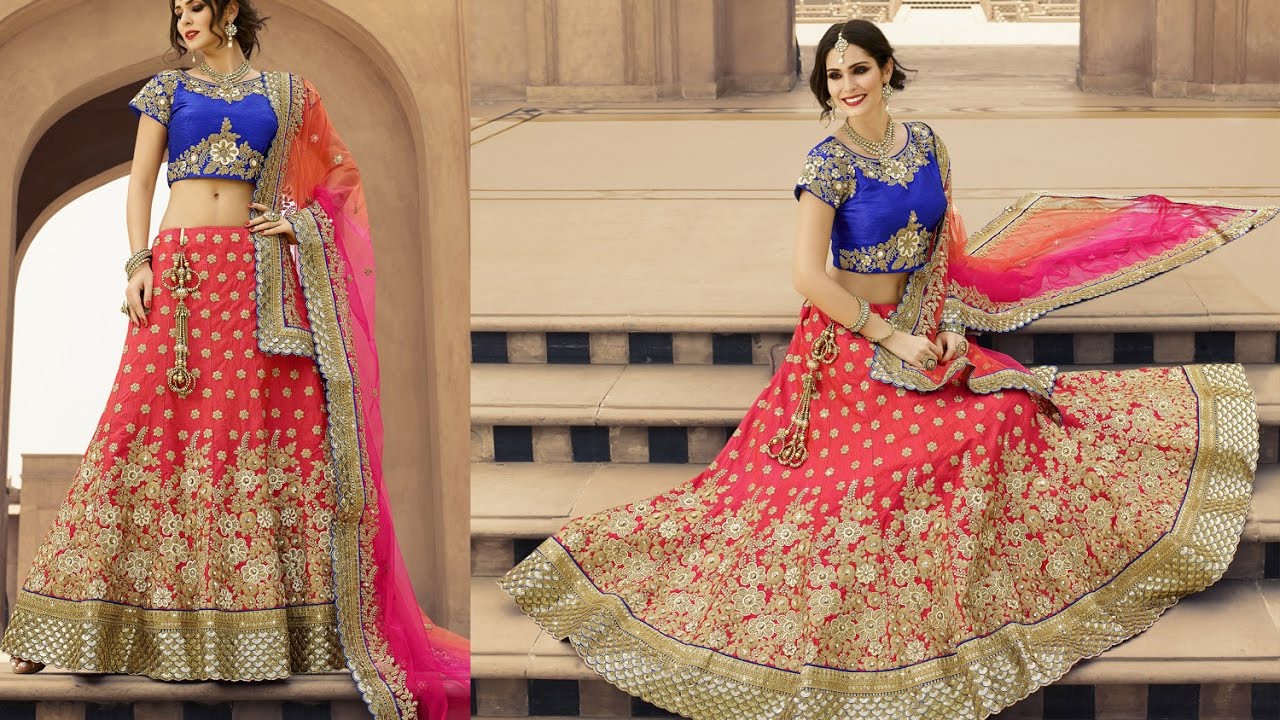 You can save up all you want for your favourite saree, you can go months without buying a single long-dress and you can evade the cringing passion to shop for an exciting new gown.
But when it comes to choosing the best wedding lehenga, you cannot afford to not put your best foot forward. It's something high up in one's bucket list when it comes to wedding and things.
Now that told, what are the tips for finding the best wedding lehenga. Surely, while the aspiration always remains paramount- that of finding oneself the best-possible lehenga there is, in terms of design, label markup, cost, affordability and other factors, one's still got to hit all the arrow shots on the bull's eye.
Isn't it? After all, the lehenga is the most important key in the hand of the bride to be, isn't it and it's for an occasion that comes just once in a lifetime. Therefore, here are some valuable tips that can enable you to make the key decision on how to chose the best outfit wisely:
When you hit a bridal store, never ask for the final lehenga
1. It's always wise to copy inspirations cost at a third- of the real designer lehenga
What this does, is that it gives you a clear-cut idea about the costs of the final lehenga. If you have a list of the prospective lehenga's ready with you, then, you can always count on the first copies of the actual or the real designer lehengas handy with you.
At times, cost, which is the massive decisive factor, may or may not be in our control. In these conditions, one can always rely on the first-cut copies of the original designer copies of the lehenga that you have chosen.
2. You can always rent a lehenga
In this age of growing digitization and seamless connectivity thanks to the mighty rise of social media and the culture of entrepreneurship, is it actually a surprise that a unique business idea stems from the sphere of the wedding lehenga?
Well, there are so many ecstatic and brilliant designer pieces available all around us that often it just becomes impossible to choose the final one or rather, pick the one that suits us the most.
In other cases, there's the cost factor that plays up. So well, what to do then? Simple! Nowadays, you can even rent a lehenga.
3. When you go to zero down on your best wedding lehenga design have someone experienced with you
In terms of it being a complete shopping experience, it's always a handy idea to get someone along who is experienced. Rather, make that simple in the form of someone who has worn a bridal lehenga before.
In case you are wondering why, then well, this isn't a rocket science.
At times, it may so happen that you think you have picked the best-possible lehenga but when you actually wear it, it may not look all that good on you.
This is a common recurrence. At times, we think we know what's best for us until someone comes along to remove the misconception. And in a similar vein, there may be a colour that isn't all that happening or ideal for us but when someone else (preferably someone close to us) tells us that it looks good, it can actually become a final choice.
Be sure to have a close member of your family or your best friend; someone who's known you very closely. Trust us, it will help.
Opt for buying the lehenga during a sale
There may only be a few other ideas that can match this one here.
A great occasion to finally wear one's item of fancy is during a sale period. That's actually the best-possible occasion to get one's hands on to this much-awaited item of the wedding, without which nothing could ever be complete. An important reason behind this decision is quite simply, the overall cost of the lehenga.
Well, as you see, most bridal lehengas often cost a bomb. What's the point of affording it in full price-range when good deals such as monsoon sale or off-season sale or the end of summer sale or options like those can make things easier?
Have someone with you who can hustle
Usually, it's that friend in need that is needed so much indeed in these situations. What else can possibly be said? If you cannot heckle or hustle for a good bargain, then have someone accompany you who actually can. You won't regret this.