Sweet potato is a starchy root vegetable that is a little sweet in taste. The cultivation of sweet potatoes is not restricted to any particular region. It is one of the rare vegetables that are available in a decent quantity across the world. The benefits of sweet potato are innumerable.
This vegetable comes in different colors like purple, orange, white and yellow. Even the leaves of this vegetable are edible.
If you are intrigued about what are the benefits of the sweet potato then this article is going to give you many answers.
So, here are 6 of the many health benefits of sweet potato:
1. Helps Control Your Blood Sugar Level:
The major health benefit of sweet potato is that it has a low to high glycemic index scale. The relatively low level of glycemic index indicates that it slowly releases the sugar in your bloodstream.
The release of sugar from sweet potato is very low as compared to that from other starchy foods.
This slow release of sugar helps in controlling the sugar levels in your body. This regulation of sugar helps in keeping a check on both types of diabetes i.e. Type I and Type II.
2. Helps You Manage Your Stress Levels: Benefits of sweet potato
Magnesium keeps a check on the level of your stress and anxiety. The health benefit of sweet potato is that it contains magnesium in a sufficient quantity.
Researches have shown that the modern diet has a very low level of this mineral i.e. magnesium. Therefore magnesium is deficient in most individuals these days. This deficiency leads to a higher number of cases of depression and anxiety.
If you are someone who is suffering from depression or anxiety then you must include sweet potato in your daily diet.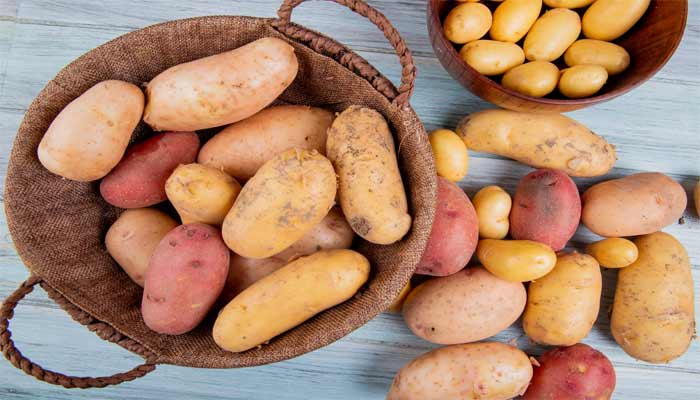 3. Anti-Inflammatory In Nature
The health benefit of sweet potato is that it is anti-inflammatory. This vegetable contains many nutrients which have anti-inflammatory properties.
Sweet potatoes have a high concentration of choline. One of the many benefits of choline is that it reduces inflammation.
Purple sweet potato is very popular in lowering inflammation. It also reduces the growth of fat cells which keeps a check on your weight.
Also read: Revolutionary Potato Diet: Potatoes Help You Lose Weight
4. Helps In Preventing/Dealing With Cancer
The health benefit of sweet potato is that it helps in preventing or dealing with cancer. The high amount of antioxidants protects our body against various cancers.
Purple sweet potato contains anthocyanins. This group of antioxidants is known to slow the growth of certain cancer cells. It mainly tackles the cancer cells that are present or are developing in the bladder, colon, breast, and stomach.
Additionally, test-tube studies suggest that even orange sweet potatoes have anti-cancer properties.
5. Helps You With Your Vision: Benefits of sweet potato 
Sweet potatoes have a good proportion of beta-carotene.
Beta-carotene is later on converted into vitamin A which is useful in producing light-detecting receptors in your eyes.
In many developing countries it is observed that people suffer from a particular type of blindness due to the deficiency of vitamin A.
The benefit of sweet potato with orange skin is that it will keep your vision in good health.
Additionally, purple sweet potatoes also have similar health benefits.
6. High Nutritional Values
The biggest benefit of sweet potato is that it contains all of the below vitamins, minerals, and fibers in a decent proportion:
Protein
Fat
Carbs
Vitamin A
Vitamin C
Vitamin B6
Potassium
Manganese
Niacin
Copper
The Takeaway
Our lives have taken many unprecedented turns in the last 2 years. And one thought which has stayed in everyone's – nothing is greater than your healthy self.
Diabetes, cancer, and such diseases are now becoming more and more common. One thing that we all can be and should be mindful of is – what do we eat.
Also read: Potato Beauty Benefits: 5 Ways You Can Incorporate Potato In Your Beauty Regime
The benefit of sweet potato is that it has a very high content of all vitamins, minerals, and antioxidants. So, including it in your daily meal will do so much good for you and your family.