The health of a person says a lot about his or her personality and about their outlook on life. Whether or not they want to be prepared for the future, after all, it is up to us to take care of our health in the very best way possible. Although, today's day and age have left us with very little time to spend on taking care of ourselves. This has led many to simply give up on the idea of bettering their deteriorating health. As we grow old, our body becomes more prone to risks and diseases. One of the most prominent diseases that men usually go through, is the risk of heart diseases which needs to be kept in check with healthy living and normal cholesterol levels.
One needs to exercise regularly and limit the intake of junk and unhealthy foods from their diet. Oily food contributes the most change in cholesterol levels which further makes one more prone to heart diseases. Today, we will go through some of the symptoms of this disease, and what all can one eat and do to regulate normal cholesterol levels.
Causes and Symptoms of High Cholesterol:
Firstly, let's discuss the reasons that cause high cholesterol levels in our bodies:
1. The consumption of foods that are rich in trans and saturated fats increases the levels of bad cholesterol or LDL.
2. Being overweight and not having much physical movement can be another reason for having high cholesterol levels, as obesity reduces good cholesterol and increases bad cholesterol.
3. After 20 years of age, the cholesterol levels in the body begin rising, so the age factor needs to be taken care of too.
You can get your cholesterol levels checked by a blood test and here's what the numbers indicate:
1. If the cholesterol level is above 240 mg/dl, then it is considered to be high cholesterol.
2. If the cholesterol level is between 200-239 mg/dl, then it can be considered as borderline high cholesterol.
3. And cholesterol levels below 200 is said to be considered normal cholesterol levels.
Age
Total Cholesterol
People aged 19
& younger
Borderline: 170-199 mg/dL

High: Greater than or equal to 200 mg/dL
People Aged 20
& older
Borderline: 200-239 mg/dL

High: Greater than or equal to 240 mg/dL

Normal: Below 200 mg/dL
So, it is important that you get your cholesterol levels checked as people with high cholesterol levels to have a higher risk of getting heart attacks or strokes.
Here are some of the most beloved home remedies that you can use to lower your cholesterol and bring them back to normal levels:
1. Fish Oils
Fish oil is an excellent source of omega-3 fatty acids. Its regular intake helps to control the balance of cholesterol levels in one's body.
You're supposed to take nearly 1000 mg of fish oil supplements or you can also go for fish like tuna, salmon etc. They also help to reduce the risk of heart diseases.
2. Coconut Oil
Coconut oil is known to increase the amount of good cholesterol in the body. You can replace your cooking oil with coconut oil or you can add it to your dishes in moderate amounts.
Consuming a tablespoon of coconut oil every morning is another alternative to keep your body on normal cholesterol levels.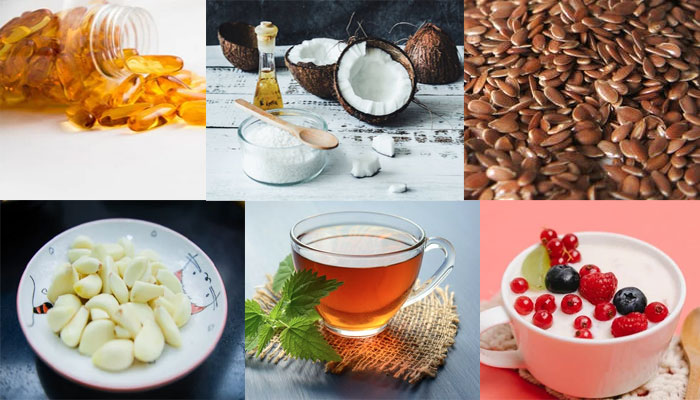 3. Garlic
Garlic contains allicin, which is a chemical compound and is known to reduce cholesterol naturally. You can add minced cloves of garlic to salads or dishes or you can directly chew peeled garlic cloves.
For the best effect, daily consumption is required. Plus, the amazing taste of garlic can be added to any of your favourite food to make it more flavoursome and delicious.  
Suggested Read: Home Remedies for High BP: These Foods Help You Lower Blood Pressure Naturally
4. Green Tea
Green tea is a powerful antioxidant mainly because it contains epigallocatechin gallate (EGCG) that is responsible for lowering the bad cholesterol levels from your body. Drink green tea thrice every day to see its wonderful effects.
5. Yogurt
Probiotic yogurt has good bacteria which improves gut health and plays an important role in lowering cholesterol levels naturally. Consuming a bowl of probiotic yogurt every day will keep your cholesterol levels moderate and your health in check.
6. Chia Seeds
Chia seeds are also a great source of omega-3 fatty acids, which reduce the levels of bad cholesterol and help in preventing cardiovascular diseases.
You can add chia seeds to your favourite fruit juice or beverage and drink it daily, or you can also add them to your bowl of oats for a crunch.
Suggested Reads: Are You Aware Of The Symptoms Of Fatty Liver Disease?
So, these were a few of the best remedies that can help to get you back on normal cholesterol levels. Consumption of these food items on a regular basis can help you to maintain the cholesterol levels at moderate and even lower them. Healthy food and daily exercises are the mottoes that one should live by, especially in today's age where more and more people are falling prey to some or the other form of life-threatening diseases, all caused by our current lifestyle.