Rosacea is an inflammatory skin condition. It's characterized as redness of the skin, usually visible on your cheeks and nose. It peculiarly affects those with a fair complexion, and it becomes very common with age. This redness can spread to the back forehead, chest, ears, and even eyelids in very severe cases or if triggered. Dermatologists are your best friend and first guide in such a situation, but there are also tons of home remedies for Rosacea that you can dabble around to give you comfort from the aggravating inflammation.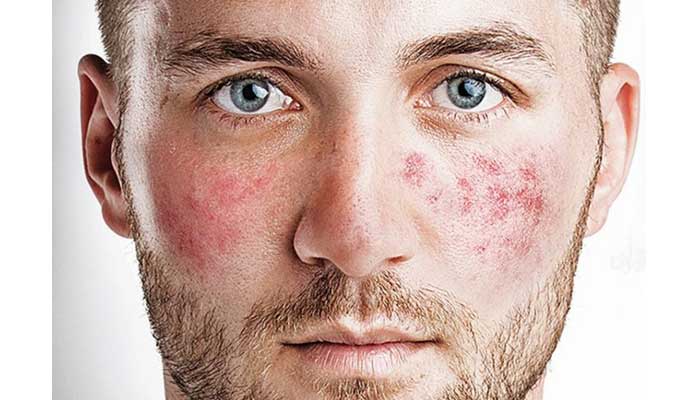 These home remedies for rosacea have some of the most readily available ingredients that most of you will already have in your kitchen cabinets.
1. Aloe Vera – Best Home Remedy For Rosacea
The elixir for the skin, Aloe Vera Gel which you can get from the inner part of the leaf of the Aloe Vera plant is soothing in nature and is a great moisturizing agent. It has been a tested and proven remedy for rosacea when applied topically.
Now a day's, many moisturizers and creams contain aloe vera. You can use these, or just grab a leaf from a live aloe plant and gently apply the inner gel directly to the affected area of the skin. Some people are sensitive or allergic to aloe vera, so it is advised to do a patch test before you apply it to larger areas.
2. Chamomile Essential Oil – Home Remedies For Rascue
Just like aloe vera, chamomile is also great for moisturizing skin. It is usually used topically in various herbal treatments for inflamed skin. Many studies have shown chamomile as a successful ingredient in home remedies for rosacea. You can always get a cream in your home which has chamomile as it is widely used in skin creams and moisturizers.
Chamomile essential oil can be diluted and applied topically on the affected area, it can reduce the inflammation very quickly. Or, you can also make a chamomile tea cool it down, and apply it as a skin wash.
3. Coconut Oil
Being a great moisturizer, coconut oil is popular as a remedy for all kinds of inflammatory skin conditions which including rosacea as well. There are not many studies that have shown the effectiveness of coconut oil in rosacea, due to its anti-inflammatory, antioxidant, and moisturizing properties.
You can apply a small amount of good quality coconut oil to the affected area of your skin. You can also use it as a carrier oil for other essential oils like chamomile for the best results.
4. Raw honey
All types of honey have been used in treating different skin conditions, but raw honey in particular can be very effective and soothing when it comes to acting as home remedies for rosacea. This is because honey helps the skin to retain moisture and treat dryness which can worsen rosacea. In a study done in 2015, a specific type of honey called "kanuka" honey was found to be very effective against rosacea.
You can get a good quality raw honey "Kanuka" or "manuka" honey and apply it in a small amount directly to the affected part of your skin and leave it for 30 minutes. After this, rinse the honey off with some cold water and pat the skin dry.
5. Green tea
Green tea is another active ingredient that is very rich in antioxidants and has been proven very beneficial in all kinds of skin inflammation diseases. Many studies have shown it can be very beneficial in the treatment of rosacea.
In fact, antioxidants are helpful for all types of inflammation especially skin conditions, and due to this green tea is a popular ingredient in skin products and creams for rosacea. Applying other topical products with green tea is considered to be one of the best methods for treating rosacea.
You can also brew green tea, cool it down, and use it as a compressor wash.
6. Turmeric – Home Remedy For Rascue
Being one of the best herbal anti-inflammatory ingredients, turmeric can certainly be used as home remedies for rosacea. It can be used for painful and inflamed rosacea symptoms.
You can apply turmeric essential oil diluted in a carrier oil like coconut oil or you can just mix turmeric powder with water and apply it directly to your skin and leave it there for 30 minutes then rinse it off with cold water and pat dry the area. Do note, turmeric can turn the color of your skin to yellow, temporarily.
Also Read: Home Remedies for Skin Allergies
So these were some of the home remedies for rosacea with which you can treat the beginning symptoms of it, or use it in case the situation is aggravated. However, we do recommend to visit a good dermatologist for the problem and take professional help, since, rosacea does have the ability to turn into a life-threatening disease.