How many of you have gone on a diet recently to shed a few of those extra kilos and take your health into your own hands? And, how many of you have actually given up on it in less than a week because of how hungry you were constantly feeling and how bland the food tasted? A majority of us have gone through something like this, which is why all of us must be more knowledgable about tasty recipes and healthy eating options. One of the most popular ones on this list is a variety of oats recipes for weight loss that are tasty and filling.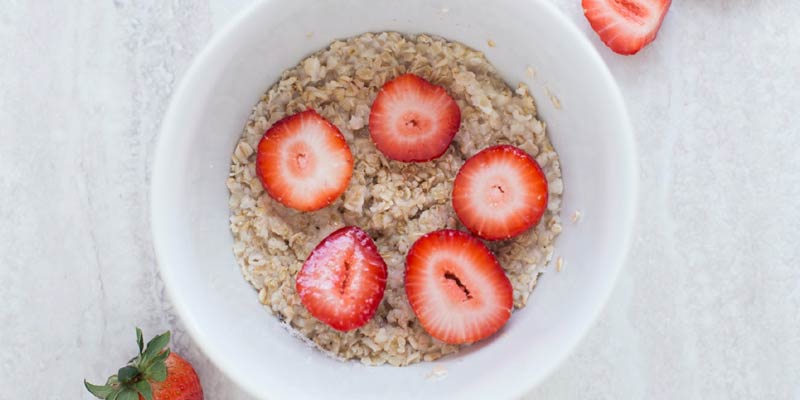 Oats are an excellent food group to incorporate in your dieting and their whole-grain aspect makes them a filling option to go for breakfast, in comparison to your average cereals. Moreover, they are incredibly nutritious with a bunch of nutrients and vitamins, along with being an excellent antioxidant. They also work wonders in lowering your blood sugar levels and reduces the risk of heart diseases in the future.
However, there are tons of different kinds of oats in the market and before trying any type of recipe, you first need to understand which type of oats you want to work with. These are the different kinds of oats in the market:
Types of Oats
A. Steel Cut Oats
These are the traditional kind of oats that have been made and used by people for years. They do require a more extended period of time (20-30 minutes) but are also power-packed with tons of nutrients and vitamins.
B. Regular or Rolled Oats
Somewhat similar to Indian Poha, these oats are steamed and then rolled to flatten them so that they'll require lesser time to cook. Traditionally, this type of oats needs 5-10 minutes to prepare.
C. Quick Cook Oats
These are steamed for a more extended period of time and flattened a lot more than regular oats, which pull down the cooking time to almost 2 minutes and can even be consumed without cooking.
The best one from all of these are steel cut oats or whole wheat oats since they're the least processed ones and still have a lot of nutrients and vitamins in them.
Now, let's look into some of the most delicious oats recipes for weight loss that can be had for breakfast, lunch, dinner, or even in-between snack time.
1. Oats Upma
Upma is one of India's favourite breakfast recipes and adding oats to the mix makes it one of the most delicious oats recipes for weight loss and weight management. You just need to substitute Rava from your traditional upma recipe to oats. Saute them first until they're crispy and brown and then add them later to the upma concoction as usual.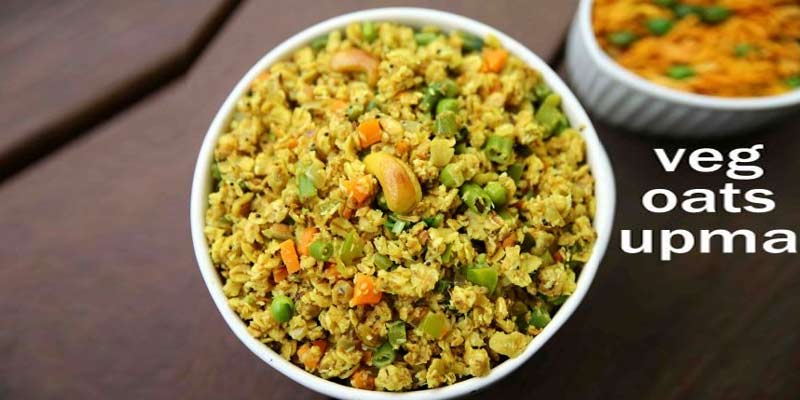 Suggested Read: What Are Benefits Of Almonds? Can you Eat Almonds for Weight Loss?
2. Overnight Oats
These are perfect for people who're looking for some quick and easy oats recipes for breakfast. You will need quick oats for this recipe, soak these oats in milk or water overnight. In the morning, top this mix with a variety of fruits of your choice, chia and other such seeds of your choice, peanut butter, vanilla essence and honey (if you like). It almost tastes like a healthy dessert for breakfast, which will also help you in your weight management journey, plus it's super easy.
3. Oats Smoothie
Yes, it does sound something very unique and interesting, especially for someone fond of smoothies but has never tried oats smoothie. This is another delicious oats recipe for breakfast, which can be had on the go and tastes incredible.
Chop fruits of your choice (mango, banana and some berries for instance), add these chopped fruits in a blender along with ⅓ cup milk, ¼ cup quick-cooking oats. If you want your smoothie to be extra sweet, then you can add honey or some other sweetener to it too. Blend it until it's smooth and transfer it to your smoothie mug, and have it cold.
4. Oats Chilla
Chilla is another excellent snack or breakfast food that is consumed by many on an almost regular basis. For this recipe, you would first need to blend 1 cup of oats into a slightly coarse to a fine powder consistency. Mix ¼ cup of besan, cumin, salt, turmeric and red chilli powder with the fine powder of oats.
Add a mix of finely chopped vegetables and to this mix and pour water into it until it turns into a slightly runny consistency. Then, pour a ladle full on the pan with oil spread at it first. Cook it on both sides and enjoy. This is a super simple and easy-to-make recipe for breakfast and snacks.
5. Oats Khichdi
Khichdi is India's comfort food which immediately gives you nostalgia about childhood when everyone used to comfort you with a piping hot bowl of khichdi. As for these oats recipes for weight loss, oats khichdi is a super easy recipe to make and devour on.
For this recipe, you just need to swap oats with rice, but make sure to use steel-cut oats for this, since they are filled with nutrients and less processed. As for other ingredients, use the same one that you usually have for your khichdi and you're good to go.
Suggested Read: These Low-Calorie Fruits Will Keep Your Dieting Game On Point
These were five of the delicious oats recipes for weight loss that can be enjoyed at any given time of the day. They are easy to make and consume and a crowd favourite for their nutritional value and use of limited ingredients.