Raise your health quotient with raisins, you may have heard. But there's so much more to raisins than just being had as a healthy dry fruit, which it fundamentally is.
The mouthwatering world of desserts almost always finds things (anytime eatables) like cakes, puddings and pies that have raisins as their central ingredient.
So let's get mouth-watery here in exploring some delicious desserts that simply can't be imagined in the absence of raisins:
1. Applesauce Cake
The world, much like things that make us happy, such has mum, Paris, ice cream, best friends, Tom Hanks, Archie Comics, and Disneyland (among the many beautiful things), has so many kinds of cakes that there's never enough time on our hands to get our share of them all or as they say, get handful!
With chocolate, strawberry, vanilla, pineapple and many more, there's never an end to the lip-smacking varieties that there exist. And yet, there's much more such as the Applesauce cake.
And truth be told, one of the best ingredients that one can have in this type of cake are the raisins. The applesauce cake, it's no real secret, is considered to be a favourite among the top notch bakers.
Fragrant fall spices are stirred with applesauce are added to the cake batter. The same already has raisins in addition to walnuts.
And while this cake is had during high tea or as an evening delectable bite, it can really be adjusted anywhere during one's meal time for it's so vivacious and have-able, for the lack of a better expression!
2. Apple Rum Raisin Bread Pudding
Much like hanging out with one's best friend, sitting in the balcony on a breezy summer evening or allowing oneself to be cajoled by choicest western classical music, there's much love and allure towards having a great bite of a desert.
And what could be better, it ought to be asked, than having a hearty pudding- right. Ever thought about having the apple rum raisin bread pudding?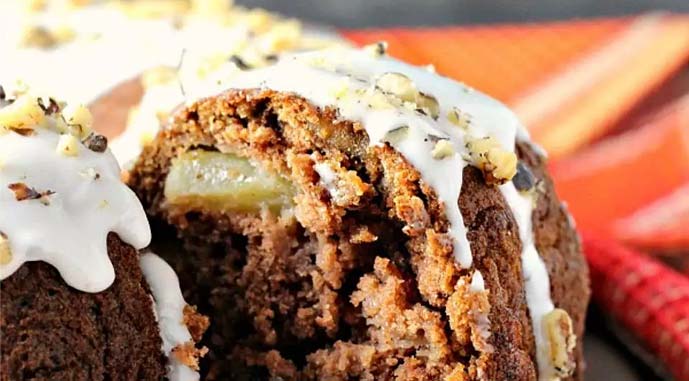 While it may seem a spectacularly European dessert, it is but a sweet bite that is, well and truly speaking, hard to resist.
It's important to note that this particular dessert is given a deliberate boozy touch. The same is ensured by way of addition of rum-soaked raisins.
Furthermore, the addition of sweetened bits such as gooey baked apples as also soft brioche, not to forget, cinnamon custard make the Apple Rum Raisin Bread Pudding a delectable taste and one you just can't have enough of.
Suggested Read: Here Is Easy To Make Banana Cake Recipe Without Oven Usage
3. Carrot Pudding
The carrot pudding is one such dessert that you can have at any time of the day. That it is a healthy dessert, which unlike the illusion that there are none of such things, actually true.
Though, it's considered to be more of a festive pudding, there's more to it, which is why it is available during any particular time of the month especially in places in destinations in Europe.
And has one recipe site put it perfectly, "it is baked in a bundt pan for that signature round shape, and coated in a vanilla glaze. Flavored with seasonal spices like cinnamon, nutmeg, and cloves, it's a great choice for holiday baking."
Also Read: The Best And Easiest Cheesecake Recipe
4. Stollen
Fundamentally speaking, one doesn't only go to Germany to have beers! Well, yes you do but then there's always so much more to the country of Mercedes, Porsche, Audi and Michael Schumacher or Vettel than some of the world's finest breweries and beers.
If there was a dessert any culinary taste or culture anywhere on the face of the earth would quite like to steal then, it's stollen.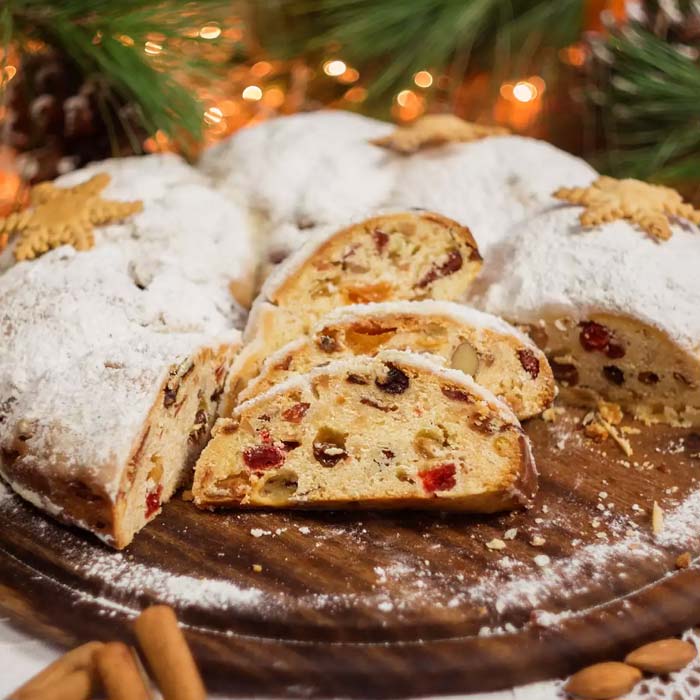 It's a quintessentially German dessert much like barfi or Gulabjamun that belong to India.
The thing is, if you happen to have visited Germany during the time of the Christmas time, then chances are, you'd have, at least, seen the Stollen.
Rum-soaked raisins coupled with other chief ingredients such as dried cranberries and sliced almonds make this exclusive-to-Deutschland dessert a one of a kind bite!
And remember, you just can't have one, there's this temptation to bite into so much more.