No outfit is complete without some accessories and what could be better than some beautiful rings on your fingers to complete the look? Whether you want to make a statement with your cocktail dress or want to add some bling to your everyday outfit, you can never go wrong with some elegant rings.
If you want to expand your jewellery collection and add some beautiful rings to your collection then you would want to check out the extensive collection of statement rings at Mia by Tanishq.
You can choose to go with gold or silver rings according to your personal preferences and the tones of outfits you put on every day. If your everyday wardrobe consists of cool tones like blues, greens, and greys then going with silver and diamond rings would be preferable.
On the other hand, if you prefer to wear warmer tones like yellows and reds, gold rings are the way to go! There is a plethora of ways you can style rings to match your outfit seamlessly, and if you are looking for some ring-spiration, you have come to exactly the right place.
1. Triangular Rose Gold Quartz
This ring featuring twelve brilliant cut diamonds along with a beautiful rose quartz is sure to make a statement. The rose quartz that is embedded in a bezel setting looks ethereal and has a super unique vibe that looks mesmerizing.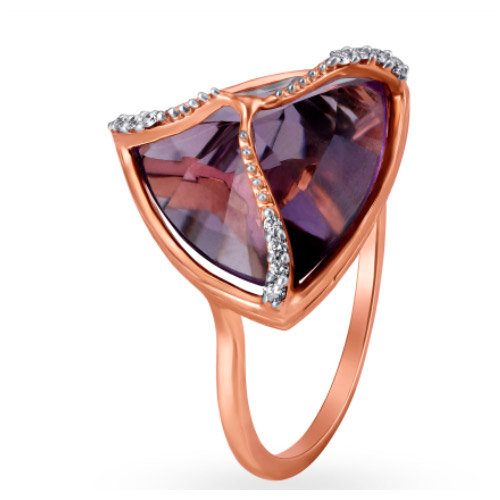 The Y-shaped positioning of the diamonds adds the oomph factor that takes this ring to another level. This rose-gold ring is perfect for any night out and will look excellent, paired with a sleek black dress.
2. Classic Gold
Having a yellow gold ring in your collection almost seems essential. It goes with virtually everything and pairs amazingly well with any Indian outfit. This ring with a semi-orb design has intricate open work which will catch the eye of everyone around.
With a solid rim and beautiful floral work pattern, you can never go wrong while styling this ring. At the shank of the ring, a square patch is etched giving it a slightly asymmetrical look which makes takes this simple yellow-gold ring to another level.
3. Contemporary Rose Gold
This ring screams the modern minimal aesthetic. This simple yet striking rose gold ring is simple to style and subtle enough to not overpower your look. The design includes an open-ended band that splits midway adding to the modern look.
With a bold and unique look, the rings look quite subtle with a rose gold tint. The colour of the ring enhances its overall appeal and is perfect for the young, and dynamic women of today. This ring is perfect for your everyday wear, and makes for great office jewellery.
4. Emerald Statement
Who doesn't like to be the centre of attention? With this emerald green ring, all eyes would be on you. It features a burnished gold band and flower elements that increase the charm of the ring. The floral motifs are placed on two prongs with precious emerald stones.
You can keep your outfit simple with a denim and solid colour top, as this ring would immediately amp up your look and add the bling to compliment your outfit.
Also Read: Most Expensive Stones In The World
Where to Shop for Rings?
We have all seen rings being sold at various stores both online and offline, but many of them are of low quality and can break easily. To avoid getting rings that may lose their shine over time, it is imperative to shop for rings from known sellers who will be sure to give you good-quality rings that will stay with you forever.
One such trusted and the credible jeweller is Mia by Tanishq. The collection here offers both a variety of designs and good quality. From the ample collection at Mia, you can pick and choose the rings perfect for you.