In the realm of tennis, few names can match the success and gravitas of multi-grand slam winner Serena Williams. She's an impassioned athlete, a mega-successful Tennis star and, above all- a truly inspiring and sensational name on the global stage.
Women are envious of her physique, men find her quite charming and now, given her highly individualistic fashion sense, even the shutterbugs cannot seem to keep off her. Serena Williams is both fashionable and elegant in equal measure.
But among the great Tennis superstars of all times, it could be added, prefers to follow a  completely unabashed fashion statement, one that truly defines her as the person and soul that Serena Williams is from within: bold, a confident go-getter and totally unassuming. It seems, there's hardly ever a dull moment in the life of this alluring American sporting diva who, it could be seen, knows a thing or two about putting the right foot forward when it comes to making an impression in photo-shoots and whatnot.
And that said, there's no new wisdom added whatsoever in stating merely the fact, rather the common discourse of our times that athletes are no longer subjected to or restricted to their coverage on the pitch of their sporting excellence. Particularly attractive tennis sensations and stars are commonly found regaling all the worldly attention that comes their way whether they walk down a scorching-hot ramp and take part in glitzy fundraisers.
Tennis stars like Serena Williams- who have got plenty of verve and an appetite for putting up a fiery show of razzmatazz- often actually look nice being amid fashionable parties and memorable shows that are centred or themed on their exuberance. So recently, when the African-American beauty who resides in the US was part of an exciting and truly one of a kind fashion photo-shoot, all eyes, unfailingly, were on her pert figure and curvy, lithe frame.
Importantly, wearing an intoxicating and colourful melange of exciting shapes and shades, Serena Williams unfurled a truly sassy and very gaudy technicolour Dreamcoat that cast her in a shadow of immense attention and celebration.
Harper's Bazaar has, over the years, made it an enduring habit of bringing up something special from celebrities and A-listers the world-over. So, there was hardly any surprise that some iconic sports-star, someone of the class and repute of a Serena Williams would be chosen in to exhibit a truly sassy and alluring fashion style, albeit it being slightly 'no-holds-barred' one.
Seeing running along a beach, wearing that colourful, jazzy technicolour Dreamcoat, Serena Williams carved a signature style statement for the latest edition of the revered fashion publication. Describing herself as both strong and muscular as well as beautiful, it's not hard to see why Serena Williams looks so good on the magazine's cover. They say you look your best when you are, unfailingly and uncomplainingly yourself and no one else apart from being you. In fact, to be others means to let go of one's individuality and what's the fun in that?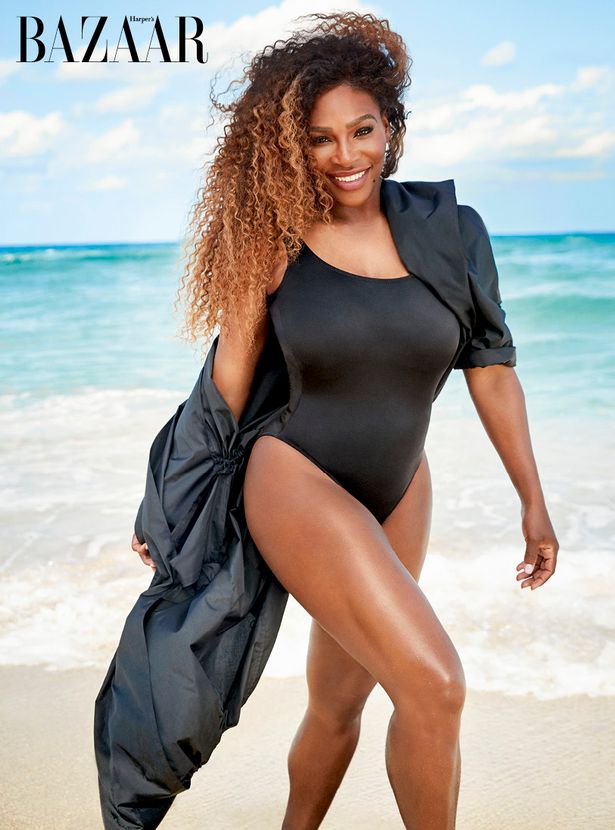 What drips off gently from every pore of Serena Williams' body- in the magazine cover- is nothing but an amassment of great peace. It's the one reflection of poise that separates run-of-the-mill photoshoots from unbelievably good ones and by now, one doesn't need to debate as to where to place Serena Williams.
Upon completing the successful photo-shoot, the right-handed Tennis sensation added a simple phrase describing herself in her appearance. She adds: "This is me, and this is my weapon and machine."
Recognised and regarded world-over as a strong and independent young woman, Serena Williams earned the praise of her fans- an adoring public the world-over- when it was revealed that the Tennis star had successfully overcome an onerous period of suffering and emotional torment following the birth of her only daughter.
An outstanding athlete, who also wishes to be a perfect parent, Serena recently admitted to crying because a few days ago, she lost the ability to maintain emotional control when she failed to recover her daughter's customary water bottle.
She chided herself stating that she had always wanted to be a 'perfect parent' to a loving daughter because she could not find Olympia's water bottle. In the currently contested French Open, an all-time favourite Serena Williams has already won the opening round and looking ahead for some interesting contests.