There are certain things that all of us want to avoid at any cost and one of that can be panda eyes, also known as dark circles that are there under your beautiful eyes. These dark circles can be a result of many things like stress, of life and work, or lack of sleep, unhealthy diet and even sensitive skin.
While many tend to cover up these dark circles with the help of makeup on day to day basis. However, they are going to be there until a change in routine occurs. And if it almost seems impossible for you to change your routine, then there are many other things that you can resort to, in order to bid adieu to panda eyes.
One ingredient that can be your saviour in this journey is Castor Oil which is a very thick oil and helps in solving a huge number of skin issues. And, if you have a doubt about how can an oil solve your and millions of others inevitable problem then check out the reasoning and different methods that you can correspond to.
Why is Castor Oil beneficial?
Castor oil helps in treating numerous skin problems like itching, eczema, dryness and even dark circles. It is considered to be an excellent moisturiser and contains plenty of fatty acids which keeps the skin hydrated as well as nourishes it.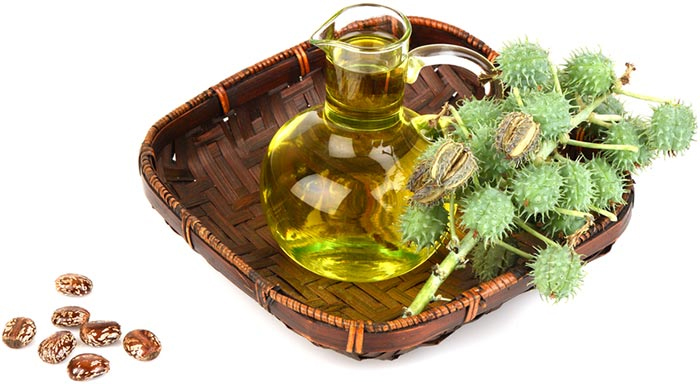 The oil is rich in antioxidants and helps in saving the skin from getting damaged. It absorbs all the dust and dirt and leaves the skin clean and fresh. Apart from being antiviral and antifungal, castor oil also has great healing properties.
You can try these methods with Castor Oil infused in them to say a complete goodbye to your dark circles.
1. You can use the castor oil by itself to treat the issue, simply massage the oil under your eyes and leave it on overnight.
2. Add castor oil and full-fat milk together and apply it on your dark circles, keep it on for an hour or so and then rinse it with lukewarm water.
3. The mix of castor oil and almond oil is also great to try. Massage the mix around your eyes and leave it on for overnight.
4. Castor oil and coconut oil can also be used in the same manner as the almond and castor oil mix.
These different methods don't take a lot of your time and can be created with items which are most probably already in your cabinet. Everything takes its own time, however, it's advised to repeat the steps regularly for the best results. There are some things that one should keep in mind while being on their quest to get rid of dark circles.
– Before trying out any of the above-mentioned methods, have a patch test with castor oil on the inner forearm area. This should be done to identify if your skin is allergic to the oil or not.
– Be careful while using castor oil around your eyes and keep them shut, so that the oil does not get inside the eye. If something like that happens, immediately use a cotton pad to wipe the oil and then wash the eye with clean and cold water.
– It is advised to use ring finger while applying the mixes as this finger applies the least amount of pressure and is said to be suitable for sensitive skin area.
– After rinsing off the concoctions, apply moisturiser on the area.
All these methods and benefits make Castor Oil a must in your beauty cabinet. The oil possesses many benefits and helps your skin to reverse the results of stress and lack of sleep. Try them yourself and find the answer to it.
21st March 2017
Jyotsna Amla