The contemporary or modern look of the man isn't only rendered complete by only having proper hair, a fancy wardrobe and eclectic style or choice of clothing for the entirety of the year.
While the boots are the primer to the utter masculine look just the way the hairdo is, can the contemporary look stand on its own minus a great watch or that thing that bejewels the manly wrist?
What should ideally be on your watch is a great watch, a must have- no?
Which is we, we present to you the 5 best watches for men under 10000 right here without any further delay!
5. Timex Analog Silver Dial Unisex Watch- TW00PR213
Price: 4995/-
A silvery colour and a clean look, to top it up, the Timex Analog Silver Dial Unisex is amongst the most popular watches for men under Rs 10,000 at the moment.
It's simple touch of elegance has its wide array of buyers particularly here in the Indian market, which is ever reactive or should one say responsive to price changes.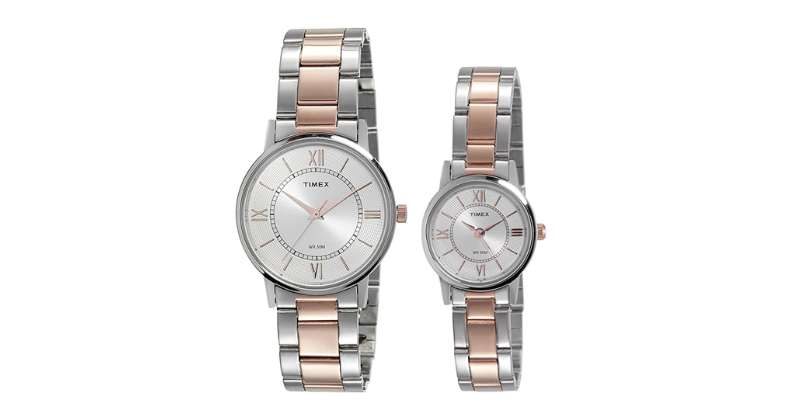 With a round case shape and an analog display time, this stainless steel watch is quite an impressive addition to the men's stylish wardrobe, it ought to be said.
What's more? Coming from the dependable stable of Timex, the 24 millimeters waterproof watch comes with a 1 year warranty.
That good enough for you? When are you stepping out to get one for yourself?
4. Scuderia Ferrari Men Blue Brass Dial and Blue Straps Analogue Watch 0830904
Price: Rs 7,980/-
For starters, welcome to the world of Scuderia Ferrari.
In lighter but exciting vein, it ought to be said that once you wear this perfectly designed creation which is clearly amongst the best watches for men under 10000, it is akin to setting a perfectly timed lap whilst driving a Scuderia Ferrari!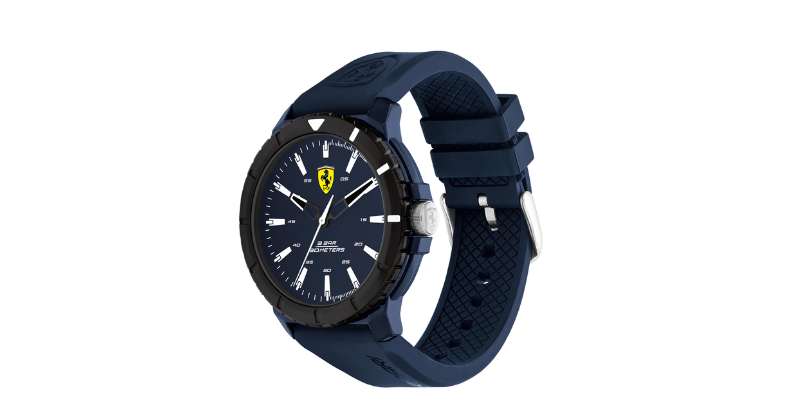 With a quartz movement, analogue display and good clean design, this one is meant for the lot that decides to be decked in something classy, yet elegant and not over the top.
One of the unique features of this watch is that it gives you the freedom to reset time as per your destination with up 30 meters of water resistance.
With a two year warranty, this Charles Leclerc of the Scuderia Ferrari watches comes in a hundred percent original Ferrari case, which is clearly something to own in itself- is it not?
It's a Ferrari at the end of the day.
3. Casio Enticer Men Analog Black Dial Watch MTP 1374D-1AVDF
Price: Rs 5,995/-
With the freedom of paying through cash on delivery as an option available on this particular Casio make, it is little surprise that the Enticer Men Analog Black Dial Watch MTP 1374D-1AVDF is one of the best watches for men under 10000 at the moment.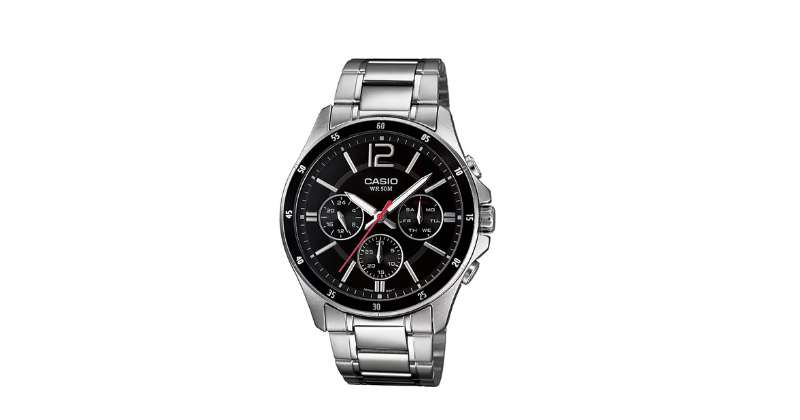 One of the most good looking makes ever from the popular stable of Casio, this watch easily combines design and great functionality and with much ease without appearing too loud or boisterous in the end.
One of the biggest pluses associated with this particular gent's watch is that whether it's raining or there are splashes of water around you, you needn't worry. Why? Well, it's simple- for the watch's 50 meter water resistance allows you that kind of freedom.
Yet, another factor that has been contributing towards an uptide in this make's sales is the very fact that the watch in itself is more enticing than it appears online, or for that matter in catalogues as far as looks department is concerned.
4. Titan Men Brown Dial & Brown Leather Straps Analogue Watch – 90134SL02
Price: Rs 9645/-
A bit tasty for your budget, is it?
With its analogue display and quartz movement, coupled with the freedom of opting from a brown, or regular or leather strap with a tang, this make from the house of Titan is clearly among the popular and best watches for men under 10000.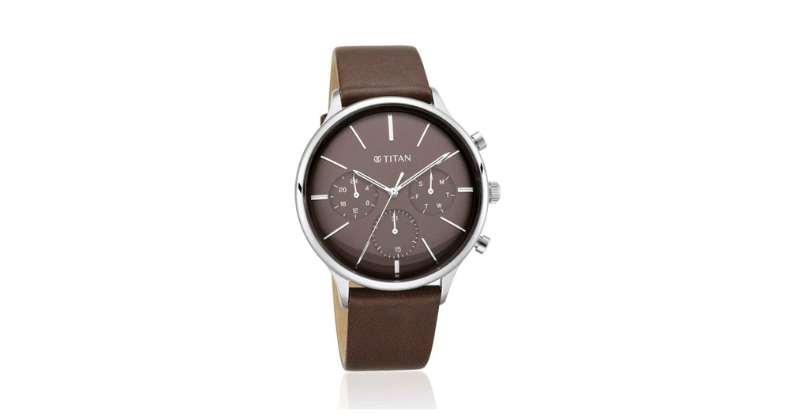 While one does know that Titan stands for dependability or bankability as also for a sense of understated style, the Men Brown Dial and Brown Leather straps analogue watch is certainly elegance redefined with a sense of minimalism.
Moreover, this hot selling men's item comes with a 2 year warranty and has a water resistance of 50 meter.
1. Tommy Hilfiger Men Printed Dial & Brown Stainless Steel Straps Analogue Watch TH1791933W – Best Watch for men under 10000
Price: Rs 9796/-
What can one say other than quoting that here's a classic, branded watch from the house of a brand that, to put it mildly, does not need any kind of introduction.
With it's analogue display, quartz movement, this printed round stainless steel dial allows one the feature to reset time and cuts a rather dapper pose for one posing, whether in smart casuals or absolute formals.
Also Read: What are the 6 best watches for men under 5000 Rupees in India?