The cell phone can never completely replace your wallet. You will have to agree that it feels good to touch currency and cards Also, you feel safe in the knowledge that if in case you lose data connectivity on your phone your purchasing power does not come to a standstill. And to talk about the things I have seen in some peoples wallets! Pictures, receipts from dry cleaners, office identity cards, lucky mojos and…..ah! The list is unending. So, here we have jotted a list of best men's wallets in India for you to buy your perfect companion.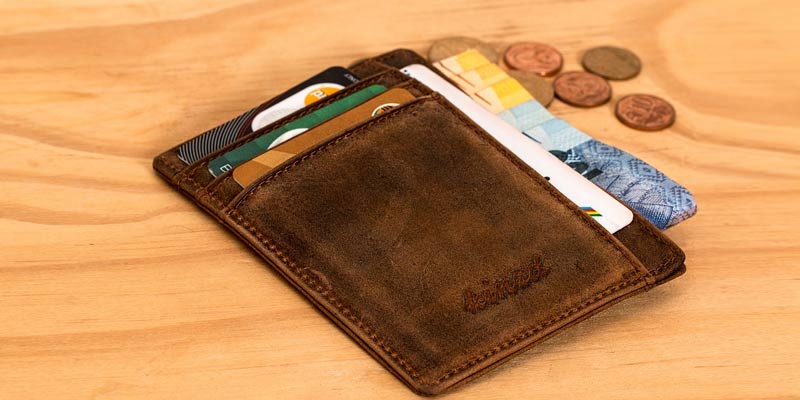 What you carry in your wallet is completely your choice and no one is judging anybody here. We just want to share a list of all the brands which offer the best men's wallets in India.
1. Allen Solly – Best Men's Wallets in India
Allen Solly make very affordable and stylish wallets for your daily use and to complement the Friday dressing style which is always on-trend.
2. Armani Exchange
Armani Exchange offers wallets in polyester, patent leather, faux leather and genuine leather too. With all the color options and designs, they come with a hefty price tag ranging anything between 4 – 10 k.
3. Baggit – Baggit Wallet for Men
Baggit is an Indian brand which prides itself for its cruelty-free non-leather products. Most of their men's wallets are made of PU or PVC and are very long-lasting and also very easy on your pockets.
4. Flying Machine – Best Men's Wallets in India
Flying Machine is yet another Indian brand that offers genuine leather wallet also and that too at pocket-friendly rates. They keep evolving their designs with their customer base and have a lot of variety and colors to offer.
5. Fossil
Fossil is an American brand which brings its vibrant colors and designs to men's wallets in India. They are priced at around 2-4k and are made of a variety of sturdy material.
6. Satya Paul
Wallets from the house of Satya Paul are the symbols of sophistication and classiness in India. Their men's wallets are priced at an average of just 2k.
7. Tommy – Indian Wallet Brands
Tommy has been known for its genuine leather men's wallets which come within a price range of rupees 1500 – 3000. Their designs are an eclectic mix of color, fabric and other materials.
8. United Colors Of Benetton
UCB has always appealed to younger clientele with their bright designs and affordable prices. Their wallets are worth their while till they last.
9. Van Heusen – Van Heusen Wallet
Van Heusen holds the market of very official-looking genuine leather wallets for men. The pricing is decent but their wallets come in just two basic colors of genuine leather.
10. Woodland
Woodland takes away a major share of the men's wallet market in India. They are very economically priced and offer genuine leather products. They have a marvelous designing department which keeps shelling out surprises for the experimental client.
Apart from these popular brands, there are some brands which are otherwise well known but not for their men's wallets. Some such premium brands are –
Timberland
Mont Blanc
Gucci
Bellroy
Carhartt
Lesser-known economy brands for the best available men's wallets are –
Sreeleathers
Wildcraft
Cross
Urban forest
Hornbull
I would also like to mention FabIndia and Hidesign as two slightly overpriced brands but people ignore the quality of their men's wallets. The designs they offer and the durability of their products are unmatched and that is why they are my personal favorite.
Suggested Read: Interesting Ways To Rock All Black Outfits For Men In Almost Every Scenario
Although there are hundreds of brands available to choose from, we have tried to narrow down your search for the best men's wallets in India. Please feel free to add to this list and share your reviews for any of these brands if you have used them.