Gifting is one of those experiences by the end of which one feels extremely content and happy. However, picking a gift is not always easy, especially when one needs to find a gift for a man. Women are easy in terms of finding a gift for them, after all, there are so many options, but you need to look extra hard to find a gift for a man. Keeping this in mind, we have decided to make a list out of some of the face care gifts for men.
Face care is a very-very big industry, and yes while they majorly cater to women and their needs, as well as, problems, they are now stepping into the men face care segment. More and more brands are dipping toes into this particular segment and catering to men face care needs which is amazing.
One can blame the entire shift on how engaged men are with their looks and how they are perceived by the others which is one of the most popular reasons behind the growth of men's face care segment. Everyone is growing a beard and mustache and not just growing it, they are keeping it groomed and making it look amazing at all times, and for this they need products which is why if you need to gift a man in your life – a boyfriend, brother, father, husband or even a friend – then you can totally look out for some face care gift for men.
In order to make the task a bit simple for you, we have gathered a bunch of options in the face care gift for men segment out of which you can choose from.
1. Beard Care Combo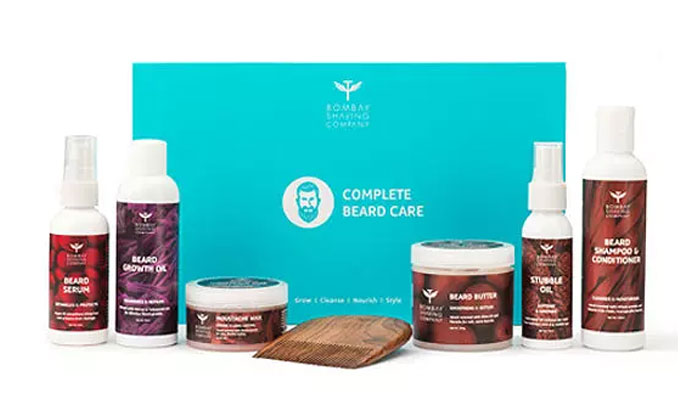 This particular beard care combo from Bombay Shaving Company, one of the most popular brands in the market catering to men's grooming, is everything a man would need, in order to keep their beard on point which makes it a fantastic face care gift for men. The mantra behind curating something like this is the fact that a good beard doesn't grow overnight and one needs a great deal of patience, time and best products for it. This particular combo includes beard shampoo and conditioner, beard growth oil, beard butter, mustache wax, beard serum and u-shaped beard comb to maintain that mane.
2. Face Cleansing Combo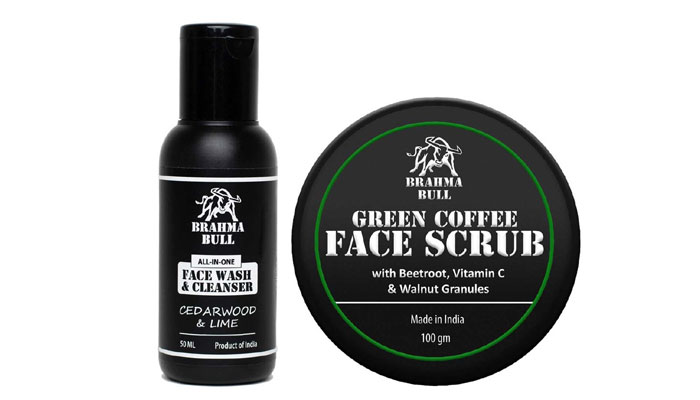 CTM – cleansing, toning and moisturising – is considered an integral part of every skin care routine which completely works on giving one the skin of their dreams. Another important step in this routine is scrubbing or exfoliating so that all the gunk and dead skin is exterminated from your skin. With this face cleansing combo from propshop24, any man can achieve the same without putting much effort into the entire routine. This particular combo is made from all-natural ingredients and is especially good for people with oily skin. The scrub is made with green coffee, beetroot, walnut granules and vitamin C which makes it another amazing face care gift for men.
3. Beard Wax and Oil
If the face care gift for men that you are looking for, is for someone who is completely obsessed with their beard and for maintaining it, then you need to gift them this particular combo. This beard oil and wax from Ustraa is something that every beard holder craves for. Ustraa is known for making quality products and is appreciated by anyone and everyone who is even remotely into grooming their beard or trying to grow one. Their products are absolutely heavenly and do the job perfectly. This particular combo gives the beard a shiny and healthy look in seconds, while keeping the hair manageable which is essential.
4. 6-Part Shaving System
Shaving is an integral part of a man's schedule which is why anything that aligns with this particular routine is always a brilliant face care gift for men. If you are looking for something like that then you need to have a look at this 6-part shaving system from Bombay Shaving Company. It is a complete shaving kit which includes a scrub, brush, cream, razor, blades and a post-shave balm. Best part, it is suitable for each and every skin kind which means you don't need to question your choice again for whether or not it aligns with different kinds of skin.
5. Beard Comb Set
Every great mane needs a great comb to maintain and handle it, and the same could be said about great beards. This particular beard comb set from Ustraa is designed for taking care of one's beard in each and every way possible and the best thing is that one gets a beard for every beard related problem. In totality, the entire comb set consists of three combs and they are perfect at their job.
These were some of the suggestions for face care gift for men that satisfy some of the major problems men face and work on. So, what are you waiting for? Select one and gift them the best gift they have ever received.
Jyotsna Amla