Do you love cooking? Or are you just looking for something which will make do? Depending on your answer there will be a whole lot of choices for you to explore. That is not all, which cookware will sit on your kitchen shelf will also depend on your budget, your health consciousness and the impact you want to leave on the environment. These are the best cookware set brands in India that are both economical and of good quality.
Choosing the best cookware set is no rocket science but none the less either.
Best Cookware Set in Steel – Best Cookware Set Brands in India
I prefer steel over any other cookware material for boiling and steaming things. Most brands are available in 2 pieces, 5 pieces or larger sets and you can choose depending on the size of your family.
My personal favorite is steel cookware by Vinod because of the thickness of their pots which helps in even heat dispersal. Prestige is a close second and Cuisinart is an ultimate kitchen classic if you are into heavy cooking and budget is not a constraint.
Best Cookware – Non Stick
Non stick cookware is the go-to option for weight watchers. With very little requirement for oil, these pans help in almost oil-free cooking and are also very fast to cook and easy to clean.
There are many brands available in stores and online but Nirlon being a long term market player wins the spot here. They have constantly evolved their technology and have adapted to user demands and made changes in their designs and color options too.
Best Cookware Set in cast Iron – Best Cookware Set Brands in India
This is my personal favorite type of cookware because of their multiple benefits. The price difference is negligible, the durability is much better, they cook in as little oil as non stick pans and once heated they remain hot for a very long time. Hence, perfect for Indian cooking.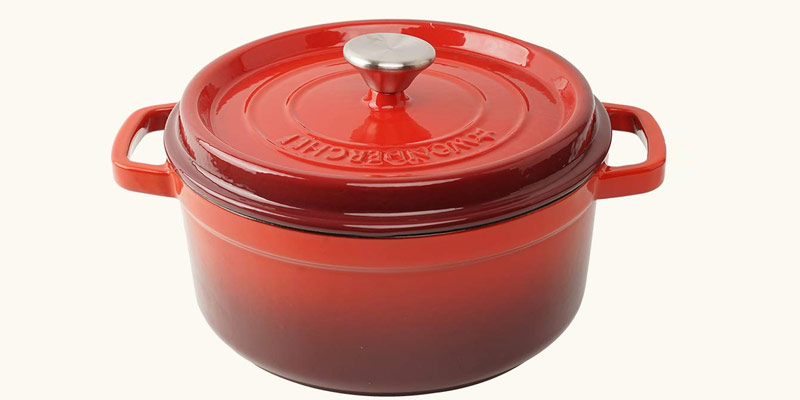 They even add a bit of iron to your food with every use. In the Indian market Lodge is the most favored brand followed by Wonderchef. If I had all the money in this world, I would like to adorn my kitchen shelves only with Le Creuset.
Best Cookware Set in Copper
Copper with its health benefits and shiny appearance find favors with commercial establishments. Households mostly keep away from copper cookware for its high maintenance and non-availability of toughened material. If you were one of those who put aesthetics over convenience and want such a set at an affordable price, I would suggest you go with Lagostina Martellata.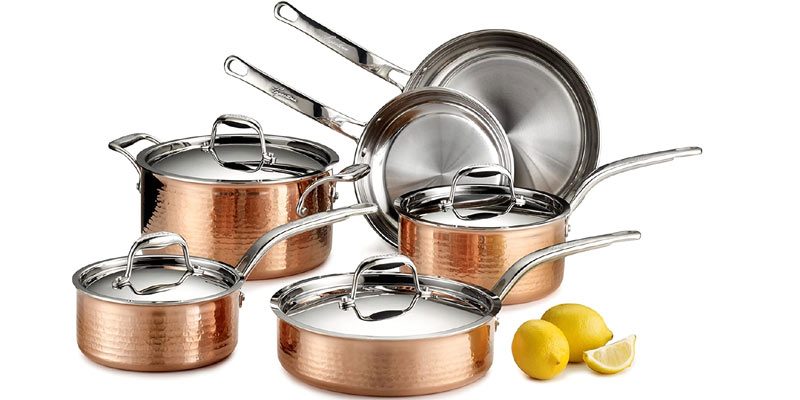 Indian manufactures seldom provide the required layering and stability. I am also looking for something made in the country itself; please feel free to share your suggestions.
Suggested Read: Best Espresso Machines in India: Brew a Perfect Cup Everytime
If at all you cannot scrounge the markets to look for the wonder pots you want, check them out online. This way you can shop in the safety of your home and checkout variety of styles, colors and prices in little time.