For the huge amount of time we're spending in Quarantine there are high chances that working from home is slowly turning into slogging from home. The ability to function around proper timings is almost imperceptible now and productivity has officially vanished into thin air. So, in order to cope up with these unproductive days, we need to be more aware of ways of increasing focus and optimum working skills which is best captured in these best books to increase productivity.
These books help one in maximizing productivity and have a much better time management skills, we are somethings we all are in dire need of these days.
More importantly, there is something new and interesting that each of these books to increase productivity teaches us. Some talk about tactical enlighting while others examine the art of psychological and fundamental changes that should be implemented. So, let's go through these books and do not forget to add them to your Kindle or to-read list.
1. The Power of Habit – Charles Duhigg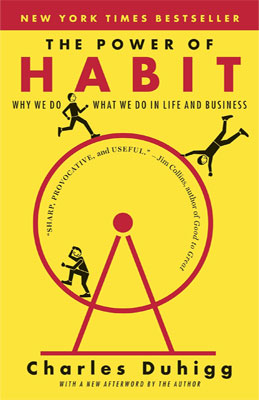 Charles Duhigg is an award-winning business reporter and his work has been both critically and commercially acclaimed, much like this book. In, The Power Of Habit, he puts up some compelling arguments to work around the fact of how habits are the ultimate way of achieving results. He supports these arguments with various day-to-day instances, including exercising, eating healthy and maintaining a routine. We are 100 percent sure that post-reading this gem you'll immediately start understanding why even a single decision and a day's routine matter.
2. The 7 Habits of Highly Effective People – Stephen Covey
This has to be one of the classics in the best books to increase productivity category. This is another one that links habits to productivity and has been continuously recommended by some of the biggest and most-celebrated individuals of our society. This book has been around for more than 25 years and every new person who discovers it, can't stop raving about how it has changed their lives.
3. Atomic Habits – James Clear
Atomic Habits is another one of the most popular books on productivity in the market. Unlike others, this one helps the reader in navigating through change, one day at a time. Author James Clear provides a proven framework for improving every day. This book provides strategies that will teach one how to form good habits, leave behind the bad ones and continue to bring in tiny changes that contribute to their development on a daily basis.
4. Deep Work – Cal Newport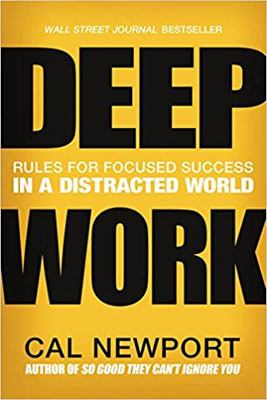 If you think that we have collectively lost the ability to concentrate or focus on our work and get distracted very easily then Deep Work is something that you should immediately start reading. Cal Newport also argues that we have lost the ability to truly focus uninterrupted and go into a state where we are our most productive and creative. And, Deep Work is simply about the ability to focus without distractions. The author supports his critical thinking with a bunch of scientific pieces of evidence and tips that will compel you immediately to bring his tips to life.
5. Getting Things Done – David Allen
What is productivity? Simple, it's the ability to get things done with little to no time wasted on procrastination. First released in 2002, David Allen's brainchild has been a best seller for long time. He has recently updated the book and once again it has started popping on everyone's best and essential books to increase productivity. The book primarily revolves around the concepts of personal organization which helps one in excelling both on the personal and professional front.
6. 168 hours – Laura Vanderkam
168 Hours is primarily a book about time management and it is particularly important for those who continuously dream or promise of doing a lot but then are never able to actually do it, and think that time is constantly running out. In this book, Laura Vanderkam details out her interviews with some of the most successful and happy people that made her realize that how you allocate your time has a huge impact on your overall wellbeing. At the core, the book talks about allocating your time for the most important things first and then moving on to the smaller priorities. This way, if one runs out of time, it is their smaller priorities which will be left undone.
7. The One Minute To-Do List – Michael Linenberger
To-Do Lists have time and again proven to be one of the most efficient ways of keeping up with work and time, however, some of us just aren't able to keep up the list itself. If you're one of those then The One Minute To-Do List: Quickly Get Your Chaos Completely Under Control by Michael Linenberger is a perfect book for you. Linenberger teaches us the most efficient and effective way of making a to-do list which allows our mind to be on track and work around it completely. It also helps the reader in identifying the most common mistakes they're repeating which limits them from completing the list in the first place. This is one of the easiest and quickest books to increase productivity.
Also Read – Why Are Some People Left-Handed? Why Are Lefties So Rare?
These were some of the best books to increase productivity and they should be read by anyone and everyone who is constantly trying to bring small or big changes in their life through habits, time management and routine. The human mind and body is capable of a lot of things, we only need to understand the route of functioning that we should follow for it to happen.