Who doesn't wish for healthy, clean, and glowing skin? Our first instinct after coming across any kind of skin problem is to lather tons of chemical products and wish for all of it to go away. However, these products are not only harmful to your skin but at the same time, it is what your skin demands and requires from time to time. But then, how to exfoliate skin?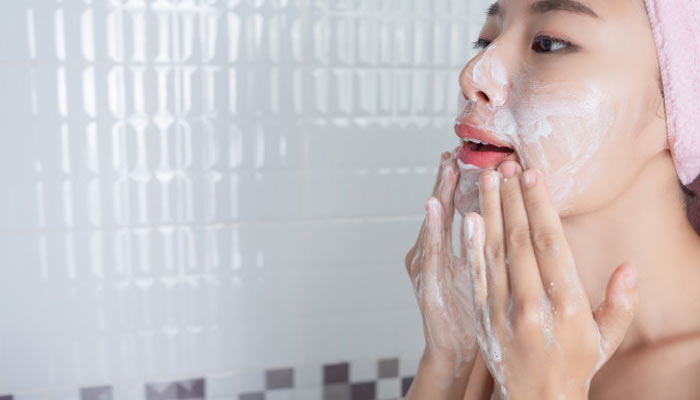 Basically, exfoliating is a process by which the dead cells on the outer skin layer are removed, which in turn exposes the fresh cells and so, your skin looks brighter. Exfoliation does not only makes your skin brighter but improves its health too.
At times, our skincare products might not even work, because of the deposits of these dead skin cells which hampers its ability to allow it to enter the skin and work effectively. So, let's jump right into this guide on how to exfoliate skin from your face, hands, arms to your legs and feet in the easiest ways possible.
What to Use for Exfoliation?
There are different types of exfoliants. Brushes and facial scrubs are mechanical and acids or chemicals are chemical exfoliants.
Mechanical:
Exfoliating brush – It is a simple type of brush, and should be used once your skin is softened with water.
Exfoliating sponge – They are gentler in nature. Lather up the sponge with warm water and body wash, and wash your skin.
Similarly, an exfoliating glove or a scrub could be used for the same purpose. It's up to you to choose based on your comfort.
Chemical:
Acids and chemicals like alpha-hydroxy acids and beta-hydroxy acids are another type of exfoliation on this list of how to exfoliate the skin. Examples for the former could be lactic, tartaric, and citric acids and salicylic acid for the latter one.
For different skin types, these methods tend to work out differently. You need to get to know your skin type first for which you can take the help of a dermatologist or go through a basic "know your skin" test.
Face
A particular type of exfoliant needs to depend on your skin type and once you've found the right one, go ahead with it. Apply it on your fingers then rub it on your face making small circles, gently. If the exfoliant is liquid, then you should use a cotton ball to apply it.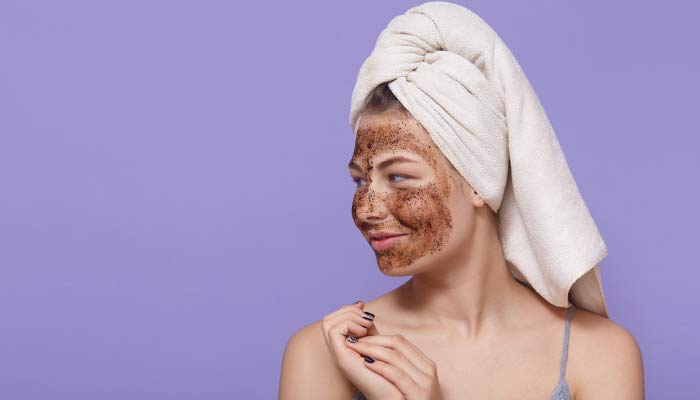 Suggested Read: Dead Skin – The Base Problem Which Keeps Your Real Glow Hidden
Arms and Legs
You'd need a sponge, glove, or a brush for this part on how to exfoliate skin. This would not only cleanse your skin but would even regulate your blood stimulation. Scrubbing while showering will work out great and will have the best effect on your skin.
Feet and Hands
Just like arms and legs, you can get a scrub that caters to your hands and feet, and scrub your skin smooth while in the shower to get the best results.
How Often Should You Exfoliate Your Skin?
It totally depends on your skin type, and exfoliate accordingly. Some chemicals might work for some and not for others. So, for the best advice reach out to the dermatologist.
The Benefits of Exfoliation
As we've already discussed, exfoliating removes dead skin cells. Not only that, but it also helps to improve circulation, encourages the turnover of the skin making it brighter, and allows better absorption of moisturizers and serums, as well as, smooth application of makeup.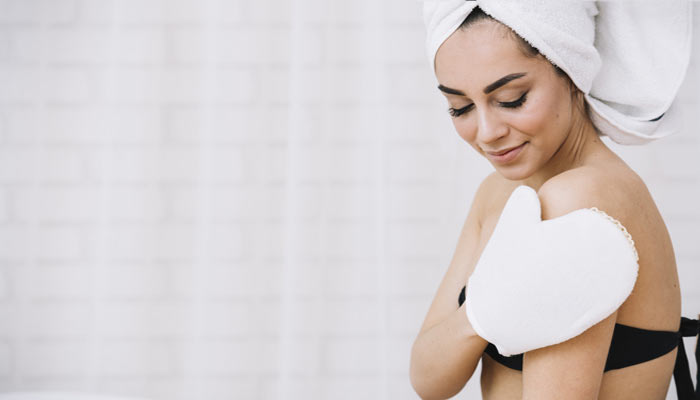 When to Stop?
When you feel itchiness, and you observe your skin turning red or a burning sensation, then you need to stop exfoliating at the very moment. You can take some time to let it heal, and then work it out again. If you still experience the same, then meet a dermatologist to get further advice.
Suggested Read: Face Mists for Oily Skin
We hope that you've got the basic idea about how to exfoliate skin and the purpose it holds. Taking care of your skin is a must, because of the growing pollution and high amount of pollutants in the atmosphere that turns your skin dull. With the simple methods provided above, you'll do great with your skin. Apart from this, maintaining a healthy and balanced diet is a must for good skin.