Much like our day-to-day hygienic routine, our skin also needs a little extra to clean out all the dirt, sebum, and oil that gets accumulated in our pores, and then transform into blackheads on our nose and other places on the face. Let's face it, no one likes blackheads and we try to do anything our hands to keep them at bay, yet, they're just there somehow and now we need to book a parlour appointment to get them out. However, why spend thousands of bucks on something that you can easily do at home? Yes, there are tons of effective and easy-to-do home remedies for blackheads.
Before jumping on these home remedies for blackheads let's first understand what they're and how they occur in the first place?
Blackheads occur due to all the dirt, sebum, and dead skin cells that get accumulated on our skin on daily basis and then clog our pores and hair follicles. When they're not cleaned out and exposed to air, they start turning black and form what we know as blackheads. They mostly appear on the nose, corner of the nose, chin, forehead, and even cheeks, however, can appear on other body parts as well.
Some Best Home Remedies For Blackheads On The Nose
1. Steaming
Steaming is considered to be one of the best ways to get any and every kind of gunk to soften and then clean out, and the same is with blackheads. Steaming also makes the skin sweat excessively which helps in clearing out the toxins from within and leaving glowing and clean skin behind.
It's advised to always be pretty regular with your steaming schedule to clean out the dirt and sebum on regular basis and stop them in the initial phases of settling. Once steamed, take up the blackhead tool and start pushing out the blackheads, they might be painful initially but the result is certainly too satisfactory to not do it.
2. Baking Soda
Baking Soda is another one of the best home remedies for blackheads on the nose and is considered to be a great natural exfoliator. You can simply create a paste out of baking soda by mixing it with equal parts of water and then gently scrub it on the skin with your fingers.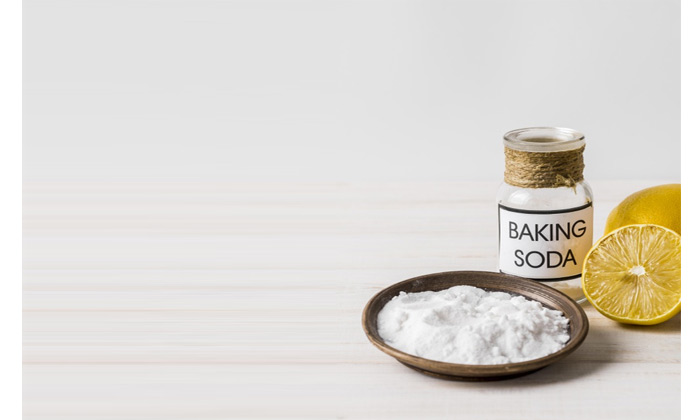 Scrub the mix for few minutes on the desired area and then wash it off with warm water. Repeat the process twice a week and you'll eventually start seeing the blackheads diminishing.
3. Egg White Mask – Home Remedies for Black Heads
Egg white is a super effective ingredient to clear out the blackheads, all thanks to its peel-off mask-like abilities. It is also well-known for its skin tightening properties which are why when applied on the skin by itself, it shrinks the pores, forcing the blackheads to pop out. Moreover, it is super rich in nutrients and clears up your skin from within leaving it glowing fully nourished.
Also Read: These Are Some Of The Best & Most Effective Home Remedies For Open Pores
4. Lemon, Honey & Salt
Lemon comes with its great astringent properties that cut right through the oil & grease, whereas the salt acts as a balmy scrub that helps in taking out the blackheads and cleaning the pores. Simultaneously, honey is known for its amazing moisturizing qualities which nourish the open pores and keeps the germs away.
All you need to do is mix the three ingredients until you're left with a paste-like consistency, now apply it on the nose area and let it sit for 5-10 minutes. Start gently scrubbing the paste in a circular motion for a minute or two and then wash it off with warm water. Ideally, one should repeat it at least thrice a week and you will immediately start seeing its amazing results.
5. Clay Masks
Clay masks are another one of the popular home remedies for blackheads, all thanks to their oil-absorbing properties that clean the pores from within, cutting through all kinds of sebum and oil accumulating in there.
These clay masks can be made with fuller earth and rose water combinations. You can start by doing it twice or thrice a week and slowly start noticing the cleaner and more glowing skin.
So, these were some of the best home remedies for blackheads on the nose that are super easy to whip up and use and offer the best results.
One should also be aware of some of the precautionary ways to avoid blackheads from accumulating in the first place.
1. Never use any kind of tool to take out blackheads on normal or dry skin, it can cause severe skin irritation and even scarring. Leave the tools to professionals.
2. Don't try to pop them out on your own since it will not do anything but uproot the blackhead from within and can lead to even widespread bacteria.
3. Use gentle exfoliators from time to time, but never be too harsh with them since it can leave the skin feeling even more dry and irritated.
4. Wash your face regularly, so that the sebum or dirt does not get the time to accumulate on the skin.
5. Never sleep with makeup on as it gives more time for the bacteria to seep deep into your pores and infect them.
6. Using creams and serums with salicylic acid can also help in preventing the appearance of blackheads. This particular acid is also known for its anti-acne and pimple properties.
Also Read: 6 Easy Ways to Make Toner At Home
Hope you'll be able to be more mindful with your skincare routine with these home remedies for blackheads and some prevention tips.