We are in rather loud times. We are in an era where things are louder and people often trying hard to create some noise. Amid this peril defunct scenario, what becomes of peace?
Doesn't it get rather sacrificed with us besieged in these times of constant noise, chatter, clatter and whatnot?
With all the wealth, material gains, deadlines and timelines- we often find ourselves completely devoid of time. With our attention focused heavily on the outside world and all that jazz, tranquillity often goes for a toss
We don't exactly know what to do in order to attain tranquillity. Or do we?
Perhaps it may not be any longer a great surprise to see and hear so many people escaping the urban madness in order to retreat to a more peaceful, quaint belonging. So implicit is the rush in today's contemporary scenario that one can walk barefooted across a burning hot desert to find some solace and tranquillity.
Isn't it? In that regard when one hears of a house in the middle of nowhere- it automatically excites. Consider, for instance, a beautiful living space in the middle of New Hampshire, USA.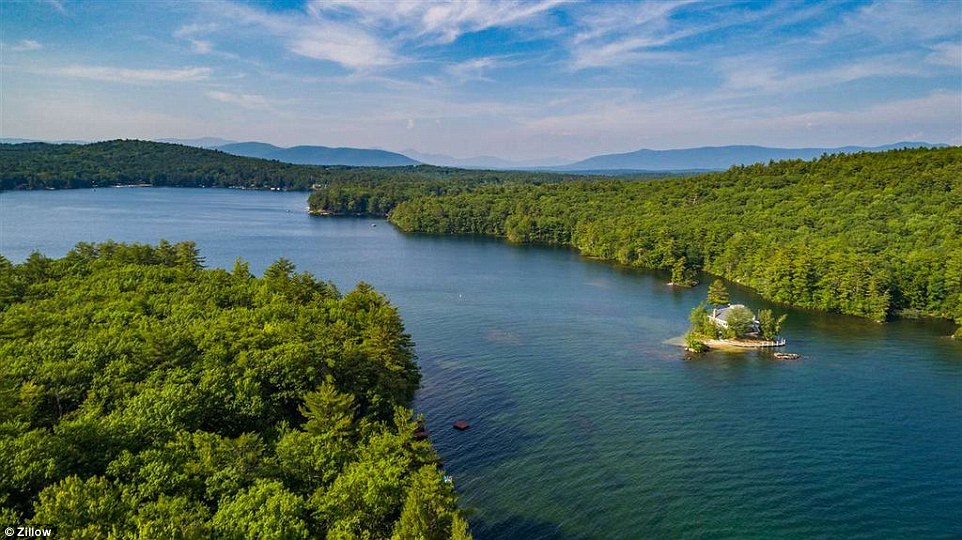 A three-bedroom home in the middle of a private island at New Hampshire generated a lot of attention as it should have. And believe it or not, this is the near-perfect example of being serenaded by tranquillity. No rush like in midst of a New York Avenue. No loss of life and well-being in the busy plazas and arcades in Los Angeles. And no toiling in the hegemonic corporate landscape in a Chicago, Oklahoma or Seattle whatsoever.
Truth be told, this is the idea of peace. To have your own place perhaps in the middle of nowhere. And to top it up, with there being no lousy or noisy neighbours whatsoever.
This home located at 1 Welcome Island, Meredith, New Hampshire is a beacon of hope and a grandeur of an example of what it means to be amid absolute peace and a tranquil atmosphere.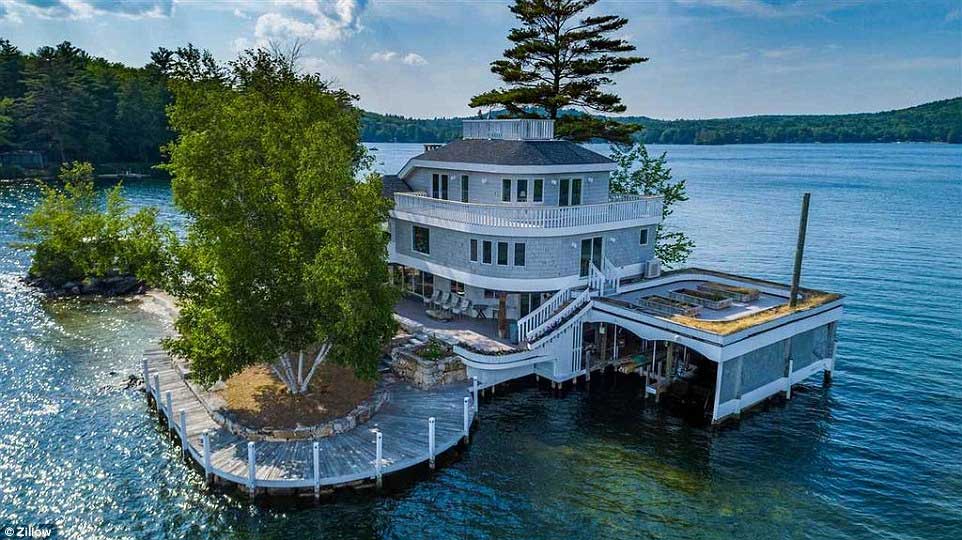 The sight of being comfortably nestled in nothing else but peace and quiet is often an ideal instance of being away from the morose of everyday life. Isn't it?
But what if, that, in itself, were a way of life- day in and day out? How great would that be? Tempting, isn't it?
Being at the centre of the famous picturesque Lake Winnipesaukee is the resident that's catching everyone's attention by a storm. Truth be told, living on this island may not be an idea that would coax anyone to leave it at any time soon.
Why would you want to leave behind a place that is all about peace, quiet and some "me-time" with your near and dear and loved ones? When the perfect idea of a weekend getaway becomes the very example of leading a life that way perpetually- then that is called life. Or, probably, something like it.
Charmed by a sprawling green cover from all sides, there being the stillness of the water and enchanting spectacles such as a gazebo- things cannot get any better at Meredith, New Hampshire.
This mouth-watering idea of a residence is now on sale with the property being listed on Maxfield Real Estate. There appears to be very little that one cannot like about the place. Famous American publication The Boston Globe spoke rather artfully about the perfect idea of one's home suggesting the following:
'There is an oversized master suite which includes a massive walk-in closet and bath and two custom bedrooms on the top floor with amazing views, access to a large deck and a shared bath,' according to the listing.
'Perched high above it all, take in the stunning sights from the widow's walk.'
Becky Fuller, the sales agent handling the property, said that in the two weeks since the home went on the market, interest has been high.