A rare Russian diamond has been recently discovered in the great Putin land and has since then, unfailingly, garnered a lot of public attention. But it's not for nothing that it's made rave headlines everywhere. There's an interesting story attached to its discovery and opulence.
But the main question is, what, after all, is so special about this rare Russian diamond. In fact, before we launch into any further details, it ought to be asked, what is so rare about this rare Russian diamond?
First up, it is worthwhile to note that there is a diamond within this diamond, a first of its kind discovery, found in a Russian mine. And therefore, for this rare instance, the said diamond has been informally dubbed the "Matryoshka diamond."
Furthermore, this diamond, avid diamond collectors and those interested in breaking news are informed, was unearthed from a mine in Siberia, which happens to be among the coldest regions in all of Russia. The true enigma at the heart of this rare Russian diamond is the fact that there happens to be a free-moving gem inside this diamond.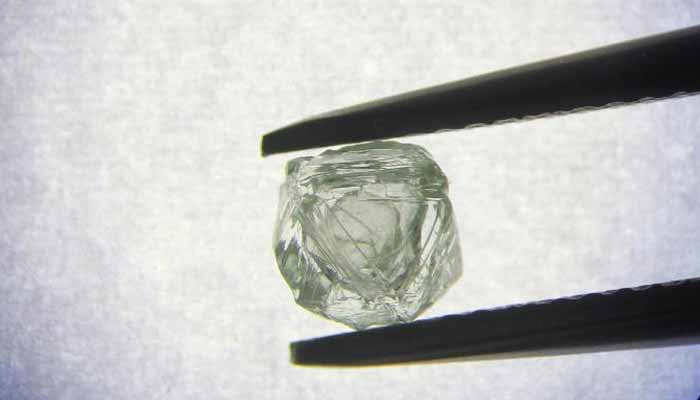 Further details about this enigmatic bit of discovery were made by the Russian mining company Alrosa PJSC. In addition to the above, it is worthwhile to note, that the rare, recently-excavated diamond may even be around 800 million years old.
Anyone wondering about just what makes diamonds generally so enigmatic may not have to get any more inquisitive. But apart from that, there's a real reason as to why this diamond has been dubbed the Matryoshka diamond.
After all, it's not every day that the world gets to know about diamonds that are etched right in the center of another diamond- right? And therefore, such rare and profoundly buzzing has been the reception around this majestic Russian discovery.
Recently, a latest news platform carried forward some other interesting highlights about this nearly priceless jewel and stated:
As far as we know, there were no such diamonds in the history of global diamond mining yet. This is really a unique creation of nature, especially since nature does not like emptiness. Usually, some minerals are replaced by others without cavity formation," Oleg Kovalchuk, deputy director for innovations at ALROSA's Research and Development Geological Enterprise, said.
The diamond came out of the Nyurba mine in the Siberian region of Yakutia, but it was sorters at the Yakutsk Diamond Trade Enterprise who discovered the nature of the stone and passed it on to the Research and Development Geological Enterprise for analysis.
Scientists examined the stone using several different methods of spectroscopy along with X-ray microtomography.
"Based on the results of the study, the scientists made a hypothesis about how the crystal was formed. According to them, there was an internal diamond at first, and the external one was formed during the subsequent stages of growth," Alrosa said.
Suggested Read: A Staggering Percentage Of Europe's Trees Risk Extinction
"The most interesting thing for us was to find out how the air space between the inner and outer diamonds was formed," Kovalchuk said. But all of that said, it's not that the overall analysis concerning the rare Russian diamond has already taken place. Experts in Russia suggest that the same article will be further sent to the Gemological Institute of America for further analysis.