An elephant is largely recognised as a docile, kind and loving animal. He won't really hurt you and doesn't get into needless and unprecedented alterations with man, unless initiated from the other end with violence. This pure, majestic, large mammal is, still, at the end of the day, a beast. And we never truly know the exact nature of animals as to how might they react and what could happen within a fraction of time. But this is a tale of elephants whose sudden course of action caused not exactly furore among those who noted but amazement and wonder.
Apparently, a group of elephants completed a massive trek that measured a gigantic distance of 500 kilometres, wounding up across China, visiting various regions of the country blamed and reviled for contributing the COVID 19 virus to the world.
Though by nature, elephants are known to be fiercely intelligent, but that they can be unpredictable should be taken for granted and must be understood without much of a doubt.
To run into specifics of this tale, it's important to note that the herd of elephants being talked about actually happened to be endangered species. To be clear, there's nothing outrightly unusual when elephants travel across short distances and do not move about to cover a large land mass. But there's something spectacular when a herd of elephants covers an area as massive as 500 kms.
Implicit in this particular case, however, is the fact that the herd of elephants had been in motion for over a year before finally being spotted in China, in the process of which they covered an astonishing distance of 310 miles (that's 500 kms, whence converted).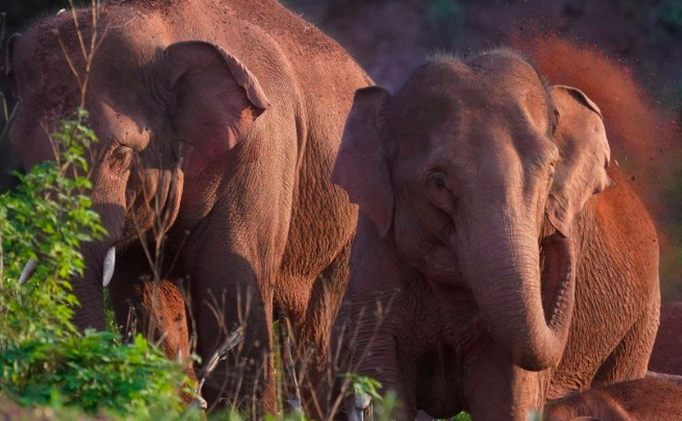 The above can be called a mammoth distance, especially since the herd overcame the risk of being hunted down or averting any uncalled for episode, the elephants being an endangered species.
All of that being said, the following are some key excerpts on a story published on the same over BBC:
It's thought that they started their journey last spring from Xishuangbanna National Nature Reserve in the southwest of the country, near the border with Myanmar and Laos.
They began moving north and in the last few months, the elephants have popped up in a number of villages, towns and cities.
They've been seen smashing down doors, raiding shops, "stealing" food, playing around in the mud, taking a bath in a canal and napping in the middle of a forest.
They've also been spotted hoovering up crops in their wake and moseying into people's houses – on one occasion, lining up in a courtyard to drink water, successfully turning on a tap with their trunks.
Also Read: White Rhinoceros Travels To Japan Seeking Love!
It is thought they have started to move south again, and were last spotted in Shijie – a town near the city of Yuxi.
But the above told, it must be asked as if what may have led to a movement over a huge distance travelled:
Truth be told, some scientists in China, baffled at the development, have noted that either there could've been a situation wherein there was urgent need to relocate for food and water or if not, then in another situation, there may have been cases of human infringement in the habitat belonging to the elephants.
But such instances are too far and few to be noted.