Every year on March 8th we celebrate International women's day all over the world. Women's day celebration symbolizes the spirit of women across the globe. It also represents the changes that are required to bring in our thinking, society, and world for the betterment of the women species. This year's theme for women's day is "DigitALL : Innovation and technology for gender equality". 
Many of us are aware of the motive behind the celebration but most of us hardly know its history. So, before we move on to talk about beautiful quotes, wishes and messages. Let's first discover how it started?
Brief History About Women's Day
Did you know that International Women Day originates from socialist movements of the early 20th century? It began in February 1908. Thousands of women garment workers took to the streets in New York to protest against their working conditions. They protested against long work hours, low pay and the lack of voting rights. A year later, the women were still striking. Hence, the Socialist Party of America declared February 28 as Women's Day, in honor of the anniversary of those strikes. 
However, it was Clara Zetki, a German Marxist theorist, activist and advocate for women's rights, who proposed to celebrate Women's Day internationally. This was at an International Conference of Working Women in Copenhagen in 1910. Around 100 women from 17 countries attended and they unanimously agreed to celebrate Women's Day worldwide. In 1911 in Austria, Denmark, Germany and Switzerland post women's day was celebrated when women gained political right to vote in Russia in 1917. March 8 was declared as a National Holiday there. Since then we have celebrated International Women's Day on the 8th of March.  
Today, International Women's Day is celebrated around the world and is considered an official holiday in at least 27 countries. This includes Kyrgyzstan, Ukraine and Cambodia, where they officially honor women's rights and achievements.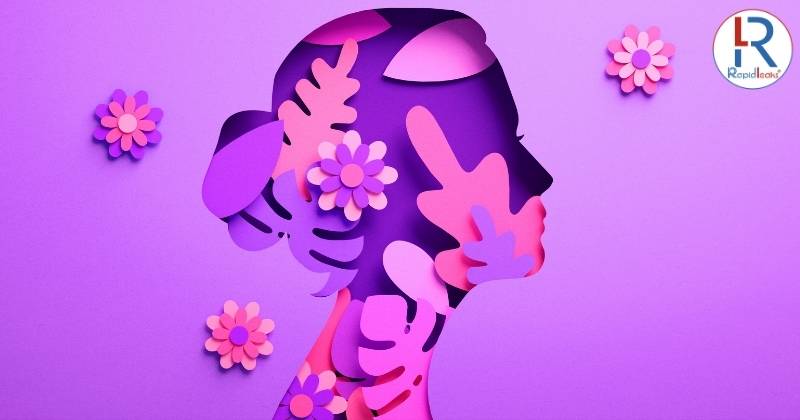 Why Wear Purple? 
The one color that stands out on Women's Day is the color PURPLE. This symbolizes that anyone, be it a man or woman or transgender, joins the other women across the word in solidarity to celebrate this special day. The color purple signifies Justice and Dignity. Besides purple, white and green colors are associated with purity and hope respectively.   
Women Day Quotes:
Women are always associated with beauty, sensuality, desire, dreams, patience, sacrifice, etc. But in most cases they are not taken seriously about their intelligence, hard work, dedication, competitiveness, etc. These are the reasons which bring issues like gender inequality, low incomes, less excess to education, healthcare, and other basic facilities. 
So, here we are going to share some quotes which help in identifying the true essence of a woman. Some examples are given below for you –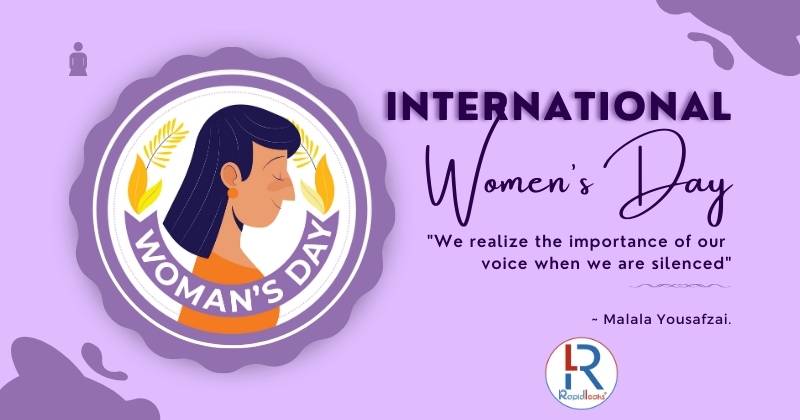 "We realize the importance of our voice when we are silenced" – Malala Yousafzai.

"Feminism isn't about making women strong. Women are already strong. It's about changing the way the world perceives that strength" G.D. Anderson.

"I am grateful to be a woman. I must have done something great in another life" – Maya Angelou.

"There is something so special about a woman who dominates in a man's world. It takes a certain grace, strength, intelligence, fearlessness, and the nerve to never take no for an answer" – Rihanna. 

"A woman is like a tea bag – you never know how strong she is until she gets in hot water."~ Eleanor Roosevelt

"A woman with a voice is by definition a strong woman. But the search to find that voice can be remarkably difficult."~ Melinda Gates

"Think like a queen. A queen is not afraid to fail. Failure is another stepping stone to greatness." ~ Oprah Winfrey

"Life is not a competition between men and women. It is a collaboration." ~ David Alejandro Fearnhead

"There is no limit to what we, as women, can accomplish." ~ Michelle Obama

"When you stumble, keep faith. And when you're knocked down, get right back up and never listen to anyone who says you can't or shouldn't go on." ~ Hillary Clinton.
Also Read: Super Interesting Women's Day Facts To Commemorate This Special Day
Women's Day Wishes : 
"A woman is so much more than just a human being. She has God's power to create a life, to cope with so much pain and somehow always end up being the strongest one in every room. Happy Women's Day to all Goddesses out there!"

"The world will be boring and lifeless without a woman. Happy women's day to all cute and lovely ladies!"

"The beautiful smile can cut thousands of negativity around, remember whenever you walk, you walk with a smile. Happy Women's day."

"Women can be powerful without being aggressive. Isn't it amazing? May the marvelous feminine energy cover our world with its warmth and greatness. Happy Women's day to all of us."

"Don't follow the crowd, because you won't go further than the crowd. Walk your way alone and you'll find yourself in places no one has ever been before!"

"Flowers and chocolate cannot do what the words of love can. Every woman in our lives is unique and beautiful. Don't forget to cherish Her every day, not only on Woman's Day. Cheers to our lovely ladies!"

"Little girls with dreams become women with vision. May all your goals get fulfilled. Happy Women's Day."
Women's day Messages : 
Behind every successful woman is Herself. Have a wonderful Women's Day!

Can you imagine life without women? There's no life without them. Nowadays, it's so important to keep our women safe and protect them, because they do so much for every one of us, and sometimes we fail to appreciate it. Happy Women's Day!

Women are the world's greatest inspiration. Let's praise our muses and never forget how amazing and wonderful they are. Respect and cherish them every single day. Happy Women's day!

Flowers and chocolate cannot do what the words of love can. Every woman in our lives is unique and beautiful. Don't forget to cherish Her every day, not only on Woman's Day. Cheers to our lovely ladies!

You are special and know that it's true!

On this special day I want to wish you a lot of patience. This world will soon learn to treat women the way they deserve to be treated. Cheers to every single woman in our crazy world!

I can't find the words to express how I feel about women. Their strength and power, their ability to keep their heads up no matter what. I admire it on every possible level. Girls run the world, that's the only thing I know for sure. Happy Women's day! Some women are lost in the fire. But you are built from it! Best wishes on Women's Day.

You just smile and the world changes. Let the harmony and colors of spring shine in your life!

We all know that this world would mean nothing without a woman or a girl. Women are stronger than anyone can imagine. Let's celebrate their endless power today. Happy Women's day. A charming woman doesn't follow the crowd. She is herself! Today is yours and so is every other day!

Be beautiful if you can, be wise if you want to, but to be respected – that is essential! Wishing you a very happy Women's day 2023.

Just wanted to thank you from the bottom of my heart for all the things you do! Wishing you a day filled with goodness and warmth.
Conclusion 
A woman is a symbol of love, care, affection, strength, endurance, and many other qualities. But over the decades and centuries they are being exploited and treated as weaker gender. To overcome this disparity in society, programmes like International Women's Day gives us hope and power to achieve our dreams. So, to all the women out there, just keep dreaming and play hard, if needed, in life to fulfill them. We as women don't treat anyone different. We believe in humanity and love. Happy Women's Day to all the lovely women.