The next big piece of development in the Indo-Russian ties is here and guess what? It doesn't concern weapon sales or space exploration efforts. According to confirmed reports, India is all set to produce nuclear fuel using Russia's help. If that's not exciting in bilateral co-operation, then what is, one wonders?
Only recently did Narendra Modi and Vladimir Putin, Russia's President discuss the prospect of their two respective countries working jointly to produce nuclear fuel.
And now, confirmed reports suggest that the next big step in the Indo-Russian ties might see Russia extending support to India toward making nuclear fuel and that too in the world's biggest democracy.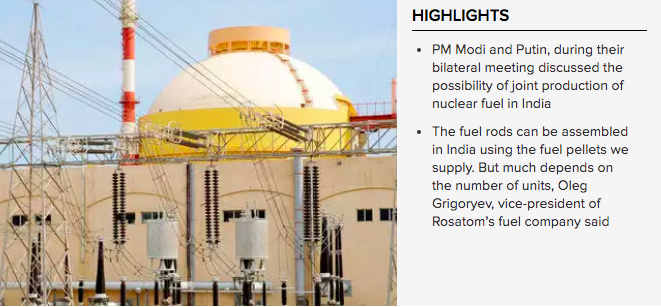 It is believed that if all is agreed upon by the two countries then the working relationship to make nuclear fuel will work out in the following manner:
The fuel rods can be assembled in India using the fuel pallets that Russia will supply. The pioneer company that will lead the very critical work in this direction will be Russia-based Rosatom.
The above told, here's the most important man who's supposed to be the key catalyst in the entire process of India manufacturing nuclear fuel under Russian assistance.
A gentleman by the name of Oleg Grigoryev, who happens to be the vice-president of Rosatom's fuel company TVEL was the key presence in a top level delegation that proposed the idea that India should produce nuclear fuel under Russian supervision.
This, as it turns out, will be a critical development in India's civil nuclear energy production plans for the country. The Russians are already aware of India's key desire to "localise," a dream that is being taken to grand heights under the PM-driven Make In India campaign.
But in order to give the aforementioned project the much-needed wings, Rosatum and its co-operation with the Indian partners and stakeholders will be the key flagship project.
Furthermore, it is useful to understand the following critical components of this mega step in the Indo-Russian ties:
The two sides expressed satisfaction with the stable mutual growth of trade turnover. To bring it to $ 30 billion by 2025, they agreed to more actively engage the impressive resource and human resources potential of India and Russia, enhance industrial cooperation, create new technological and investment partnership, especially in advanced high-tech areas and find new avenues and forms of cooperation.