Most people in India know where Allahabad is. Many know where Porbandar in Gujarat is. Ten in ten know the exact location of Kolkata. There's no reason to doubt the fact that we are aware of the legacy and historical as well as the national importance of Pandit Nehru, Mahatma Gandhi and the irreplaceable Bose.
But probably two or at the most three Indians on a scale of ten would be able to tell you where on earth is this place called Tamluk in India. Probably even fewer would be able to tell you the significance of Tamluk, a small town of about less than 70,000 people in West Bengal.
In fact, truth be told, only a handful would be able to spell the name of this town as also the name of the most incredible person to have ever come from Tamluk.
You worship Mahatma Gandhi as the father of the nation. You throw condescending views about how he wasn't perhaps the best thing to happen to India. You also debate endlessly whether Patel got his due share in the struggle for India's history. And you've been hounded by the sheer lack of regard Bose gets, especially in comparison to Nehru.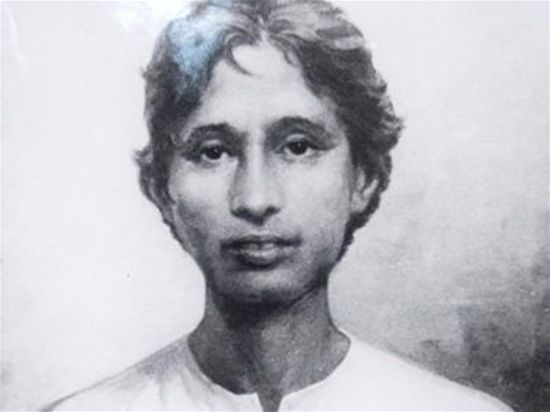 But you hardly care about Khudiram Bose. In fact, chances are, you can't spell his name properly in Hindi, India's mother tongue. Just who was Khudiram Bose, what was so great about him that he must be extended the very same regard that celebrates icons like a Gandhi, Nehru and even the great Shaheed Bhagat Singh?
There's no mainstream movie on him. Bollywood hasn't cared all that much. No patronising Indian who claims to have lived through the pain and agony of India's dreaded colonial past, a past it was forced to endure has found time to contemplate on the sacrifice of this great son of India.
Furthermore, no documentary has been attributed to appreciate the life and efforts of a man who died literally as a kid, a teenager who couldn't even live on to see his 19th birth anniversary. Somewhere forgotten, somewhere appearing as one of those sad, gloomy 'second-fiddle' revolutionary figures to icons like Azad, Bhagat Singh, and the likes- Khudiram Bose is the hero that reflects the meaning of the phrase 'unsung.'
Thankfully, it took someone of the prodigious skill of a Shyam Benegal to come out with Bose: the Forgotten Hero, to attribute a great homage to Netaji, at a time no-one would've perceived of something as moving as that cinematic experience.
Thankfully, we didn't let Bose become a forgotten entity and much of that is because of earnest, passionate and driven individuals like Anuj Dhar- a man who's dedicated his entire life to researching about the great Subhas Chandra Bose; as also the cause of his mysterious demise.
Through honest efforts like Mission Netaji, a not-for-profit based in Delhi, Anuj Dhar's work has gathered steam and found international legs where this passionate Indian travels everywhere, be it Singapore to Bhopal, Hong Kong to London, in a bid to talk and lecture about one of India's greatest sons.
Sadly, there would be no one who'd even remotely affect an inquiry into researching about the very little we know of Khudiram Bose- a man India deserves to know of. Sadly, there was no one who'd take the cause of Khudiram Bose.
If you come to think of it, then in all due regards to India's struggle for freedom, there seems to have been a hierarchical division of sorts. And sadly, the men and women who play victim to this rotten divisiveness have little role to play in it. It probably boils down to the country for whom they put down their lives.
Who is a revolutionary?
He's but a soldier but one without a uniform, armed with courage, honed by a spirit of self-sacrifice, emboldened by a unifying idea of that unrelenting love toward his country and spurred by the commitment to put his country before himself.
What mettle was Khudiram Bose made of that all of 18, he decided to die for a country that today openly practices a rape culture, maligns the purity of a phrase like Swaraj and nationalism, subjecting it to needless babble, indulging in an open culture of corruption, mocking the country, its ideals, its people and the very genesis of the perspective of nation-worship.
This leads us to succumb to a realisation.
When you contribute your blood, sweat and pain toward your motherland, you're probably just as important as God Almighty; you cannot be any less. There cannot be hierarchical structures imposed at undermining your contribution toward uniting your country in a sacred fight about claiming what is rightfully yours.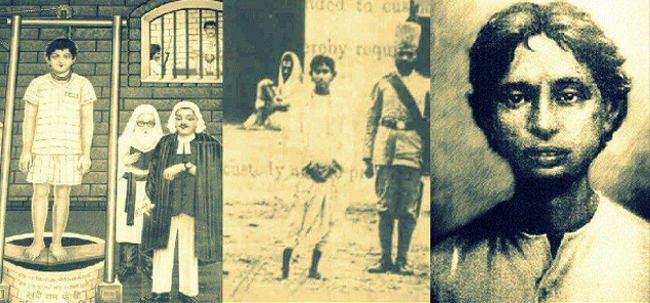 Khudiram Bose passed away on August 11, 1908, on account of being hanged by the British for being involved in a bomb assault on a revered British judge- Kingsford- who, at that time was being transported in a carriage. The bomb hurled at Kingsford, part of an attempt to subdue and fight back against the anarchist British rule over India led to the sad demise of two women. This led to Khudiram Bose' life-imprisonment, which would later result into death by hanging.
At the time this young and needless to say the brave man was hanged, he was 18. Barely 18. You read that right. He wasn't yet a man.
Let's delve into something that warrants a less-critical but more constructive debate.
Why do we experience an India where figures like Gandhiji and Nehru conveniently occupy a first-row seating arrangement as if this were a matinee show to reminisce the most onerous period of India's suffering? Why does it feel that a Patel, Bose, Bipin Chandra Pal, Bal Gangadhar Tilak, Sarojini Naidu, those forgotten revolutionaries from North East are merely backup dancers to a gala song and dance show attributed to uplift the moral standing of Mahatma Gandhi and the very exceptionally eloquent Nehru?
Were the contributions of the rest not as much as that of the Father of the Nation?
Had a bit of sensitivity been allowed to exist, Khudiram Bose would've, at the very least, enjoyed a Bronze statue one too many of the likes we've come to see everywhere in India, be it Bombay to Delhi, Allahabad to Amritsar, Kolkata to Lucknow.
It's rather interesting and emotional, to say the least when you chance upon the realisation how Khudiram Bose was named so. At the time he was born, the fourth child in a family with three daughters, with two sons who'd died prematurely, there was a lot at stake to save this one son in a lower-middle-class Bengali family.
According to customs and colloquial beliefs, the child was symbolically sold to one of the sisters in return for a handful of food grains, known as Khud, in order to save himself. That is why he came to be named as Khudiram Bose. Selling himself to survive might have been the most fundamental deed of his upon his birth but probably it was meant for greatness and greatness alone.
Had he not saved himself, how would he have then put down his life for his motherland, in return of which he'd get nothing? Perhaps, Khudiram Bose realised the purpose of his brief life, by virtue of his sacrifice. Of course, how could that have not happened? After all, there's a Ram in his name and can there be a greater symbol of supreme sacrifice than that?