UP Election 2017, the biggest political battleground with more than 138 million voters, is gradually becoming the most anticipated election of all time. While Samajwadi Party and Congress have come together to tackle the threat posed by Narendra Modi, BJP itself is going through a crises to fight for its existence. In the backdrop of these two beasts, an 'elephant' awaits to strike. Bahujan Samaj Party's leader, Mayawati is regressively targeting the competitors with piercing words and the most appropriate criticism, to come back into power.
Meanwhile, FourthLion, a surveying firm, conducted 2,513 telephonic interviews of registered UP voters and the results that have come up, are a little bit surprising.
Here are the problems these voters highlighted:
Power Cuts and Energy – 28%
Jobs, Economy and Development – 20%
Others – 17%
Water Shortage and Clean Water – 10%
Transportation and Roads – 7%
Food – 4%
Currency Ban – 3%
Crime and Safety – 3%
Education – 2%
While power cuts and jobs were expected to be the biggest problems faced by Uttar Pradesh residence, currency ban and education being in the last three has surprised us to the core.
Education has been back and forth agenda of every party contesting election in the state, the facilities were believed not to be upto the mark. Moreover, demonetization of Rs 500 and Rs 1000 currency notes, the most controversial step taken by Central Government ever, seems to be a talk of the past as only 3% of the registered UP voters are going to choose the candidate on the bases of the 'note ban'.
Political Preferences
The next part of the survey was about political preferences of the voters and 28% subjected voters said they would vote for the Bharatiya Janata Party (BJP), while 18% supported the ruling Samajwadi Party (SP) . Only 4% preferred Mayawati led Bahujan Samaj Party (BSP), the ex-Chief Minister of Uttar Pradesh from 2007 to 2012, while a minimalistic number of just 1% surveyed voters preferred Indian National Congress (INC).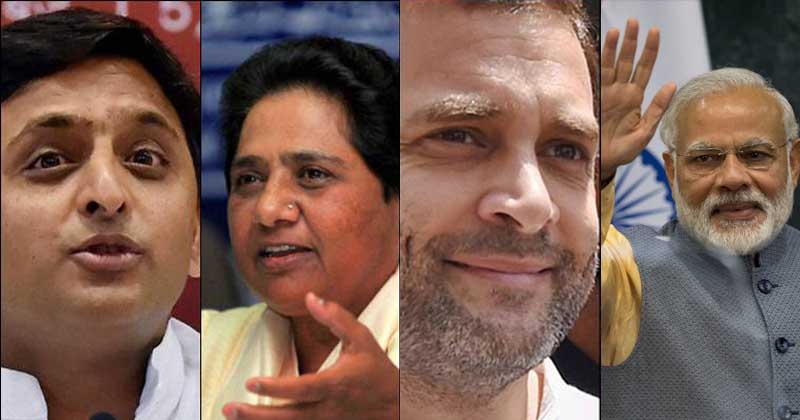 The survey further bifurcated the supporters in their casts and 33 % of those preferring BJP were from the Other Backward Classes (OBC), 11 % were Muslims and 22 % were Dalits.
Samajwadi Party's supporters included Muslims (29%) and Dalits (14%). BSP's supporters on the other hand, consists majorly of Dalits (40%) and Other Backward Classes (22%) while 16% said they were Muslims.
However, 40% of the surveyed voters are still unsure of their final decision and these are the ones that will make or break the deal for every party contesting the elections. Moreover, the survey didn't conclude how many seats a party would win and these are just initial preferences of the voters.
There are many families in India that have serious discussions just before the polling date, to unanimously select a candidate and over the past years, we have seen that actual results tend to be divergent than the public polls.
UP Elections election will be a seven phase process, ranging over one month which is scheduled for a kickoff on 11th February, 2017. Voters might seal their decision based on which party receives greater support in the first few phases and more importantly, some cast/religion sensitive voters might wait until the particular candidate's name is announced.
Coming back to the huge support for BJP, it should be noted that in the 2012 Assembly Elections, SP won 224 seats and formed the government while BJP stood third with 47 seats after BSP (80 seats) and at that time the 'Modi Wave' was not their to lead Bharatiya Janata Party. Indian National Congress won 28 seats, most of them being their backyards.
The SP-Congress alliance, PM Modi leading BJP but with demonetization still being a fresh topic and Mayawati leaving no stone unturned to regain power, UP Election 2017 will definitely see a blood-dripping battle between the bold and the powerful.
Follow us on Facebook, Twitter and Instagram for more updates. Don't forget to like and share. Do tell us your views in the comment box below.