Pak drones in India cannot be a piece of good news. In fact, Pak drones in India may never be a signal of anything good or positive, isn't it? Two countries that are, in fact, neighbors but absolutely opposed to each other in every possible way is fodder enough for there to be some form of imminent danger.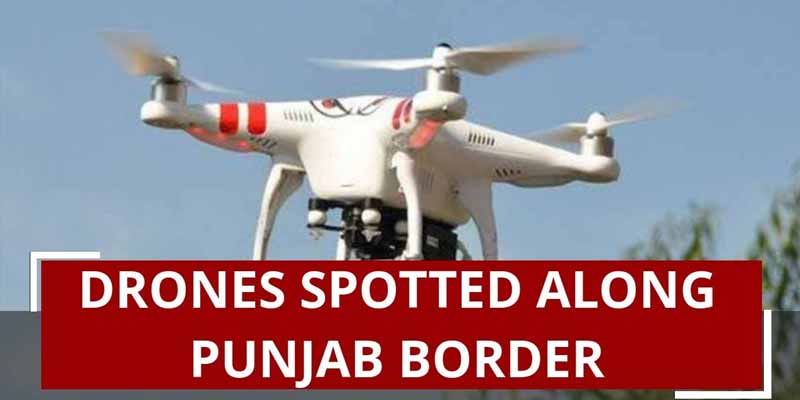 And the above fears only get a real bite when one spots Pak drones in India. Right?
No sooner had India spotted a Pak drone lurking into its territory during the initial few days of the month of October than the country got surprised coldly by repeated sightings of more Pak drones in India. Perhaps a sign of something sly or snide to come, but who knows?
It was around late on Tuesday night that a suspected Pak drone was first spotted in the Indo-Pak border area around Hussainiwala, in the state of Punjab. The villagers, who alerted the establishment regarding the sighting of the Pak drones in their area managed to capture the footing on their mobile phones.
But this was no standalone incident. This was the second incident in the course of two days. To that end, it's important to inform that the first sighting of the Pak drones in India was around the Hazarasingh Wala village at around 7.20 pm and then, another sighting at around 10.10 PM.
But that told, what was particularly intriguing was the incident that took place earlier. Prior to this, a drone was sighted thrice in the same area on Monday, i.e., 7 October 2019.
India Today, reported about the development in greater detail and had the following conclusions to make:
Punjab Police has already launched elaborate investigations to account for the weapons consignments apparently smuggled into India from across the border by the two drones recovered near the India-Pakistan border over the last around one month.
Police teams are also on the job to ascertain the links of the terror groups involved in sending these drones from Pakistan, said a police spokesperson on September 27, clarifying that so far only two such drones had been recovered — one last month and the second in a burnt condition three days ago in Jhabal town in Tarn Taran district.
Investigations so far suggest that several Pakistan-based terrorist groups were engaged in smuggling weapons into India since August, post the abrogation of Article 370 in Kashmir.
One concludes that while the sighting of a random drone can be ignored for once, but if one happens to spot Pak drones in India on different occasions, then this certainly points to something suspicious. What could possibly be Pakistan's agenda behind trespassing its neighbors territory and lurking in from the behind, one wonders?
Here's what is the shocking part. Apparently, it has been confirmed that the recovered drones are, as a matter of fact, directly associated with different Pak terror groups.
These were sent into India by different terror groups, that are linked with the ISI (Inter Services Intelligence), as well as the state-sponsored Jihadi and the pro-Khalistani terrorist outfits that are working under its command.
Suggested Read: Know About The Cleanest Railway Stations In India
Only recently did the two countries get into a round of opposing statements and the brouhaha surrounding name-calling at the United Nations General Assembly in the USA where Pak PM Imran Khan took direct jibes at India in lines with the scrapping of the Article 370 in Kashmir, a move vitriolically opposed by India's neighbour.