The Prime Minister of Nepal, Pushpa Kamal Dahal (also known as Prachanda), is in India for a four-day state visit to New Delhi. He is leading a 125-members delegation and has come to the country at the invitation of India's PM Narendra Modi.
This is Prachanda's first foreign since he was elected as Prime Minister of Nepal in August.
He has been accompanied by his wife, Sita, senior Nepal government officials, the member of the Nepali business community, two ministers and the media team. Prachanda's meeting with PM Modi has been scheduled at the Hyderabad House on Friday. This meeting will be followed by a joint press briefing and signing some agreements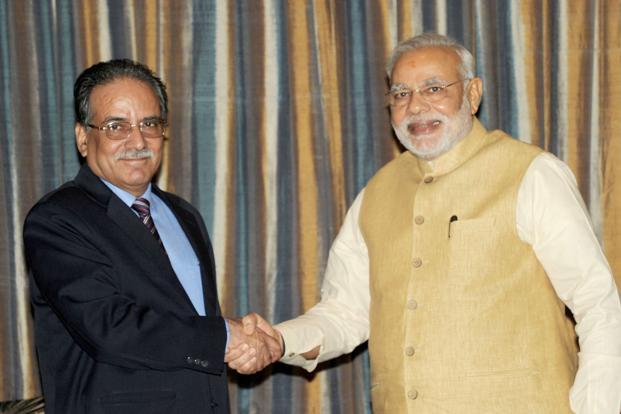 Rishiraj Adhikari, the Foreign Relations Advisor to Prachanda said that  a breakthrough is expected after this meeting on an agreement on long pending Pancheshwar Hydro Project in Nepal. This  Hydro Project has the installation capacity of 48,00 MW. In 1996, Nepal and India had jointly agreed to develop this Hydro Project but no progress has been made due to some outstanding issues.
Prachanda will seek India's support to build another hydropower plant in Nepal that will have the installation capacity of 400 MW.
Prachanda will also seek  a $1 billion soft loan and grant for the reconstruction of vandalised structures in Nepal.
The agenda also includes building a Buddhist circuit linking key heritage sites between Nepal and India that will be 80 km long and a feasible study of east-west electrical rain in Nepal.
Several others agendas like growing trade deficit with India, construction of a substation for trading energy between Nepal, aid for the second phase of construction of Postal road in Nepal's southern plain and growing trade deficit with India, will also be discussed between both the Prime Ministers.
SEE ALSO: Best Places to Visit in Nepal
Prachanda and his counterpart Modi will commit to review and update all the agreements and pacts. The Nepalese Prime Minister will also visit Himachal Pradesh before returning to his country.
Follow us on Facebook, Twitter and Instagram for more updates. Don't forget to like and share. Do tell us your views in the comment box below.
15 September 2016
Avni S. Singh