At a time where much of India is engulfed in political news and that affecting the entirety of the country, here's something refreshing and on the lines of travel- for a change. Well, not such a bad change in the outfit is it? According to recent updates, the revered Nepal- Dehradun bus service has only recently been inaugurated.
Linking two neighboring countries through a vivid and eye-pleasing mountain trail, it can be said for certain that the Nepal-Dehradun bus service will entice travel lovers and adventure seekers in a new and refreshing manner.
What is rather interesting about this keen travel arrangement that links two important regions of Asia- Nepal, and India- is that the bus service is actually a part of what is being called, "an important international bus service."
Apart from that, most people, on a scale of eight to ten will also view the recently-launched Nepal-Dehradun bus service as an affable solution to the rather chaotic scheme of things that one has to deal with whilst crossing the international border.
To that regard, those who hitherto had been facing a string of problems in crossing India's border with Nepal and thereafter, entering the Buddhist land will now no longer have to deal with the issue of recoursing to private vehicles.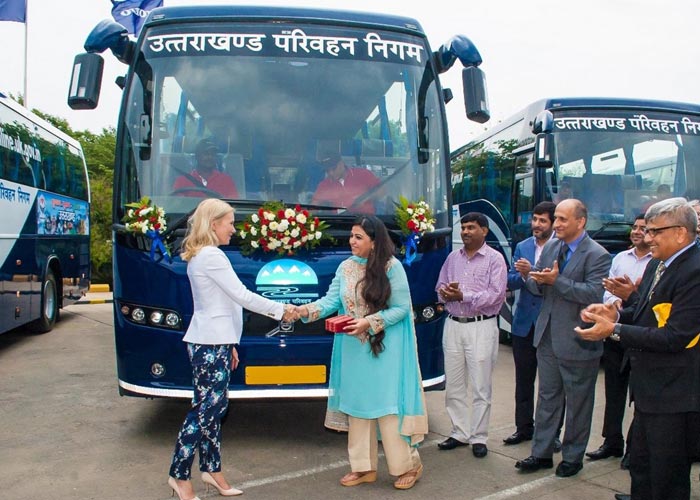 The aforementioned bus service was inaugurated by the revered MLA Pushkar Dhami from Udham Singh Nagar and Nepal's Minister of State Shri Prakash Rawan from Mahendra Nagar. The said and important inauguration took place on Saturday, 8 December 2018.
It can be said, therefore in this regard that among the milestone achievements in the sphere of public transport, one that holds as much importance for India as it does for Nepal has only just been achieved at the fag end of the year. Isn't it?
From an economic perspective, embedded in the DNA of such important moves by governments on both sides, one has to consider the pocket friendliness of this brand new move. The news confirms that the travel to Nepal and therefore, also to India, with the inauguration of the Nepal-Dehradun bus service has become cheaper than before. If Planning a tour, consider these best places to visit in Nepal.
Among the leading Indian print dailies, Hindustan Times, elaborated more on the Nepal-Dehradun bus service and shared the following:
The permits and approvals for the bus service had been obtained earlier. This international friendship bus service has been initiated in view problems faced in commuting across the border where people have to take recourse to private vehicles. A large number of people commute between India and Nepal from Uttarakhand and earlier they had to get down at the border in Banbasa and take another vehicle to Nepal.
There are a large number of Nepalese migrants in Uttarakhand and the Dehradun-Mahendra Nagar bus service will help them in easy transportation.
Nainital Lok Sabha MP Bhagat Singh Koshyari had been making efforts for this service for several months. He had said that the service would enable commute between the two nations at cheaper rates.