Pappu Kumar is a handicapped beggar, who begs in Patna every day. His story will leave you in shock and will change you look at the saying that 'beggars can't be choosers'. This beggar is a chooser of his own destiny. Although begging wasn't always the primary aim his in life. Pappu was an average student who scored 57% in intermediate but 70% in mathematics. He wanted to pursue engineering after that but he met with an accident where fractured his leg, followed by his father's death, he opted to beg for a living.
Pappu is the one of the most smartest beggars, he inherited some family property which he sold and bought a new one, now he owns a property worth 1.25 crores. When you look at the beggars on the street, you feel pity and Pappu smartly used this emotion for his begging. He was shooed by RPF (Railway Protection Force) officers many times from the Patna railway station platform before his crorepati status was revealed and now the beggars on Patna Railway station has been permanently removed.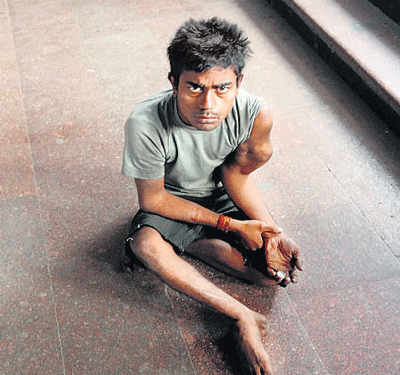 Calling Pappu a beggar seem like a joke in itself, as he has four ATM cards and the sum total amount in his accounts is 5 lakh. That was not it, he even loaned a sum of 10 Lakh Rs to the small traders. It feels like he is much richer than a person who falls in a middle-class category. He was advised to get treated but he refused to do so. He wants to continue begging and his explanation is shocking.
Looking at this case we can only sum up this news by saying, the path of begging can lead you to be a lakhpati.
Why to learn and waste money in education when you can loot people off their generosity.
Follow us on Facebook, Twitter and Instagram for more updates. Don't forget to like and share. Do tell us your views in the comment box below.
5 March, 2016
Avni S. Singh