City lights, plum infrastructure, posh highways, majestic roadways, sprawling IT-led development and, major gains in new-age urban development- the cities of India are completely a world away from the areas lying in the interiors. Even today, in this part of the 21 century, there seems to exist a world of a difference between the tiny villages or rural areas and the massive envelope of urban India.
But away from the urban development, the spectacularly sprawling part of a country wherein one finds richer, bigger cities- there's also another India. You could say, this is a parallel India. This is an India that, for the lack of a better word, knows nothing about real estate or the many highs of being part of a corporate life. The tribal sphere of India continues to exist unremittingly albeit silently against an India that is commonly in focus of the entire world- the one you find in expensive cosmopolitan cities such a Mumbai and Delhi.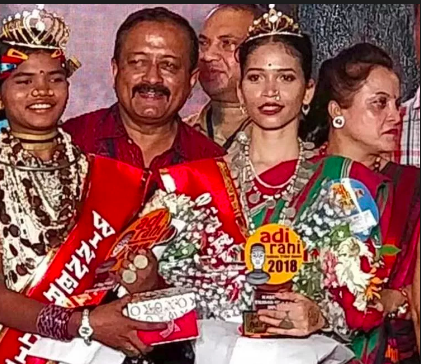 Few people, actually seem to care about tribal issues and concerns. But, every now and again, the government does act as an interface between an India lying largely unnoticed by the rest of the country and the mainstream. And it's brilliant for putting in attention matters that actually should matter. The current buzzword has it that a first of its kind tribal beauty contest was organized. It's a beauty fest of its kind; a rear celebration of a larger extensive India that often escapes (or misses) the eye.
And emerging right on top at the tribal beauty contest was Pallavi Durua. The innocent smiling lady has been crowned as the first ever tribal beauty queen of India. And that wasn't all- Panchami Majhi and Rashmirekha Hasdah were the runners-up.
True recognition of beauty is often rare in this world and it could be said, that it's a rarity that often doesn't happen. In this first of its kind beauty contest- there were as many as 20 girl contestants that turned out from around the country. Representing various tribes in the country, and hence the sheer versatility of an India often conveniently forgotten, the tribal beauty contest unveiled the sheer talent the country of myriad colours and sub-cultures possesses.
And in here lay the critical uniqueness of this tribal beauty contest. Usually when one speaks about competitions such as these, the idea, more often than not, is to showcase talent through an art form. Usually, the conduit to present that is singing or dancing talent. However, the Tribal Beauty Contest endeavoured to bring out more of an individual identity of the women from around India. It was a novel idea in itself.
Here are some interesting details with regards to the beauty contest.
Earlier in the month, on June 20, a semi-final contest was held. This is where the contestants were selected for the finals. But for semi-finals, the community leaders from each tribe sent one entry for the semi-finale round.
For the finale, the girls dressed up in their traditional attire, walked the ramp. This was followed by an introduction and question-answers round. There was also a talent round where the girls were exhibited their singing, acting and dancing talents.
The ecstatic winner of this contest- Pallavi Durua hails from the Koratput district of India. Not the place you'd commonly find intrepid travellers hunting down in maps. And there's also a key takeaway from this one of a kind beauty contest. The three crowned beauties- including Pallavi Durua- are slated to take part in a documentary film. The same will attempt to highlight the tribal culture of the country.
Interestingly, Pallavi wishes to make use of this unique opportunity to spread some awareness about other girls who are part of her sect or community and wishes to bring about some change. She shared, "Many tribal girls like me are not allowed to move around or study. After winning this crown, I hope I can be an example for others and they would shed the superstitions and face the world."
That tribal community of India as much part of the nation as are other towns, districts, cities and states- isn't the only takeaway from this event. That there's a lot of potential in the country that needs to be tapped into- is what one needs to understand and hopefully, with some passage of time- the often 'neglected' cultural communities of our country will find an increased representation thanks to names like Pallavi Durua.