In a year that has just started but has already brought curtains to some luminous lives of India, namely- Krishna Sobti, Kader Khan, it's not comforting to know of another life lost, albeit due to the changing vagaries of health and old age. Former Defence Minister of the country, a key figure during the late-great A.B Vajpayee-led NDA Government- George Fernandes- is no more.
Mr. Fernandes, who was 88 when he breathed his last had been suffering from a prolonged illness. He had been diagnosed with Alzheimer's and wasn't keeping well.
The well-known Octogenarian and one of the nicest orators of his time was also associated with a number of key portfolios during different governments, such as Industry, Railways, and Communications.
The bespectacled Mr. Fernandes was a fine speaker and someone who stood out for possessing a quaint simplicity, something that you couldn't escape for its pleasantness in his speeches and interactions at various public events or press conferences.
One of the many key moments during Mr. George Fernandes' term as India's Defence Minister was overseeing the vital Pokhran nuclear tests of 1998. One cannot possibly emphasize the importance of that period in India's recent history as it armed a country the Americans did fully well to oppose in its development of nuclear capability.
Today, the young generation of a country that's excelling in entrepreneurship, science and technology, and whatnot can reminisce the reconstruction of that era thanks to 'Parmanu,' a 2018 movie based on the tectonic and rather dramatic events concerning India's nuclear ambitions as directed by Abhishek Sharma.
Furthermore, Mr. George Fernandes also served the country in the capacity of its defense minister during another interesting facet of the world's largest democracy; the intense Kargil War of 1999.
The war that involving India and Pakistan, and there's perhaps no other way of describing it, keeping needless soapy adjectives aside, is a parable of courage for anyone wanting to understand the Indian Army.
Mr. Fernandes, it ought to be mentioned, was not only a key member of the Janata Dal but also the founder of the Samata Party.
All the above told, perhaps be sufficiently said that Mr. George Fernandes cannot be and mustn't be forgotten for some salient initiatives, that, one may note are worthy of being called as achievements:
Coming from Karnataka, settled in Bombay, it was Mr. George Fernandes who started the trade union under Dr. Lohia for Samajwadi Party and defeated a man who, it may not be wrong, to be called the most powerful boss of Congress of Bombay: S.K. Patil.
The above was a great setback to the Congress. And this effectively, it could be said, led to a tide which was considered by many as 'the non-Congress era'.
He was one of the chief architects of an active participation against the 'Emergency' of India at a time where many were just mouthpieces acting in rabble-rousing. Not only that, he even went to the jail for it, as did many others.
Mr. George Fernandes will always be remembered for being an active supporter and believer of the socialist movement wherein he emerged as a figure of eminence.
Last, but not in the least, here was a man who stood up against the rise of the multinationals in the country, a phenomenon that may be tyrannical in certain aspects with all due respect (and therefore, something a few may feel worthy of a debate).
Interestingly, a thinking and curious mind, there's hardly any surprise that in one of his famous interviews given to NDTV's Vishnu Som (on Kargil war- it's reality in the post-war phase), he began his interaction with the following words.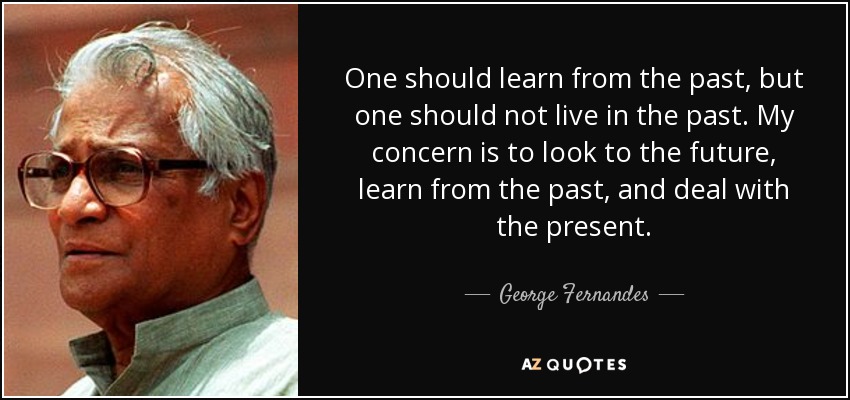 These are words that perhaps capture the spirit of a country that loves debates on anything and everything under the sun but often neglects self-introspection and also at the same time bear a similarity with a quote that is, quintessentially, Mr. George Fernandes.
"Introspection is an ongoing process. You should never ever stop introspection."