Fathers are such unique creatures in the world. They'll never show or say what they feel, want, or do, but always silently observing and giving their everything for the happiness of their families. They'll be the first ones to run for you, whenever you're hurt, and always being there for you to lean on. They're definitely not like mothers when it comes to showing their feelings, but you always know that you'll have your dad right next to you, in every case; after all, he's the first superhero of our lives. And, all of these feelings, and so much more are perfectly encapsulated and captured in these Father's Day movies.
Since June is the month of celebrating fathers and their undying love towards their families, we had to do a Father's Day Movies countdown, to list out the best of the best. You can enjoy any one of these with your old man and cry your eyes out because that's just how these movies are. Fun, loving, happy, and sappy, along with some great plot and dialogues to capture the true feeling of fatherhood.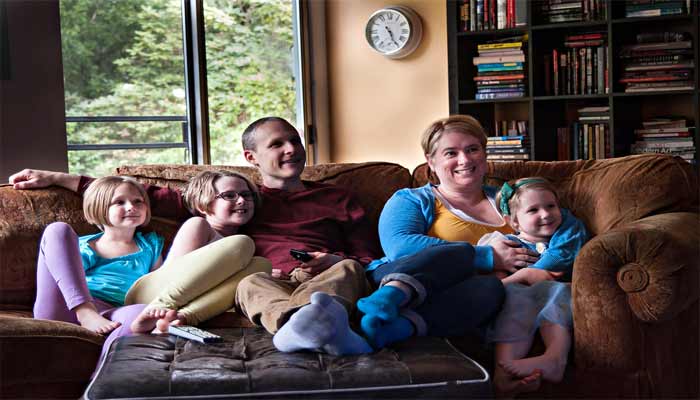 10. Taken
Who doesn't remember Taken and its iconic dialogues, especially the "I will look for you, I will find you, and I will kill you." This Father's Day movie is perfect for people who love their dose of thrillers and adventure.
For those who still don't know about Taken – it's about a father whose daughter has been kidnapped and is about to become a victim of trafficking before her dad saves the day and her life, all while going through some dangerous situations. 
9. Logan: Father's Day Movies
Giving an ode to X-Men's Wolverine and Hugh Jackman, Logan was one of the most celebrated releases of 2017. Logan goes on to become a Father-like figure for Laura, who is a by-product of an attempt to clone Logan. They go through some horrendous chasing and fighting, all in the hunch for finding a safe space.
Moreover, it's the growing fatherly love between the two characters that gave the movie an edge and left the audience teary-eyed. So, if you and your father love some superhero action, then you need to add it to your watchlist.
8. Paa
This Hindi film is considered to be one of the best Father's Day movies from India and also has been unique in its existence. From the plot, to story, to characterization, to the casting of actors, everything about this film is part of an experiment that turned successful in the end.
The film is about Auro who is suffering from a rare genetic disorder that makes him look older than his age. He lives with his single mother and grandmother and tries to live the life of a normal 12-year-old boy, until he gets the opportunity to meet a young politician, Amol, also his biological father.
The film explores the relationship Auro and Amol goes on to develop with a devastating ending. Interestingly, the role of Auro is played by Bollywood's iconic Amitabh Bachchan, whereas, Amol is played by Abhishek Bachchan, Sr. Bachchan's real-life son. You can also explore the stunning performance by Vidya Balan and other supporting casts that deliver gold, quite literally.
7. Father of the Bride
If you're a daughter-father duo then you need to watch Father of the Bride with your old folk, another one of the most amazing Father's Day movies. The film is about an overprotective father coming to terms with the fact that his little girl is all grown up now, and her marriage.
It explores the change in the relationship he starts to observe and the hard time he's facing about the same. Father of the Bride can be quite a ride with a perfect blend of comedy and sappy moments.
6. Drishyam: Father's Day Movies
Another masterpiece from Bollywood captures the struggles of a father and how he's always ready to do anything for his family's safety. You'll be on the edge of your seat with every passing scene and how the film unfolds into a great mystery, one scene after the other.
The Bollywood's version is a remake of a Malayalam film with the same name, with amazing actors as well.
5. Finding Nemo
This Pixar movie has been a cult classic and there is no two way about it. The film is about a single father whose son goes missing and now he's on a mission to find him traveling more than 1500 miles, all with the help of Dory who forgets things every 15 minutes.
All of this is an underwater adventure, and Pixar being Pixar does a phenomenal job at pulling the right strings for you to get teary-eyed.
4. Interstellar
A masterpiece by director Christopher Nolan, Interstellar is quite a cerebral experience that many fail to understand in their first watch. It is sci-fi fiction, set in a dystopian future where humanity is struggling to survive.
The film follows the life of an astronaut who travels through a wormhole near Saturn in search of a new home for humanity. In addition to all this, it is also about a father and daughter whose powerful love transcends through time. 
Also Read: These Celebrities Posted The Best Ever Pics On Father's Day!!
3. The Lion King
Another epic animation adventure that reaches the top 3 best Father's Day movies of all time, any given day. It's a coming-of-age film about Simba who flees his kingdom post his father's murder by his uncle. Coupled with great music and animation, this film is a stunning journey of love, family, and adventure.
The first instalment of the movie was released in 1994 and soon it was turned into a franchise following the lives of supporting characters, however, the original one is certainly the best. Moreover, in 2019, the film was turned into a live-action drama with a stunning cast voicing our favourite fictional characters.
2. Piku: Father's Day Movies
We have another amazing Hindi film on this list of great Father's Day movies that follows the life of a father-daughter duo, always bickering and always by each other's side. It is an absolutely beautiful film which is set on a road-trip adventure to Kolkata, where the father-daughter duo is accompanied by a driver, equally participating and confused about the situation he has mitigated himself into.
What starts as a motion film flows to a beautifully decoded and celebrated relationship between the two lead characters and certainly a must-watch for everyone who likes interesting and simple storylines.
1. The Pursuit of Happyness
No Father's Day movies list is complete with The Pursuit of Happyness standing at its forefront. Inspired by a true story, this Will Smith classic is a heart-warming and heart-wrenching story about a single father struggling to provide the best for his kid, while continually being tested by one mishap after another.
As for the role of his son, we have Jaden Smith (Will's real son), which makes the experience even sappier. However, at the end of this movie, you'll surely want to give your father a big hug.
Also Read: 7 Father's Day Gifts Which Will Make You Your Dad's Favourite Kid
So, these were some of the best Father's Day movies that you can watch with your dad this Father's Day. Your dad might not show it, but he certainly loves when you turn to him, just like you did when you're little. Now, go hug him.