It appears that the agitated farmers are all set to reach the Delhi borders once again, not long after they had temporarily abandoned what had for quite some time become, their treading spot.
The farmers from Punjab are all set to return the Delhi borders, where they have already spent upto a quarter of a year in order to ensure that their protest against the Centre's farm laws remains intact.
Therefore, in no uncertain terms must it be mentioned that their ongoing struggle continues even if these are anything but easy-going times in the face of the dangerous second wave of the COVID virus.
The announcement regarding the arrival of the farmers toward their agitation at Delhi and nearby areas was made by none other than the Bharatiya Kisan Union, arguably speaking the largest outfit of its kind in the state of Punjab and the Kisan Mazdoor Sangharsh Committee that shared that there were be few batches, that will grow over the course of the next few days' time.
The KMSC also happened to share in the developing story an update and added,"Several groups of farmers are all set to leave for Delhi on May 5 from Amritsar. Preparations have been almost complete, and we would ensure that the momentum of agitation at the protests site on Delhi borders doesn't drop for the want of number of protesters."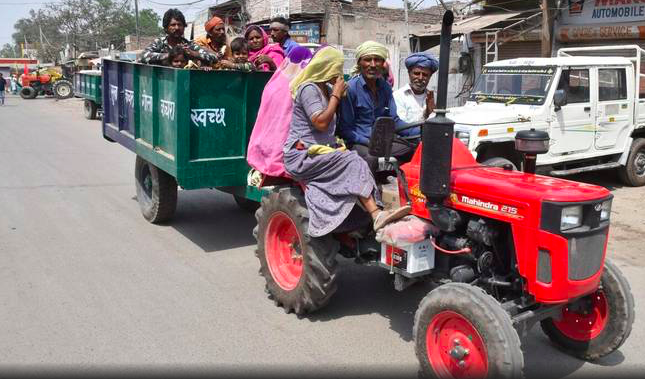 Meanwhile, the KMSC General Secretary, Mr. Sarvan Singh Pandher also shared some key updates regarding the forthcoming farmers agitation that is to take centrefold of Delhi once again, "On May 5, at least one thousand tractor-trolleys and other vehicles will start their march from Amritsar district alone to Delhi. We are expecting 10,000-15,000 people to part of our latest batch, which will go to Singhu-Kundli border. Since the agitation started on Delhi borders, this is our twelfth big batch that would be going. Smaller number of farmer batches keep continuously going and come back from Delhi borders on routine basis from many villages as well."
Although, thus far the demand of tens of thousands of farmers to have three farm laws repealed hasn't quite gone as successfully as they would have liked, an effort for which they've been camping in huge groups in different parts of Delhi, leaving not only their families but their only source of livelihood behind.
On the occasion of this breaking development, Mr. Pandher was also of the view that the BJP-led Central government should not be under any misconception that the farmers are worn out and not willing anymore to sit down for major protests.
Of course, what could be expected in the forthcoming days could be new strategies on the protests that are bound to strike Delhi borders.
Also Read: Supreme Court Directive To Centre: Ensure Delhi Gets Full Oxygen Supply By Midnight
It's a known matter that On April 21, a contingent of around 18,000 farmers had left for Delhi. Now again we are preparing to send a large number of people to Delhi 'morchas.'
The one key thing that must be ensured, from a humanitarian point of view, regarding the imminent protest is the safety and well-being of those who will be sitting on the grounds. These are, needless to say, torrid times in the national capital.
May everyone remain safe and sound under these trying times.