The life of farmers in a country like India where both draughts and fierce monsoons (often leading to floods) are a reality is anyways a tough scenario. While a majority of them are mired in financial trouble, livelihood from farming being way tougher in 21st century India than it was before, there are uncertainties at different levels that make the dream of leading a normal, harmless life such a testing reality.
Can we remember a particular month in India, from several past decades where no news ever mentioned at least one farmer suicide or serious grievance due to any other reason? Perhaps, we all know the answer- don't we?
Then on top of it when the farmers in India come face-to-face with unexpected and unanticipated animal trouble, then imagine how harsh might their lives be? There are phases where going famished isn't always the only painful reality. The massively troubling heartaches being instances like 'Crop damage.'
That being said, it appears that there's a new kind of trouble for India's farmers down in the southern belt of the country. Farmers dabbling with everyday challenges in Hyderabad have reported about animal trouble.
So what exactly is the cause of concern here?
Well, as it turns out, several elephant herds are giving sleepless nights to farmers on account of destruction of crops.
This has been a growing problem in the district of Chitoor, where the lives of paddy farmers are anything but easy-going. Wondering why?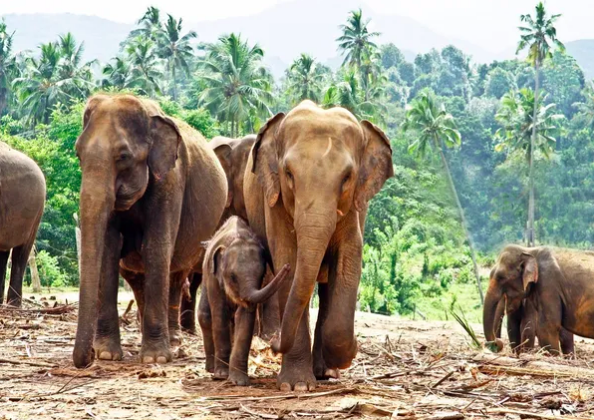 Because several herds of elephants have been destroying the agrarian produce of those paddy farmers whose lives depend utterly on their produce. When you take the produce of a farmer away from the cultivator, then it's like taking away the hard-earned savings of an old couple whose life is eternally dependant on it.
Isn't it?
But one wonders, if the authorities in the said district are of any help to those marred by elephant trouble?
To that note, it's important to note the farmers who have seen their fields in Rangampet and Nagapatla destroyed are yet to receive satisfactory help. Never a pretty sight when those entrusted with the task of protecting you turn you down or let you down.
Isn't it?
These farmers are yet to receive help from the forest departments, it has been confirmed. In fact, add to that, the woes that a recent media report published on Times Now news network carried, which highlighted:
Mahalakshmi said that two acres of his paddy field has been destroyed due to the elephant attacks. He said that they approached the forest department but to no avail. The farmer told The Times of India, "Instead of giving us compensation, the officials humiliated us. "
Another aggrieved farmer said that he suffered a loss worth Rs 3 lakh after elephants destroyed fencing on his field along with his mango trees. 
Suggested Read: How Is Guwahati Playing Its Hand In Contributing Toward Wildlife Diversity?
Meanwhile, forest officials said that elephants have been attacking fields in the western parts of Chittoor district. These elephants are from Karnataka and Tamil Nadu. A forest official said that it takes a lot of time to drive off elephants back to the forest after they come out. He added that the department has received complaints from Yadamarri mandal as well. He said, "We have been paying compensation, whenever we receive such complaints. "
That being said, is anyone up to help India's grieving lot? What happens now?