Some do it for weight-loss. Some take to it, to be among nature. Most, purely for the fun of it. But truth be told, few other things can be as beautiful and thrilling as cycling. It may be a newfound activity for so many people still but world-over, it's an obsession and, a way of life.
So implicit is the love for cycling nowadays that every new day, there seems to be an event mushrooming in global cities focused on this vigorous physical activity. It's already a big hit in diverse geographies such as the United States and Europe and not since now- for decades together.
It now seems the endurance-driven activity is reaching a full circle in India. While to spot enthusiastic cyclers peddling around rich, green, sprawling urban corners of a city is a common sight in metropolitan centres such as Delhi, Mumbai, Chennai, Bangalore- it now appears- the trend is catching up in smaller geographical areas.
For instance, a decade before, just how many among us would've thought that in a city renowned for culture, temples, vivaciousness and, a warm cup of coffee- something like cycling would gain traction? And that is exactly what's transpired at Madurai which is all set to host its first-ever international endurance cycling event, hitherto never held, seldom even heard of.
In a relatively younger town when compared to the neighbouring districts in Tamil Nadu, endurance-cycling has caught up with the youth of Madurai. And this is a fantastic news. Some youngsters have taken to the bike for a year or two together. Others have been persistently peddling for the past 3 years. And where the current moment stands- there are avid youngsters who engage in about 30 hours of non-stop cycling, balancing endurance and rigour with a rich penchant.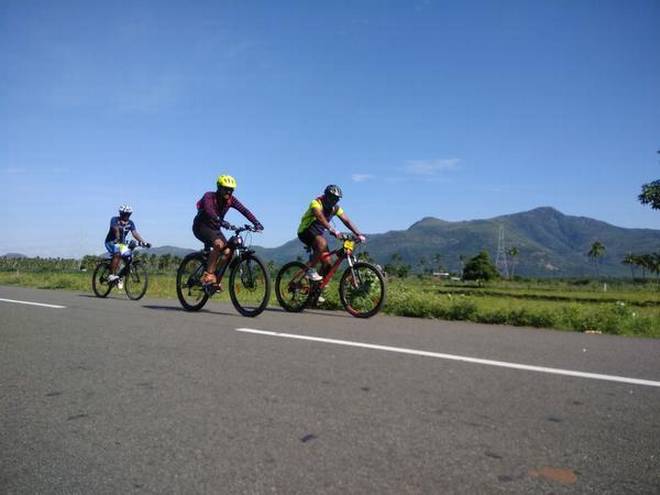 But to come to think of it- 30 hours on the cycle- isn't that already somewhere equivalent to the effort of pulling a truck by bare hands and needs to be celebrated? Even as some of the roads in Madurai are pot-hole ridden, there's been no nosediving in the spike of interest in the sport among the youth.
And an avid cyclist- KR Baviithran- confessed to his love for the sport with rich vigour.
By that time, I had been continuously cycling for almost 30 hours. But I gathered the courage, fixed the puncture in 20 minutes, hopped back on and started again. I got muscle cramps after a couple of hours. But I popped a handful of salt into my mouth, sipped some water and kept moving. Though there were times when I felt like quitting, I somehow maintained an average speed of 25km/hr.
And once this endurance cycling event comes about, the participants will have to contend with not just the pot-holed roads of Madurai- but something else also. There's going to be an intricate web of challenges including inclement weather, passing traffic, the obvious rigour, fatigue as well as machine breakdowns.
In the recent times, four youngsters based in Madurai have participated in an event already. These include- Baviithran, Vadivel Baluchamy, R Kaleeswaran and Vignesh Raj. And the quartet-believe it or not- has already emerged victorious.
Peddling their way all through an onerous stretch from Tiruchi to Dhanushkodi, covering an enormous distance of 600 kilometres, the four made heads turn as they finished their mission with approximately four hours left in the schedule.
The distance, as you can already sense, was daunting and the time limit- stringent. And in overcoming the challenging odds, the Madurai youth have truly turned a tide in the context of the city and its co-relation with a rising sport.
Recently, a gentleman, by the name of Muthukumar successfully competed in a challenging 400-km stretch.
He shared with a twinkle in the eyes, "We have now floated the Madurai Randonneurs Club and registered it with Audax India."
In the imminent future, on July 29, Madurai will be hosting its first BRM cycling event, who has earned accolades for having completed a 400 km event.