Air pollution is more significant in India than any other place in the world and we all know about it. Authorities, people and everyone else is doing their best to make the air we breathe in this country more healthy and safe for its citizen, every minute. Now, the authorities at the Indira Gandhi International Airport in Delhi have decided to do something new and exciting to contribute to the cause.
Every year, more than 65 million passengers come to the IGI airport and rather than opting for air purifiers and other things like that, the authorities planted 35,000 indoor 'air purifying' plants to make the air relatively more clean and safe.
The airport operator, Delhi International Airport Ltd (DIAL), said they are adding plants in thousands each year and the airport plans to increase this number considerably. In terms of external landscaping, nearly 3.9 million square feet of area within the IGI premises has been covered with plants and shrubs, officials said.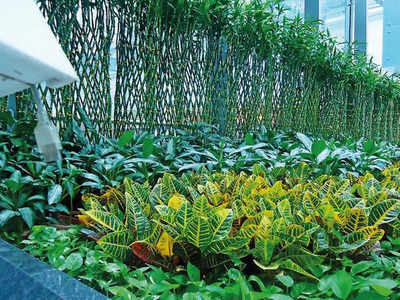 Plants like Alstonia scholaris, cassia fistula, snake plants, spider plants, weeping fig, golden pothos, bamboo palms and others like these ones were planted. While some of these plants have rich foliage, others work well in filtering out the pollutants. DIAL has said that each and every species of plant chosen for the indoor plantation drive has some purpose and they're not just simply adding to the aesthetic value of the airport but are also purifying the air for passengers and people working at the airport.
These plants are planted both indoors and outdoors and they serve a great purpose in terms of easing out the adverse effects of pollution. They are working and have significantly improved the air quality at the airport and around it.
As per the experts, these species of plants have high benefits and they work amazingly in terms of purifying the air. And, the decision to do something like this was much-needed for IGI airport. The Delhi airport currently ranks among the top 20 busiest airports in the world and is the seventh busiest airport in Asia, which means the authorities have to work for a cleaner and greener atmosphere for the passengers coming here.
Jyotsna Amla