Not express pace. Not hostile, bat-breaking speed either. But pure control, line and length! Bowlers there are many, but standard bearers of excellence there are only a few. At 28, Megan Schutt, who debuted (in domestic cricket) as a 16-year-old and has been serving the Australian women's team for nearly a decade seems tireless and appears still very new.
That rhythmic run-up and the sign of pure focus as she approaches the popping crease! All point to a sorcerer whose weapon of choice is medium pace and dislodging batters from the crease- a frequent habit.
In that format of the game that often reserves so little for the bowlers, Megan Schutt first delighted with a hat-trick in a T20I against India and that too, in India.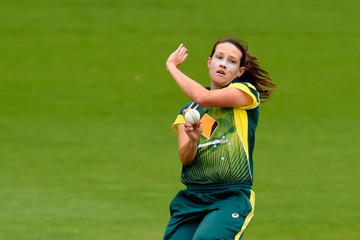 Among her victims, circa 2018, were none other than Mithali Raj and Deepti Sharma.
And just it seemed that that feat may just have been a run-in with great effort on a special day, Megan Schutt bounced back again knocking the socks off the West Indians in an ODI.
Again, not the easiest team to fire at- right?
Over the years, Megan Schutt has emerged as the go-to wicket-taker of a star-studded line-up. What befuddles even those who possess undeniable powers of concentration is the fact that joining Megan Schutt, one of Adelaide's finest gifts to Australian cricket, is a massive attack featuring Ellyse Perry, Jess Jonassen, Delissa Kimmince and Sophie Molineux.
How on earth can then cricket be akin to an easy day out in the park of those who challenge the Australian supremacy?
Truth be told, whether it is her clever off-cutters or the in-swingers that nip back in to cause trouble, Megan Schutt commands respect given how mightily she mixes things up.
You just never know what might be coming your way.
Just last year, when much of the sporting world, quite like the planet was engulfed in the torrid pandemic, Megan Schutt rounded up the year with the most ODI wickets: 22 dismissals. Next best was Sophie Ecclestone with 19.
In a career that seems to be getting better with every passing series, Megan Schutt has been a proud-never an arrogant- member of the 2018 squad that won the T20 world cup. She emerged with 10 wickets in the tournament, which was even better since in 2016, wherein her team was the finalist at the Eden Gardens contest (won by the West Indies), Schutt captrued 7 wickets albeit going wicketless in the final.
As 2021 has only just begun, we wish the fine right-armer magnificent success in the tournaments that follow!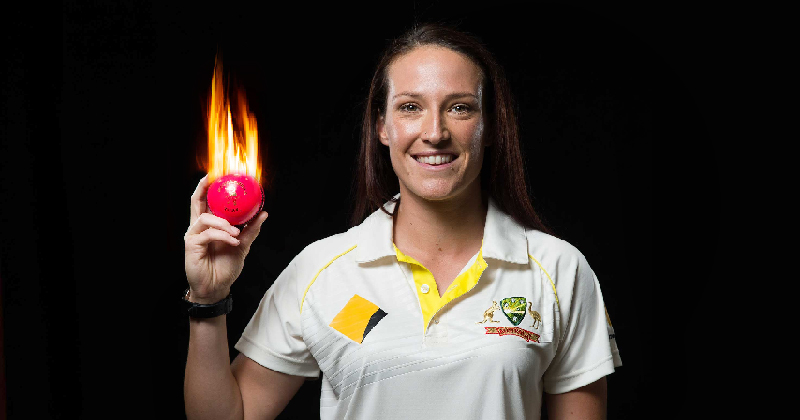 But before we wind up, here's an ode to Megan Schutt on the occasion of her 28th birth anniversary through a poem:
In a team comprising of mighty cricketers: celebrated exponents with both bat and ball,
She's an irrepressible match-winner,
A mayhem maker with the white ball, a world onto her own
Never the one who'll be one among the crowd, but one who dares to walk alone
Where the natural order of things dictate a certain thrill such as taking two in two
She's the torchbearer, a queen of hat-tricks
Where one craves to be crowned with at least one in this beautiful sport
Megan Schutt has two against her name
And with it, several bamboozled stumps
Some of match winners, some who struggled to but bat to ball, and hence failed to entertain
Since they were confronted by a peculiar force of nature
The one who in-swings, pitches the odd one short and beats the raised backlift with inescapable cutters every now and again
Lest it is forgotten, hers is a purely passionate presence in this truly captivating game
In her ebb rest several memorable spells
All of which left the crowds spellbound
Whether you talk of the 3 for 24 against the West Indies
Or the troublesome 3 for 31 that surprised India in India,
Just the kind of spells that swept fans on both sides,
Cricket seems ever so fine when it's Megan at the top of her game
At 28, truth be told, she's nowhere near her peak, nor closer to be frank,
Because she's tireless and ready to go each time she hits the deck
And given the stack of milestones she will eventually amass akin to destruction caused on the battlefield by a tank
She knows not where to stop
Until she gets enough of her opponents' weak defense,
She knows more than a thing or two
About how to beat them at their own game
The years ahead of her are just as bright as the ones she's ruled with her happy go lucky smile
Sitting just 6 shy of 200 wickets, Megan Schutt is going to lord & will walk plenty a mile.