To merely say that the electric cars are the future would be perhaps extending an incomplete statement. While truth certainly is that the electric cars are perhaps more critical now than they have ever been, forming a part of the 'present' instead of the future, a clear fact is that they aren't the only revolutionary cars that are out there competing for a marketplace whose breeding ground and reality is 'change'!
In the west, battle lines have been clearly drawn between electric cars and hydrogen-powered cars. When one can have access to 'cleaner' cars and cars that are apparently more efficient than the traditional combustion-based engines, then can there be anything better?
In that regard, it may not be incorrect to state we are clearly amid interesting times where technology and its application are ever so constantly standing at the wake of path-breaking revolution for mankind. Never before has the term urban mobility seemed as powerfully determined by newer advents of technology.
That being said, brilliant that they may be, electric cars might have to withstand this new pressure from hydrogen-powered cars that will seemingly lead to increased usage on the latter, especially when compared to the recent times.
So what's the interesting breakthrough pertaining to hydrogen-powered cars that is making the headlines right now?
Apparently, scientists have invented a new material that is poised to give a new boost to the usage of hydrogen-powered cars. This new product, akin to a bathing-sponge- a material used frequently and found commonly in our washrooms- is slated to boost the usage of the hydrogen-powered cars.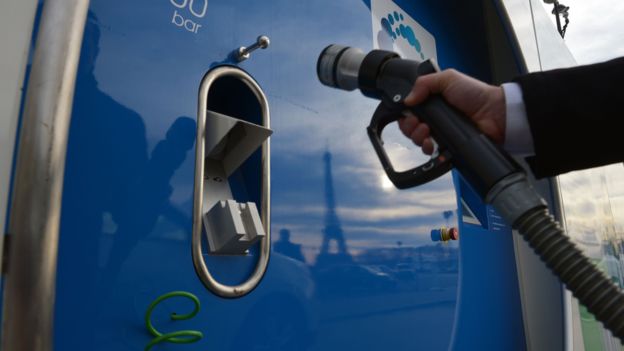 Implicit to the advantageous new invention is the very texture, the defining nature of the sponge-bath-like material. It's been reported that akin to a bath sponge that releases a lot of water upon pressing, the product is easily able to release tremendous quantities of gas, and that too, at a lower or affordable cost.
That said, what is the material made of? Apparently, the said product is made of billions of tiny pores, these are the release points from which gas is released.
In here is the mighty catch that actually explains why this new material is being hailed. As a matter of fact, even a single gram of the aluminum-based material as it has a surface area of actually equivalent to a football-sized pitch.
Imagine the spread of that area. Can you dig that?
That's what precisely makes this potentially revolutionary as the experts are of the view that this capability allows for the storage of large volumes of gas that is needed for immediate travel, hence completely eradicating the usage of expensive tanks.
That being said, why the hydrogen-powered vehicles are more needed today than ever before is simply down to the fact that the usual emissions from cars and trucks, airplanes and trains- hence, all usual modes of transportation-has already taken a toll and contributed massively to the Greenhouse Gas Emissions.
Suggested Read: Citreon Will Be Preparing For A New Car Launch In 2021
Gas is in, therefore, and in the simplest of terminologies, it can be said that it is fighting back amid times mired by the ravages of pollution.