It might not be the most dominant discussion in the annals of the automobile industry at the moment, but nevertheless, it is a vital one that holds the power to dictate the changing tides of a space that's going electric ever so steadily.
The million dollar question is- when does Tesla come to India? When shall the countrymen; auto nerds, entrepreneurs, car lovers, tech geeks, homemakers with penchant for cars, decision makers bored with conventional ICE cars wanting to shift to electric- get a chance to interact with a brand that's second to none in the powering the electric car revolution?
It was back in 2015, wherein Elon Musk had invited Prime Minister Narendra Modi to visit the Tesla Giga-factory in the United States. And now, half a decade later, it is, at least, becoming clear that Tesla may some day eventually, get to India.
Although, that eventually may not take all that time too. For where it stands at the moment, then it seems the famous state of Maharashtra is keen to invite Tesla. Now what that means is that this isn't some random 'pls-come-to-India-start-making-EVs' kind of activity.
As a matter of fact, a few hours back, the Cabinet Minister of Tourism and Environment, Government of Maharashtra, posted a tweet. This clearly highlighted the importance of Tesla coming to India, and also, the state of Maharashtra's keenness at getting world's number 1 urban mobility player getting into the country.
The following is the excerpt from the correspondence that Tesla's team had with not just Mr. Thackrey but also industries minister Subhash Desai.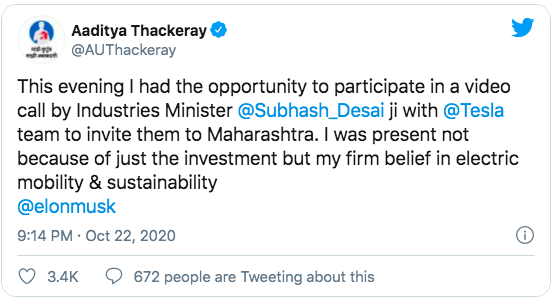 But then, none of this would have transpired had the keenness not been from Elon Musk's end himself, but obviously. The desire to get to one of the most competitive markets in the world.
A few days back, Elon Musk had himself shared "Yes, for sure"- as a reply to a social media post that said, "India wants Tesla!"
What's also exciting is that the current space in the Indian automobile market is one that's undergoing important change, if not at a really tremendous space.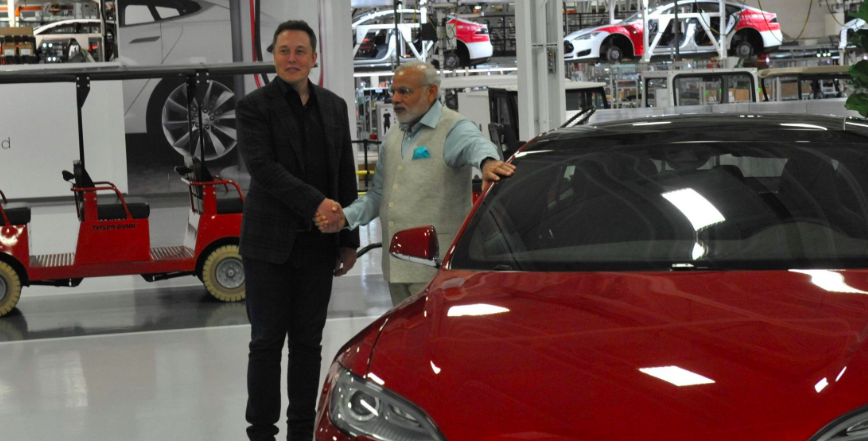 Nearly all automakers are into electric vehicles. It's common knowledge that some of the most prominent headliners in this space- Tata Motors (Nexon EV), Mahindra (e20 Plus City smart electric) among the others- are in the said space.
Moreover, gradually speaking, there's more awareness spreading toward the vital need of adopting to Electric Cars all thanks to names like MG Motor (MG ZS EV) than ever before.
Among all of this, should the giant killer steps in, one wonders how interesting might the EV space become in the imminent future?
For now, it's unclear and largely so, as to when might Tesla arrive in the beating heart of the sub-continent and where might it put its factory, if the idea is to not restrict oneself to an 'export to India' model?
All of that said, here's something that's particularly interesting:
5 years back in the day, a UK research company by the name of Compare The Market suggested that the most searched Tesla car- from India- was the Model 3.
Also Read: Best Electric Cars In India 2020: Price, Battery Capacity, Range & Charging Time
That leads us to a question that's utterly exciting: can this promising trend become a MODEL for change in the country where the EV space is far from experiencing a 'revolution,' and is still at a nascent stage?