Vidisha Baliyan, a 21-year-old from Muzaffarnagar city in Uttar Pradesh, has been crowned Miss Deaf World 2019 on July 22nd. She has been crowned the title among 11 finalists from 16 participating countries. The event was held in Mbombela, South Africa and she is the first Indian to ever win this title.
Baliyan is a modelling student of Asian Academy of Film and Television and she has posted several pictures from her journey to the pageant to the final win. In one of the posts, she mentioned that becoming the first Indian to win in the entire Miss Deaf World Category is simply surreal for her. In another post, Baliyan talked about all the hardships she had to face, she said, "As a hearing-impaired child, from not hearing the doorbell to being ignored by people, I've seen it all."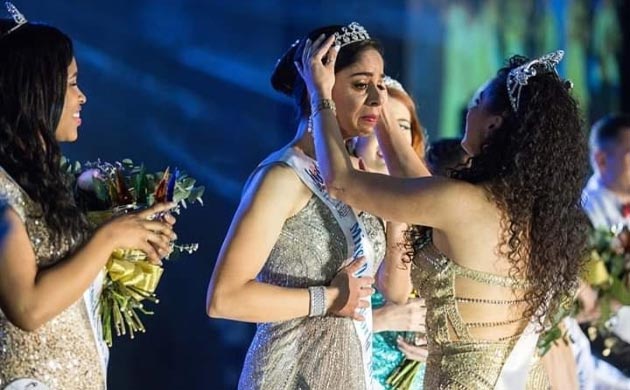 However,
through this all, her love for tennis and sports kept her going and gave her the drive to achieve everything that she ever wishes for. She earned 5th rank in the 'Deaflympics' and even won a silver for the country, but life gave her another blow that broke her completely. She suffered a severe back injury after which playing professional tennis seemed a distant dream and that is when she channeled her energy to the path of Miss Deaf World pageant. She worked super hard to excel at her game, from playing basketball to swimming and yoga, Baliyan did anything and everything to become the best.
In the talent round of the pageant, Vidisha Baliyan did something unusual. She performed tandav and upon sharing pictures from her performance, Baliyan said, "Performing tandav, which is a vigorous dance form by Hindu God Lord Shiva. Since my young age, I've loved dancing though I couldn't hear the rhythm, melody or sounds clearly. To dance, one needs fire in their heart and soul, and music in their spirit."
In helping her dreams become a reality, the officials of the Noida authority and various private groups had a big role to play. These authorities and groups came together to support her dreams and did everything possible for them to help her and make her Miss Deaf World 2019 journey as smooth as possible.
In the making of her profile video, the Noida authority and Paralympian Deepa Malik helped Vidisha Baliyan. Even Deepa's NGO, Wheeling Happiness, came forward to sponsor Baliyan's journey to the pageant and helped her in every which way possible.
Stories like Vidisha Baliyan's give us a perspective of how anything and everything is possible if you put your mind and energy into it. Moreover, the support that Noida authority and Deepa Malik gave to this young girl in helping her reach her dreams is something that everyone should aspire to, help others in achieving their dreams and this world would be a better and happier place to live in.
Congratulations Vidisha Baliyan!!