Dussehra is around the corner which means holidays, I know that you still have almost a month for the holidays but I want you to spend your off-days a little differently this time. Rather than wasting 4-5 days on your sofa, watching the same old TV, how about you travel? Travel to some places in the country that celebrate the festival with all their heart and soul.
India as a country has 29 states and 7 union territories and a huge number of festivals that are celebrated by the people. Every city has a rather more deep connection to a particular festival and it is advised that in order to get the true essence and feel of a festival, you need to be in that particular city. Like Ganesh Chaturthi is celebrated in Maharashtra in the most authentic way or Vrindavan's Holi is something that everyone should experience atleast once in their life.  
Now, Dussehra (as a holiday) is a combination of two mythological stories that cater to different people differently. First, Ravana was killed by Lord Ram on this day hence his statues (in addition to 2 of his brothers) is burned to ashes and marks the end of bad in the world. Second, Bengalis celebrate it for Durga's victory over Mahishasur, the fight took place for 10 days and 9 nights. Therefore, the celebration takes place for entire 10 days.
So, today I would be listing out to you 5 Best Places in the country that you should be spending your Dussehra holidays with either your friends or family or alone (if you want to).
1. Ramlila Maidan, Delhi
Everything and anything in Delhi is extravagant, from parties to marriages to your kid's birthday celebration, then how can we leave behind the tendency of Delhiites to celebrate the festivals in a larger than life format. Each and every society and lane have their own version of Ravana statues and a full on theatre performance that goes on for 9 days.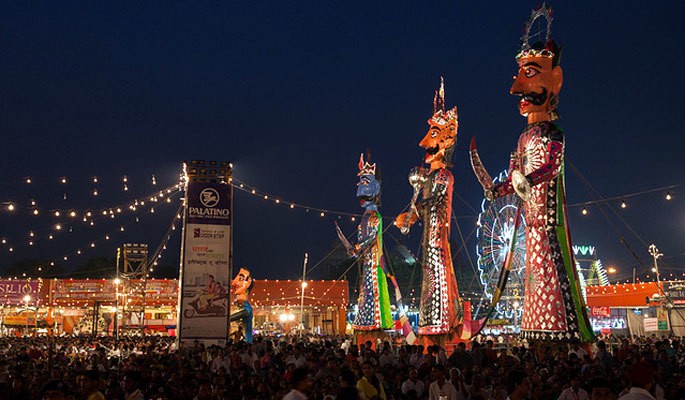 But the real deal happens at Ramlila Maidan with a big production theatre for 9 days and effigy of Ravana on 10th day along with hundreds of fireworks that light up the entire sky.
2. Kolkata, West Bengal
Kolkata doesn't celebrate Dussehra as the burning of Ravana as such, but their Durga Puja is one to die for. The celebration lasts for 5 days and 'Durga Visarjan' takes place on the last day. The city has a soul to it that differ it from all the other cities in the country.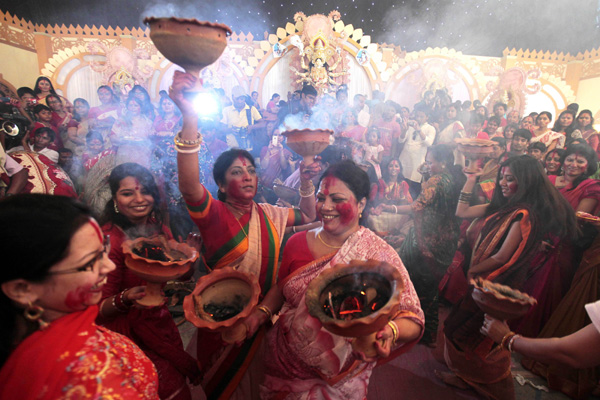 From colorful 'pandals' to aromatic food and beautifully dressed men and women, you can witness each and everything here.
3. Kullu, Himachal Pradesh
One of the widely celebrated festivals in Kullu is Dussehra, which starts from the actual day of Dussehra and lasts upto 7 days.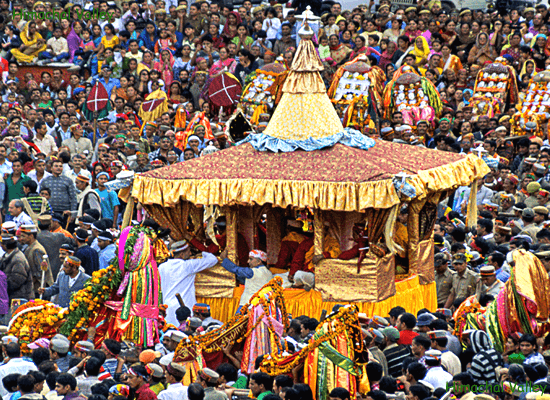 The entire celebration takes place at Dhalpur Maidan and witness more than 4 lakhs people from all around the country and world.
4. Mysore, Karnataka
Mysore does everything that one city should do in order to celebrate the festivals in a royal manner. The Mysore Palace lights up beautifully and it seems as if the entire city in addition to the people dresses up for the occasion.
The city has been named after Mahishasur who was killed by Goddess Durga, which is the main reason why the city celebrates the festival with so much excitement.
5. Ahmedabad, Gujarat
Gujaratis celebrate their Navratras with all the excitement and enthusiasm that they have. It is a big deal for them, which is the reason why for the entire 9 days everyone dresses up in their finest clothes and heads out to play 'Garba' all night long.
The entire city (infact state) have various venues where you can head out with your friends and family for Garba session's night.
These are the cities, so take your pick, book your tickets and pack your bags for a different place where you can spend your Dussehra holidays in.
Follow us on Facebook, Twitter and Instagram for more updates. Don't forget to like and share. Do tell us your views in the comment box below.
20 September 2016
Jyotsna Amla