The dark comic thriller by director Todd Phillips has great chances of winning multiple awards in the categories for best film, for best direction and leading actor Joaquin Phoenix as Best Actor. Joker is one of the nine contenders in the top Best Film category. It is nominated for 11 different categories.
The Irishman , 1917 and Once Upon a Time in Hollywood are nominated ten times under different categories. In addition to The Irishman and Joker, Little Women, Le Mans 66 – Against Every Chance, Jojo Rabbit, Marriage Story, 1917, Once Upon a Time in Hollywood And Parasite are other contenders nominated for the best movie.
Renée Zellweger And Leonardo DiCaprio Nominated For An Oscar Again
Renée Zellweger and Leonardo DiCaprio are among the Oscar nominees for best actors again. Both actors have already won the Oscar for best actor and best actress already in the past.
Zellweger is nominated for best actress for playing the role of actress Judy Garland in the film Judy and DeCaprio is nominated for his role in the film Once Upon a Time in Hollywood.
In the Best Actress category, Zellweger has competition from Charlize Theron for Bombshell, Cynthia Erivo for Harriet, Scarlett Johansson for Marriage Story and Saoirse Ronan for Little Women.
DiCaprio competes against Antonio Banderas for Suffering and Glory, Adam Driver for Marriage Story, Joaquin Phoenix for Joker and Jonathan Pryce for The Two Popes.
The 2020 Oscar Nominations In The Main Categories
BEST FILM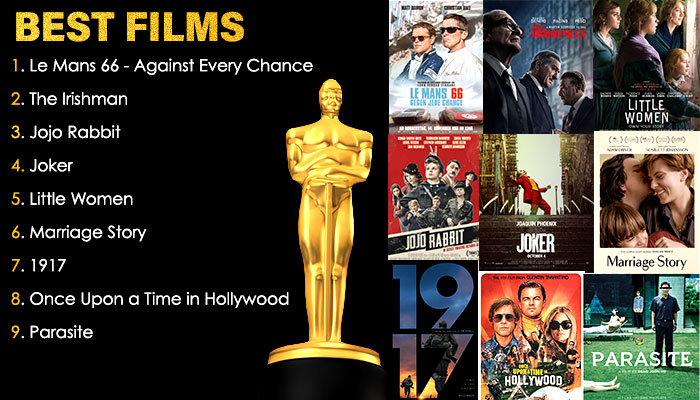 Le Mans 66 – Against Every Chance
The Irishman
Jojo Rabbit
Joker
Little Women
Marriage Story
1917
Once Upon a Time in Hollywood
Parasite
BEST DIRECTOR
Martin Scorsese (The Irishman)
Todd Phillips (Joker)
Sam Mendes (1917)
Quentin Tarantino (Once Upon a Time in Hollywood)
Bong Joon Ho (Parasite)
BEST ACTRESS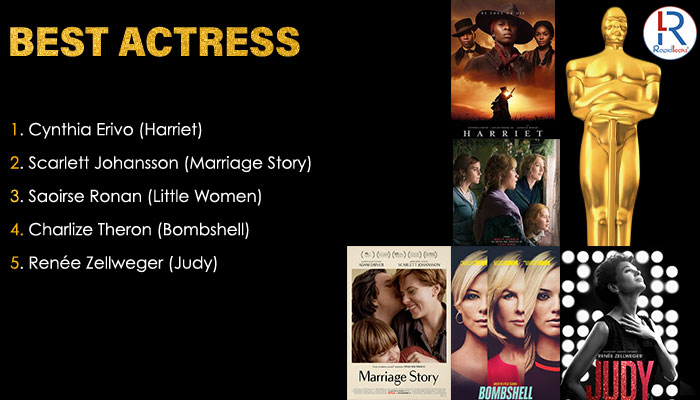 Cynthia Erivo (Harriet)
Scarlett Johansson (Marriage Story)
Saoirse Ronan (Little Women)
Charlize Theron (Bombshell)
Renée Zellweger (Judy)
BEST ACTOR
Antonio Banderas (Suffering and Glory)
Leonardo DiCaprio (Once Upon a Time in Hollywood)
Adam Driver (Marriage Story)
Joaquin Phoenix (Joker)
Jonathan Pryce (The Two Popes)
BEST SUPPORTING ACTRESS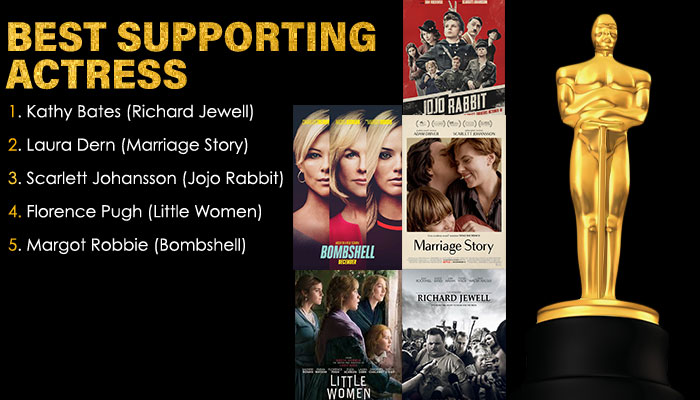 Kathy Bates (Richard Jewell)
Laura Dern (Marriage Story)
Scarlett Johansson (Jojo Rabbit)
Florence Pugh (Little Women)
Margot Robbie (Bombshell)
BEST SUPPORTING ACTOR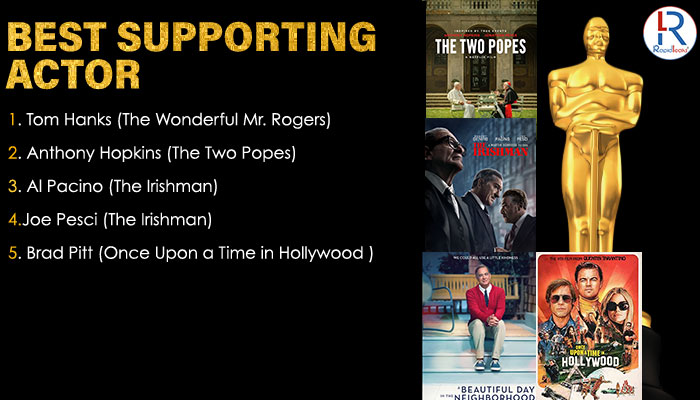 Tom Hanks (The Wonderful Mr. Rogers)
Anthony Hopkins (The Two Popes)
Al Pacino (The Irishman)
Joe Pesci (The Irishman)
Brad Pitt (Once Upon a Time in Hollywood )
Suggested Read: 9 Actors Who Deserve An Oscar But Never Got One!
BEST INTERNATIONAL MOVIE
Corpus Christi (Poland)
Honeyland (North Macedonia)
Les Misérables (France)
Suffering and Glory (Spain)
Parasite (South Korea)