O Brother, where art thou, Burn After Reading, Up in the Air actor George Clooney, known in the better part of the world as the 'ladies' man' is currently in the hospital and requires the good wishes of all fans, children, youngsters, guys and girls included.
Having suffered a scuffle in his motorbike, Hollywood superstar George Clooney crashed onto a Mercedes' head on. The collision, it is reported, took place in Sardinia. And while Clooney is 57 although with his pepper-haired look can give anyone an impression that he's only just entered in the forties, the guy who was driving the Merc was an elderly gentleman, it's been found.
It has been confirmed that the Michael Clayton actor crashed into the windscreen of the car and truthfully speaking- just merely narrating or recalling the incident inflicts great pain.
In that case, therefore, one can only imagine just how much pain would've George Clooney endured in his sudden, unwanted skirmish at Sardinia.
But the gruesome, bad part told, make way for some positive news. Finally, it's been told that the actor is fine and dandy and recovering well at home in what is his resting time. Doctors have mentioned that the famous actor should be homebound, at least for the next few days and should take utmost care of his neck and shoulder region.
Thankfully, the accident- although torrid in detail and occurrence- did not exert any threat like a fatality. And honestly speaking- there's a great learning curve in the George Clooney fiasco. It's been proven that the Hollywood superstar wasn't driving very fast on his bike. Now, this is interestingly surprising. Mostly, when one's on the bike and at the receiving end or contributing end of an accident- it's been seen that individuals usually ride on high speed.
However, Clooney wasn't engaged in any of that activity of sort. Perhaps, it may not be wrong to suggest that the following two things saved the life of the famous "Gravity" star:
Not only was George Clooney driving on cautionary, modest speeds- a must for bikers, he ensured another vital driving/riding component that often escapes those who meet deadly accidents.
It's been reported that George Clooney was also wearing a helmet and that when he actually collided into the Mercedes at Sardinia, crashing into the windscreen of the sedan, his headgear actually came into play.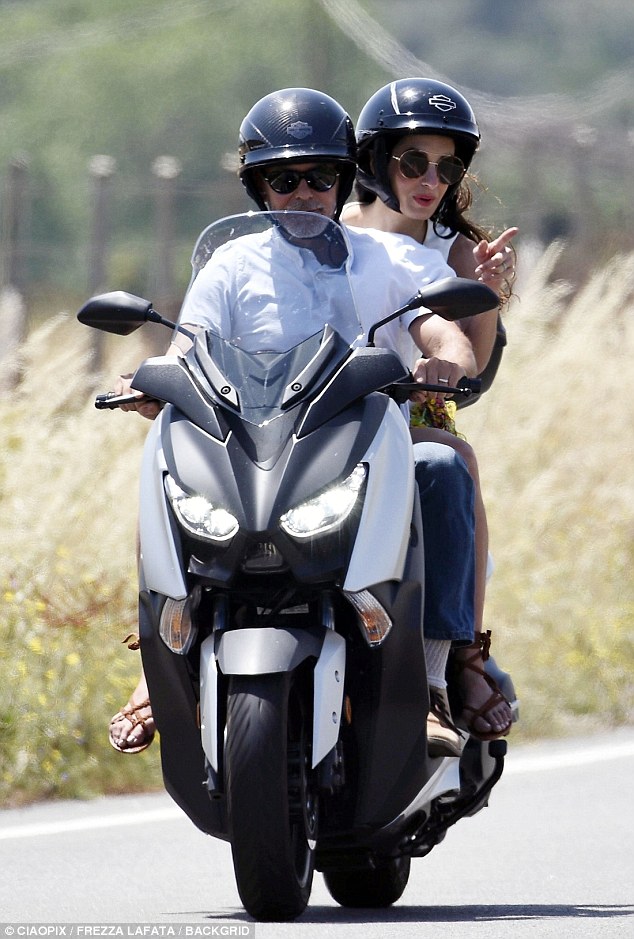 Wasn't that just fantastic? The sheer fact that a highly-watched and keenly-followed Hollywood star, no stranger to luxuries of life wasn't in any way a reckless freak on the road, imparts a lesson or two for those interesting in receiving some lessons.
Apart from the fact that Clooney was not on that high-speed, it helped that there was immediate help available for the star. He was treated on the road on the immediate aftermath of the road mishap.
Having faced not a single fractured or broken bone, the ailing actor will have to cope well and resuscitate to get better with time. It appears that, at present, he's suffering from trauma in different musculoskeletal components of the body, having pain in his hip, knee and the pelvis.
Fans who might have been aware that the actor had temporarily moved to Sardinia wherein he's shooting for his ongoing, new TV series- Catch 22- may soon have to hop off to the medical facility to catch a glimpse of their favourite Hollywood celebrity instead of hovering around the Clooney residence.
George Clooney was at the intersection of Costa Corallina, a tourist village with a private harbour when he got hit by the car as it turned left to enter the village.
Having to spend time on home soon, it is reported that George Clooney might just take around a month or 3 weeks at the most to get back into full shape. But would he be able to perform any extensive action or mobility scenes as such, only time can tell. Still, you did good George to save yourself from any possible danger having worn the needed bike-gear.