Lets find out about Ed Sheeran net worth the renowned English singer-songwriter. He is one of the most successful and wealthiest singers in the world today. Ed Sheeran net worth is about $ 200 million. During the tours alone, he usually makes $70-$100 million in a year. Between June 2019 and June 2020 he made $65 million from his various endeavours.
Early Life of Ed Sheeran
Edward Christopher Sheeran was born on February 17, 1991, in Halifax, England. He grew up in Framlingham, England; and started singing in a local choir before he even began kindergarten and then moved on to playing guitar. He wrote his own songs while attending Thomas Mills High School. Subsequently, he was accepted to the National Youth Theatre.
| | |
| --- | --- |
| Net Worth | $ 200 Million |
| Age | 30 years |
| Born on | February 17, 1991 |
| Country of Origin | United Kingdom |
| Source of Wealth | Professional Singer/Songwriter |
| Last Updated | 2021 |
Music career that made Ed Sheeran net worth of millions
Sheeran started recording music in the year of 2004. He released a collection of work, Spinning Man, independently. In 2005, he released his first EP. And then over the next three years, he released two more albums. While performing at smaller venues in and around London and gained a small following there. He began to collaborate with other artists and also toured with Just Jack. He visited Los Angeles in 2010 and caught the attention of Jamie Foxx there. Jamie gave him a free recording pace and a place to stay while he was in the city. There he released two more EPs.
In April 2011, back in London, Ed played a free show at the Barfly in Camden Town. Over 1,000 fans showed up there. His EP(Extended Play), 'No. 5 Collaborations Project' became an iTunes hit. Subsequently, he was signed to Asylum/Atlantic Records. In 2011, Sheeran released his debut studio album, +. It reached the #1 spot in four countries and in the US the #4 spot. "Shape of You", his single, reached #1 in 10 countries. Also, he has had massive hits with the songs "The A-Team", "Lego House", "I See Fire", "Sing", "Don't", "Thinking Out Loud", "Photograph", "Castle on the Hill", "Galway Girl", and "Perfect".
Ed Sheeran's Second Album
He released his second album, x, in 2014 in nine countries including the US and the UK. Ed took a year-long sabbatical post the release and success of x. He made a comeback in March 2017 with the release of the album Divide. It hit the number one spot in many countries including the UK, the US. It also became the fastest-selling album by a male solo artist in the UK. Together with Justin Bieber, Sheeran released a single, "I Don't Care", in May 2019. It debuted with 10.977 million daily global streams on Spotify, making the platform's single-day streaming record. Titled No. 6 Collaborations Project, Sheeran released the album on July 12, 2019. It debuted at No. 1 in the US, the UK, Australia, and other markets.
In the UK, his four albums spent a combined 41 weeks at No. 1. He was named artist of the decade in December 2019, by the Official Charts Company. Ed has sold over 150 million records. His song "Shape of You" was named the number one charting song of the decade. Behind Drake, Spotify named him the second-most streamed artist of the decade. In terms of the concert tour, Sheeran holds the record for the highest-grossing.
Earnings and Touring
The majority of Sheeran's income comes through touring. Between March 2017 and August 2019, his "Divide" tour grossed $780 million. It became the highest-grossing concert tour of all time, surpassing U2's "360 Degrees" tour that happened between 2009 and 2011.
Acting Career & appearance of Ed Sheeran in game of thrones
Sheeran made his acting debut with a cameo role on the New Zealand soap opera Shortland Street in 2014. He then acted in the Australian soap Home and Away. Sheeran appeared as himself in 2016's Bridget Jones's Baby. Ed Sheeran also appeared in game of thrones opposite Maisie Williams in July 2017. Sheeran has modelled on ads for Heinz Tomato Ketchup, for which he has a particular affection. Sheeran appeared as himself in the Richard Curtis/Danny Boyle film Yesterday in June 2019.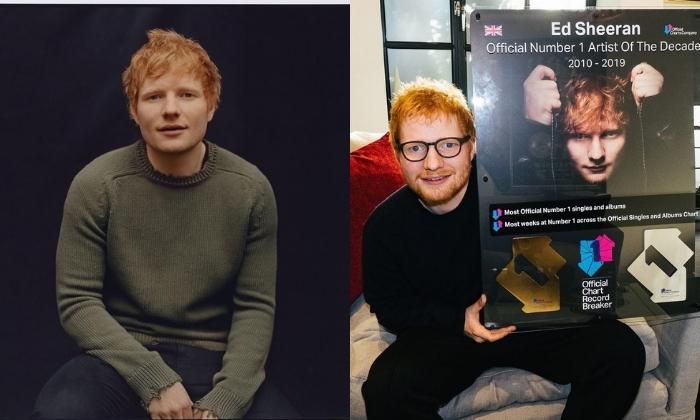 Personal Life
In early 2011, Sheeran bought and renovated a house in Framlingham, Suffolk. He bought a home in Notting Hill in London, in 2014. Ed dated Scottish musician Nina Nesbitt before breaking up in 2012. He also dated Athina Adrelos during 2014-2015. He has been in a relationship with childhood friend Cherry Seaborn since 2015. After announcing their engagement in January 2018 they secretly married a year later. Ed is a supporter of the Labour Party and he publicly opposed Brexit.
Philanthropy
Ed Sheeran prominently espouses various causes and is regular at the charity. He raised $40,000 at a gig in Bristol for a charity that supports street sex workers. He is often seen donating bags of clothing to charity shops in Suffolk, his home county. Sheeran is an ambassador for East Anglia's Children's Hospice. Ed joined the charity supergroup Band Aid 30 in November 2014, along with other British and Irish pop acts.
Ed recorded a version of "Do They Know It's Christmas?" to raise money for the West African Ebola Virus epidemic. In 2015, he joined 30 other celebrities in support of the No Cold Homes campaign and donated winter clothing items to people in the UK struggling to keep their homes warm in the winter. Ed has participated in the BBC's biennial telethon Comic Relief and appeared in 2017 on an episode of Goggle-box as part of the UK's Stand Up to Cancer fundraising campaign.
Also read: Taylor Swift's Net Worth
Accolades & Accomplishments
Ed Sheeran received an honorary degree from the University of Suffolk in Ipswich in 2015 for his outstanding contribution to music. Ed has won four Grammy Awards, including Song of the Year, five Brit Awards, and six Billboard Music Awards. Sheeran received the Ivor Novello Award for Songwriter of the Year in both 2015 and 2018. So far, Ed has been nominated for over 300 awards and has won 115 of them. In a 2018 poll, Sheeran has ranked the fourth-greatest Yorkshireman ever.