Human nature. Not merely a Michael Jackson song. Not only a Madonna number you've danced to. It's a complex anatomy of many emotions and expressions. You can know someone through their emotions at one time nature and then not know them at all. Right? As humans, we are confusing and often random. It all becomes messy sometimes. But no artist- whether before or since- Jim Morrison, the former lead singer of 'The Doors' understood the mind, heart and all with such immensity.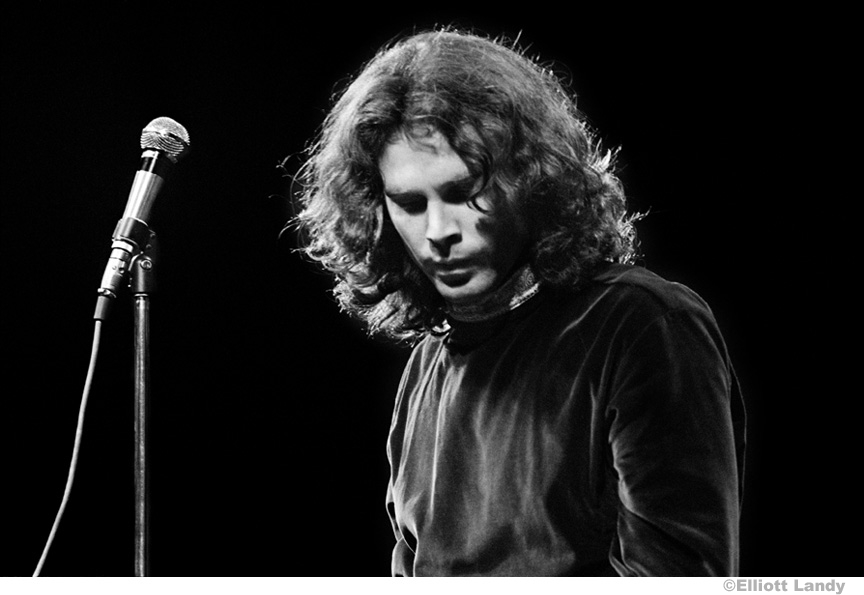 Here are 5 moving Jim Morrison quotes on life, love, death and, pretty much everything that beautifully sums up the complex beings that we are.
1. Jim Morrison on Love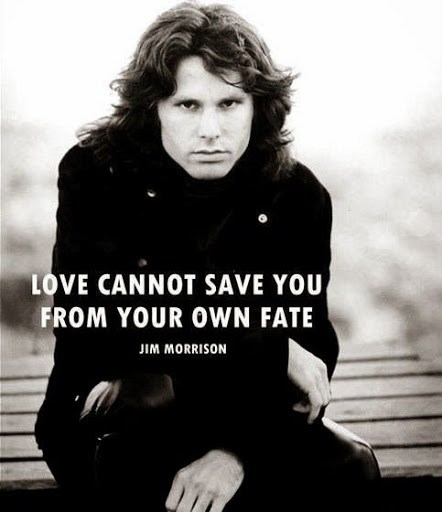 Pamela Courson and then Patricia Kennealy. In between, came dozens of chicks, babes, journalists, hedonists, divas, the lost one's and many more. Even if Jim Morrison hadn't been with so many women in his life, one reckons he was certain to have nailed it big when it came to love.
Don't we all surrender ourselves to it? This poignant four-letter word called love, according to Jim was way more than just having the power to make or break. But what was it Jim? One doesn't have to look to deep into Morrison's lyrics to figure out love once you've hit that melody, 'People are Strange'.
2. Jim Morrison on Fear
We might have gone to the moon, hunted down worst terrorists and exposed crime syndicates, but what are we most afraid of? Isn't it we, at times?
Wasn't the 'Lizard King' damn right when he came up with this one?
3. Jim Morrison on being crazy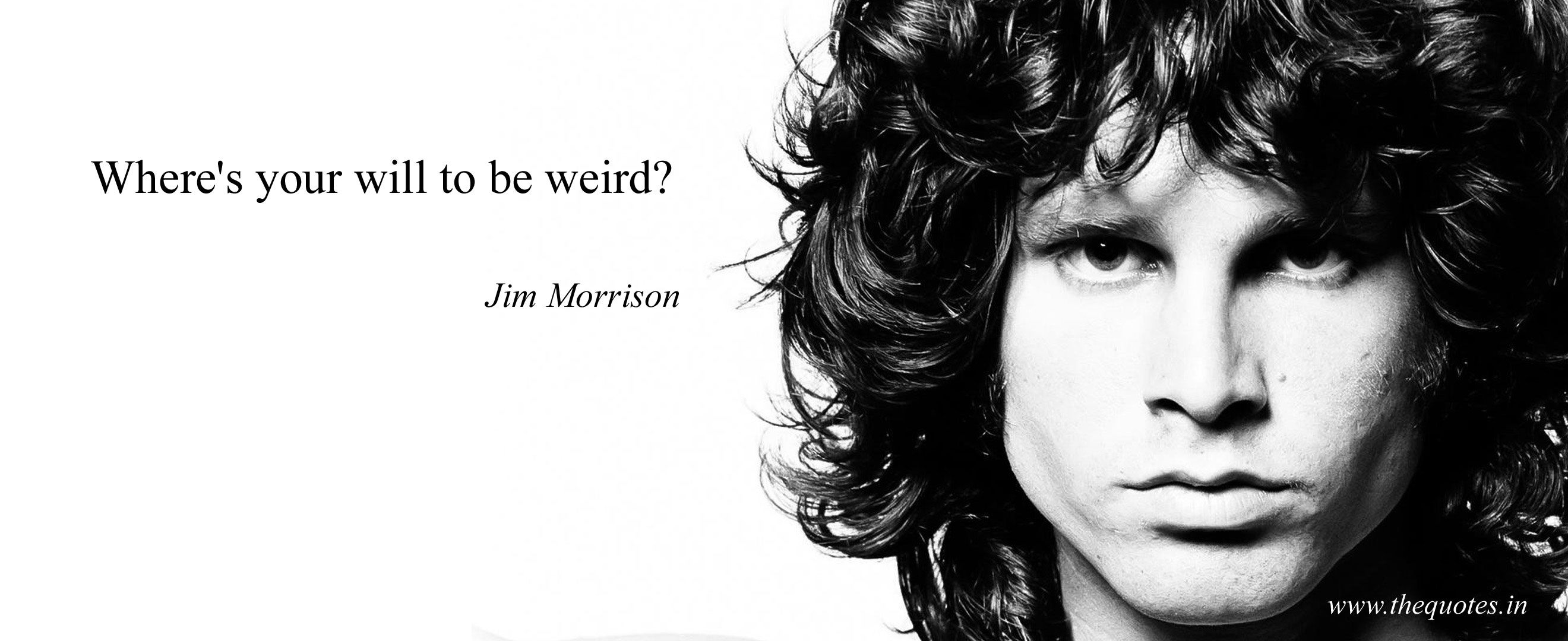 According to critic, Michael Jackson was weird. But isn't Eminem weird too when he wore a fake MJ nose to poke fun in that number, 'Just loose it"? Romor mongers think boring people like nerds who seek nothing else apart from burying their heads into books as weird. Celebrated Tom Hanks movie Forrest Gump stated "Stupid is as stupid does". The dialogue may well have resonated with so many upon the much-loved 1994 triumph. But just what does it mean being crazy or stupid? So aren't you crazy when you spend hours and hours on social media, hoping to get likes on snapshots titled "about last night" or "broke up with that loser"? Or are only those crazy who consume a bit of dope, know they know it all but don't say it about life, only for them to be shrugged off aside by a society that calls itself 'civilized'. Jim, you spurred a crazy spark there by asking one to be crazy.
4. Jim Morrison on Media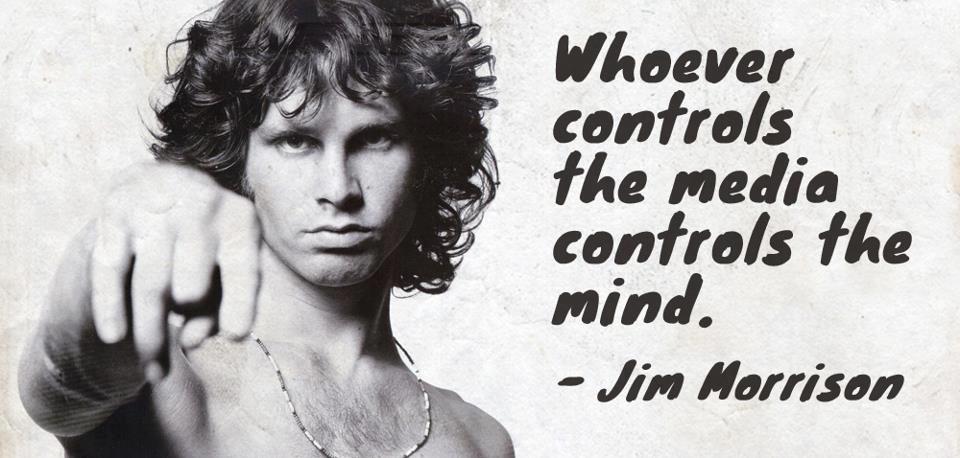 So those attacks that are happening in the world, who is responsible for them? Are terrorists alone? Or are their deliberate government lapses? Who is the illuminati? Why aren't we hearing the inside accounts on what's going on inside a North Korea, China, Iran, Israel, Russia and pretty much all prisons where criminals are being coerced into being decayed infested lives that can only take more lives? Why is the focus often not on the sufferings of the poor in an Africa while sophisticated entrepreneurial templates run leading media houses world-over? Why is Cancer curing med so expensive? Why isn't someone controlling the propagandists responsible for criminalizing an entire world by perhaps directing aids and finances toward funding terror activities? Is the world really so innocent? Who is controlling what's to be played out on the idiot box called TV, or, now smartphone etc. and what isn't? Morrison said a big thing when he realized how media is, rather what it can do, way back then. Today, the results are in front of you.
5. Jim Morrison on Death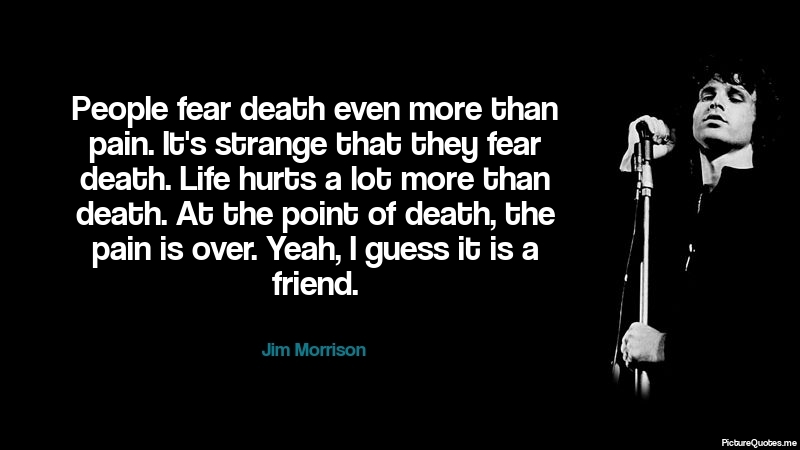 Hmm. Who doesn't like living Jim? Perhaps, those who fear dying the most, right?