As soon as Marvel's fans saw Avengers: Infinity War trailer, they have been scratching their minds. Thanos is overpowering our superheroes and that breaks our heart. Of course, a great villain means a great script which means that Infinity War will be nothing less than a ride that will keep pumping adrenaline throughout the movie.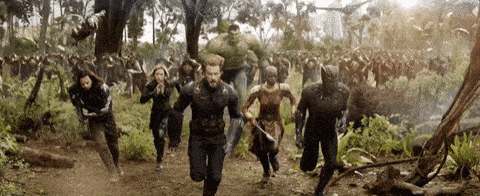 Finally all the superheroes including the newest additions, Dr. Strange and Black Panther will share the same screen and the bonus is that the gang of Guardians Of Galaxy will be a part of it, hopefully standing with the others against the super villain of Avengers: Infinity War. The trailer for sure gave us hopes and goosebumps.
But that's not it. Indians being the creative breeds of all also took some comical inspiration as they flooded twitter with all sorts of hilarious puns.
Take A Look.
1. Black Panther, You Shouldn't Have Asked For It!
AvengersInfinityWar #Thanos #captain #BlackPanther #pizzaguy
2. That Sounds Way Too Indian And We Can't Help Laughing At This One!
Indian infinity war. #InfinityWarTrailer
3.Looks Like This Twitterati Got It Just Right!
Can anyone relate? #AvengersInfinityWar #AvengersInfinityWarTrailer https://t.co/XYTORPYpiN
 4. That's One Hell Of Politically Creative Imagination!
Thanos Mystery unlocked. #InfinityWarTrailer
5. Thor, Where Are Your Manners?
When you walk into the wrong classroom… #AvengersInfinityWar #InfinityWar #HYPE https://t.co/FckT0zyytM
6. Whoa That Was Below The Belt!
Karni Sena seeks a ban on #AvengersInfinityWar based on the trailer. They say that the Hulk is a Rajput warrior and why is he the only guy without clothes?? They have offered to pay 5 crores for Mark Rufffalo's nose!
7. If Only He Was This Peppy!
See y'all in May. #AvengersInfinityWar
8. OMG! That's So Relatable!
when you order something online vs when it arrives #InfinityWarTrailer
9. The Quirky Observation!
So Sherlock, meet, um…Sherlock? #InfinityWarTrailer
10. Wait Till You See It!
@JohnBoyega is all of us watching the #Avengers​ #InfinityWar trailer… https://t.co/RguGFWM92s
All of it made us miss the original Avengers: Infinity War trailer so much and we think we need to watch it one more time.
Don't you think that our power pact superheroes will be able to stand against the most powerful villain of Marvel universe? We sort of know that they will but the mind-boggling question is how? Which miracle will save them from the wrath of Thanos?
Marvel, think about an early screening, please.
30 November 2017
Avni S. Singh