Trendsetter, fashion icons, divas of a different kind, leading lives that are absolutely whirlwind, the Bollywood starlets know a thing or two about fashion and how to dress avidly.
Isn't it?
What's most interesting about our famous actresses is that they dress don't only lead fashionable lifestyles alone; they dress in style as well. And that is just the beginning. It's not the only thing, rather just a start.
The most spectacular thing about our Bollywood actresses is that somehow they've got a penchant to dress in great symmetry and that's what makes their style even more unique. Confused, well don't be.
Here's a sincere attempt to make some sense of it all. So when its the bright and sparkling festival of Diwali, you'd find most of the Bollywood actresses dressed in less spunky and more traditional outfits.
You may have seen some transient sarees as the quintessential festive attire during that time. Haven't you? When its more patriotic outcomes such as the 15th of August or the Republic Day, then the actresses put up a fashion statement decked in nationalistic fervour. Their outfits defined by a panache of simplicity, nothing too fancy truth be told.
But that said, that is not the only way in which these trendy actresses pack a punch in the ebb of fashion, or is it? Well, truth be told, it doesn't matter whether you are an informed fashion critic, a wannabe designer, an upcoming actor, a fashion intern, an acerbic critic or a hairstylist, there's something that none of you would have missed out on.
Now, let us remove the complexity since chances are that most of you would be wondering what is it exactly about?
Well, of late, there's this one trait that has become an implicit part of the celeb culture. It's the fashion and dressing sense for the airport attire. Yes, you read that one right. An ever-increasing trait in the armoury of many a Bollywood actresses is just how they dress up whilst catching a flight, returning from a foreign assignment like a tour or a shooting schedule or quite simply, going to the airport to visit some guests or someone else.
That's an essential element of today's Bollywood. And believe it or not, it's not the jazzy mishmash of colours, the trendy high-heeled shoes or the dark very amorous shades that these style icons are busy sporting nowadays.
One thing that unites such diverse acting talents and stellar Bollywood icons in the present moment is the familiar penchant for the colour green. During the ongoing monsoon season, everyone, whether it is a Priyanka Chopra, Disha Patani, Kriti Sanon, Taapsee Pannu or Kangana Ranaut- all of these glittering symbols of the Indian film industry are decked in a costume colour that unites them all.
And that colour is green.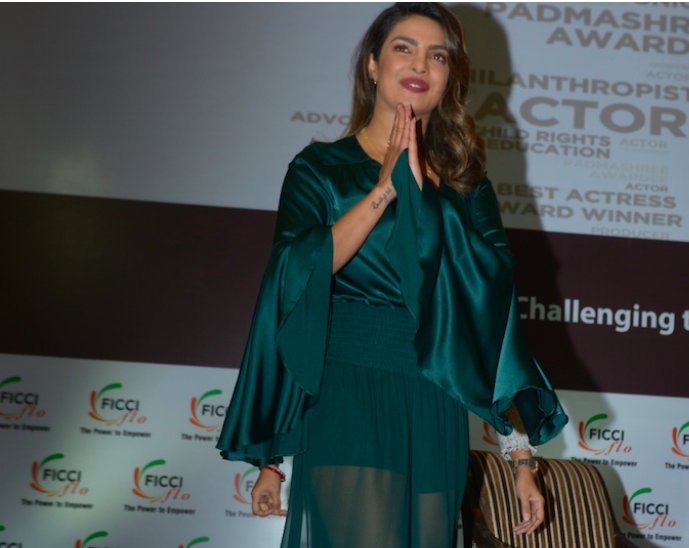 Whether it's an ethereal looking saree, an elegant looking one-piece dress, a charming small dress or a cute frock- there's green that has seemingly become the dominant colour that defines Bollywood actresses as of now.
And in case you are wondering to what extent have Bollywood's popular actresses decked themselves in this charming colour, then here's a keen example:
Quoting directly from the Instagram profile of Taapsee Punnu, here's something from the actress herself- Taapsee Pannu seems to have taken to the colour green as well. For an event held yesterday, Taapsee wore a shaded, asymmetrical green dress by designer Urvashi Joneja.
Even other, rising actresses such as Malvika Mohanan are decked in this bright colour to make a suave style-statement of sorts.
Beyond the Clouds star, Malavika Mohanan is another one who seems to have caught on to the green trend. Malavika was spotted in Mumbai wearing a green lace cut-out mini dress. Well, as it is, we've heard, birds of the same feather- flock together. This stands true for these talents as well.