Nana Patekar, one of the most versatile and talented actors of Bollywood has always been appreciated for his acting yet we can't ignore the fact that he is one of the most under-discussed actors. Nana Patekar Dialogues are always a center of attraction in any movie.
For 37 years, Nana Patekar has been entertaining us, his last movie Natsamrat (Marathi) was not only highly successful commercially but was also acknowledged critically.
Regardless of how much appreciation his movies garnered at the box office, there is one segment that he never fails to rule – Dialogue Delivery.
Nana Patekar's presence on the screen can never go unnoticed as his talent to ad-lib dialogues is just peerless. Whenever he delivers a dialogue, it's almost equivalent to putting a strong opinion which convinces people to remember them.
People are a fan of Nana Patekar comedy. Nana Patekar's comedy dialogue leaves the audience in splits.
Of course, the words are of dialogue writers, but his projection, timing, voice modulation, and neatly defined expressions add precision to them.
Nana Patekar is one of very few actors who could live up to their Angry Young Man image and deliver one of the most dhamakedaar dialogues ever.
Best Nana Patekar dialogues that impacted the audiences
1. Well, Can You Deny That?
Krantiveer, released in 1994 and directed by Mehul Kumar, was not a massy-film with all the 90s masala, but rather a humane drama story that will keep you captivated till the end.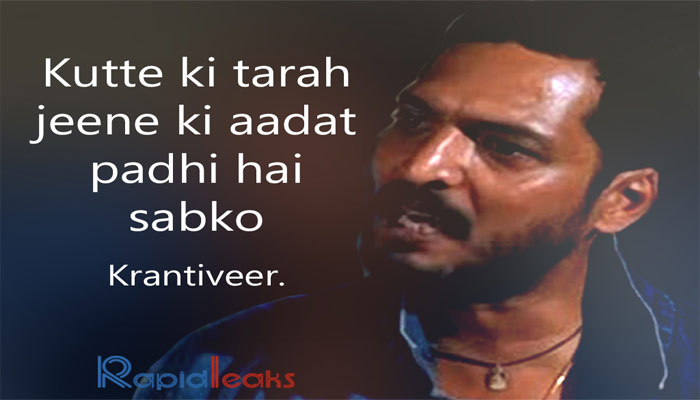 The film had a great storyline about vengeance, hate, discrimination, and love, but most importantly, it had an amazing and astonishing performance by Nana Patekar fighting social injustices. Interestingly, Patekar's performance was so amazing that he even won a National Award for this movie.
2. That's Some Motivation!
Released in 1997 and directed by Anil Mattoo, Yeshwant is a SuperCop drama surrounding the life of Nana Patekar's character, an orphan since birth, who becomes an undercover Narcotics officer.
He is a man of principle, fighting against the wrong and for the truth. It is another great performance-driven film by Patekar, and certainly a must-watch for his fans.
3. We All Doubt Humanity These Days!
Another one of the stunning Nana Patekar dialogues from Krantiveer.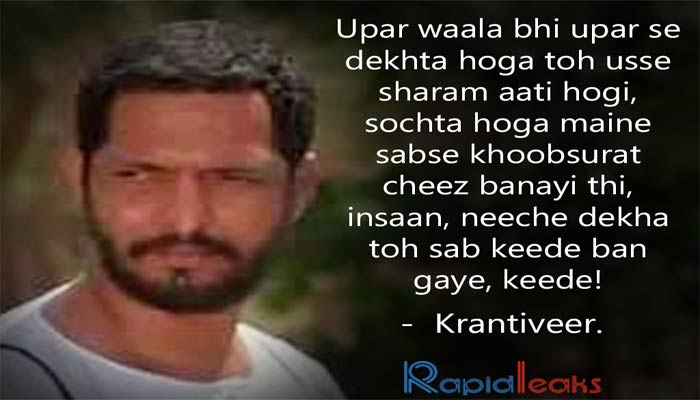 4. Because Things Are Worthy Than Life Now!
Directed by Partho Ghosh and released in 1997, Ghulam-e-Mustafa is a masterpiece from Nana Patekar's filmography. Ghuma-e-Mustafa translates to "Slave of God" and the film revolves around the same belief.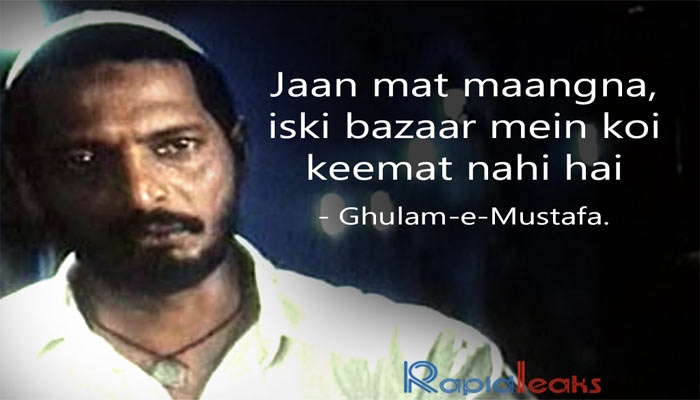 It is a story about one man's inner struggles with his religious beliefs versus the upbringing that he had. In few words, the film is about power, violence, greed, and redemption.
5. True That! Nana Patekar Dialogues
Parinda was released in 1989 and directed by Vidhu Vinod Chopra is considered to be one of the first few films to explore the underbelly of Mumbai with a realistic lens. It broke the classification of art cinema and Hindi films masala, along with mixing two genres effortlessly.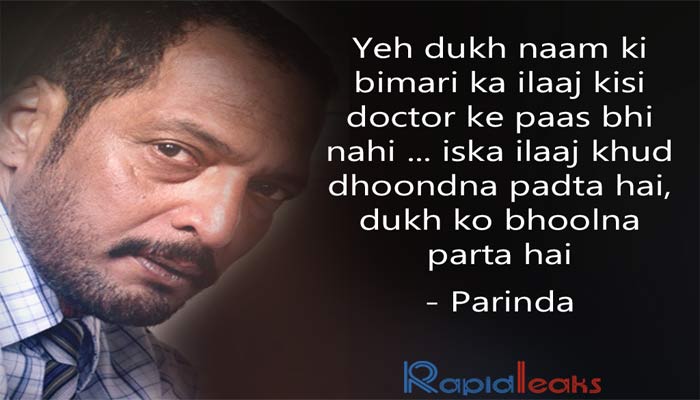 If you're someone who watches films from the lens of film-making then this film is nothing short of a masterpiece. Driven by beautiful cinematography, complex and disturbing characters will haunt you for a long-time. Nana Patekar plays the role of villain in the movie and does a tremendous job in establishing his character and showcasing its complexities.
6. Strictly Business!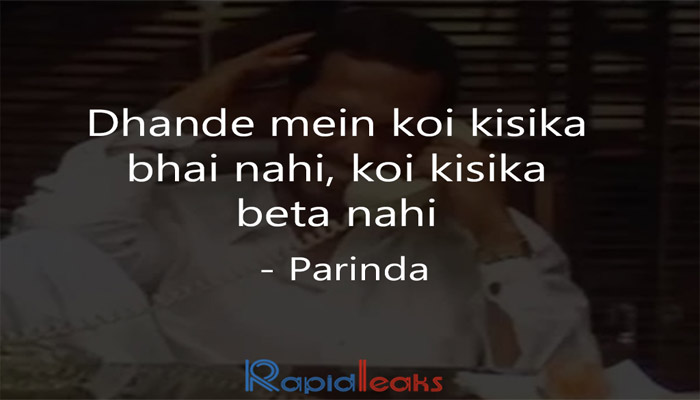 7. Well… True Again!
Ab Tak Chappan is one of the must-watch from Nana Patekar's filmography with a brilliant direction by Shimit Amin and a strong storyline to support it. One just can't generalize the film as a story about an honest or a corrupt cop, but rather as a film that showcases the life of a cop who is ready to do whatever it takes to get rid of criminals, even when the system fails to do it. Ab Tak Chappan can easily be described as the Satya for Cops, with a realistic and rough lens to it.
Nana Patekar has been able to breathe life into the nitty-gritty of the character, and giving him a cool-composed vibe, at the same time. Moreover, Ab Tak Chappan has some of the most spectacular Nana Patekar Dialogues giving more stance and stature to the character, as well as, the film.
8. Such Emo Words! Nana Patekar Dialogues
Released in 1998 and directed by N. Chandra, Wajood is another one of the gems of the 90s that deviated itself from the Bollywood-isation of Hindi films and cliches. Coupled with a thought-provoking storyline and exemplary acting, Wajood is another stunning addition to Nana Patekar's dialogues and films.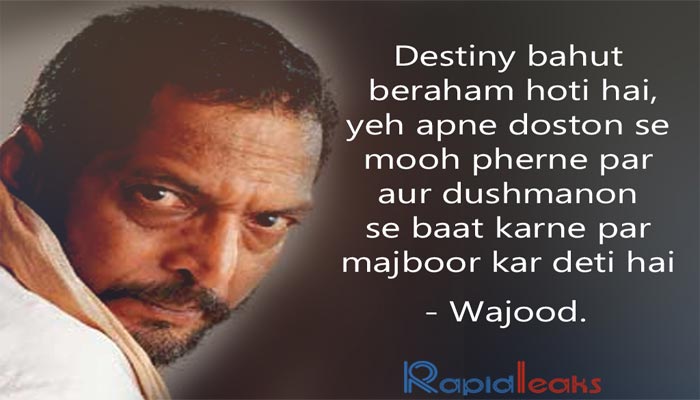 It takes a look at Indian mentality where a secure job and life is not only a path in life, but rather life itself, and what pressure it puts on those with a knack for doing something different.
9. Who Wins Deserves Respect!
This multi-starer, directed by Prakash Jha and released in 2010, was able to get phenomenal performances from all its cast, which is rather a difficult task in itself. Critics described the film as a mix of modern-day Mahabharata and The Godfather, and this is exactly what Rajneeti is.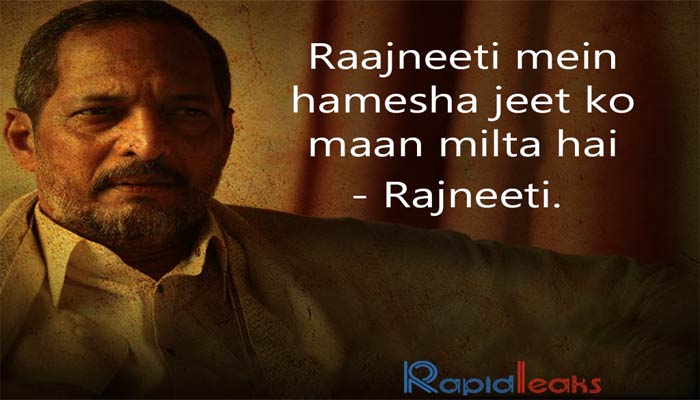 Every character has something different to offer and bring to the story and while Nana Patekar's character was another addition to the storyline, it was his phenomenal acting and delivery that made him stood apart. If you've not yet seen Rajneeti then we'll urge you to immediately jump on this bandwagon and enjoy the reality of politics.
10. Can You Stop Laughing Over It?
Finally a comedy film on this list of best Nana Patekar dialogues, and while we all know that the original Welcome was a far better bet than Welcome Back we just can't say the same in this dialogue's case.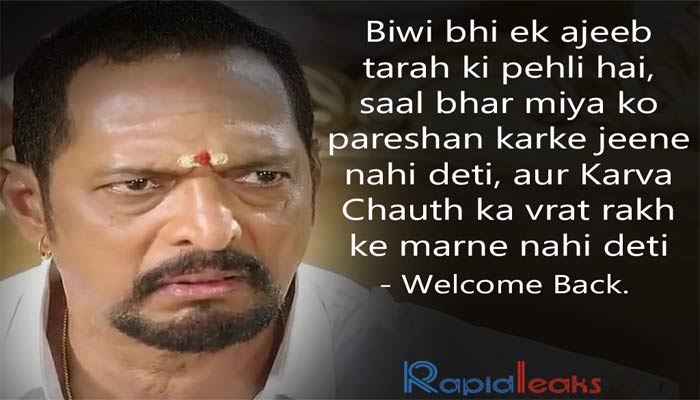 However, one thing that remains the same between the two is Nana Patekar's character and acting skills. It is simply a treat to see Patekar in a comic role consistently juggling from one stressful situation to another.
11. Talent Can Not Be Taught!
Another amazing dialogue from Wajood.
12. Wise Words! Nana Patekar Dialogues
Ab Tak Chappan 2 is considered to be the worse half of this duology. In this sequel, Nana Patekar's character comes out of retirement to rebuild his reputation and work with new characters in the film.
If Ab Tak Chappan left you amazed and became one of your favorites then you can watch this movie to relieve the brilliancy of Nana Patekar, and not for any other reasons.
Aren't all of them true in some way or other?
Also Read: Nana Patekar caught up in controversy
Well, that's how Nana creates magic. Now you know why he rules the power of conviction.