Can the news of someone's passing ever signal a positive particularly on a New Year's Day? Moreover, can that news reflect anything close to a positive, particularly when it concerns itself with the demise of someone who was profound in thought, magnanimous in talent, and an implicit part of India's film industry?
Perhaps most of us have heard that life and death, and the constantly changing vagaries of the same are a part of life. Whether in real life or in unneeded wisdom, we've been fed this truth in some way or the other.
But regardless of our failure to accept this universal truth, on a day where Bollywood seemed a harmless and a happy place, given January 1 is one of India's finest actresses' birthday, Vidya Balan, the news of Kader Khan's demise saddens the industry. It then also compels one to remember that those who fed the above- death and life are but a constant- were not only right but only pointing to a harmless truth we all often care less about.
Isn't it?
While throwing adjectives at Kader Khan's illustrious career may actually become a tiring process, albeit something a true admirer of his talent and follower of his movies may never shy from, what might make sense, at this point, would be to remember the great Kader Khan movies.
He was, after all, more than just a versatile actor; he was someone who retained a sense of simplicity about him in an industry that often appears complex and can seem contorted to pure human beings.
Kader Khan's talent warranted perhaps much more regard and affection than one may not be entirely wrong in thinking he never got. And, at the same time, he gladdens the Hindi film fan for his work personified a fine body of acting that exemplified both- eccentrically funny and simply joyful characters.
And while most veteran actors, whether one speaks of Naseeruddin Shah, Om Puri, Pankaj Kapur, Annu Kapoor, have essayed a sense of banality when required by some ordinary, plane characters as also a sense of charisma, here's what made Kader Khan different.
The actor who would've been 82, attempted, and brilliantly so, roles that could've seemed utterly plain and ordinary had it not been for Mr. Khan's energy and power.
For only Kader Khan could've highlighted a strict father who also happened to love his son, a caring husband who also possessed a unique sense of humor, a strict businessman who happened to have a heart of gold, and a man who'd go out of the way for his family and yet rescue run-of-the-mill characters with a wicked sense of humor.
That said, as Bollywood loses an actor one doesn't hear being called iconic, let's reminisce some parts that prove just that through a tribute to the following Kader Khan movies.
Coolie No. 1: the protective father
A famous film, laced with craziness and humor as you'd expect from the harmless nineties films, what makes Coolie No.1 among the best Kader Khan movies is the fact that Kader Khan and Govinda made something fabulous out from a film that rested a lot on their famous face-off.
With Govinda vying for his love-interest Karishma's attention, Kader Khan, as the protective but ambitious father to Karishma Kapoor, spurred the film with great chemistry.
It's something that only the duo would've managed.
A bit over the top but really witty, Kader Khan pulled out a great part on his behalf.
Hum: A mad-capper of a part
Among the most famous eighties flick, Hum, an interesting action-drama starring a fine bandwagon of stars including Amitabh Bachchan, Rajnikanth, Govinda, and Kader Khan among many others.
Implicit in this moving emotional tale of a family that bounces back against the odds and an enemy one too many was a comic angle that perhaps qualifies to be adjudged the finest among many unsung comic performances.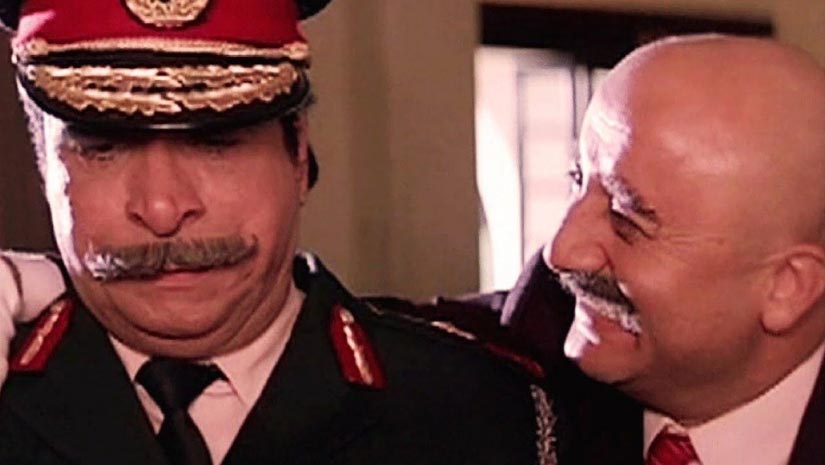 Starring in a double role, one of extreme variance, Kader Khan pulled off a stunner as a strict Army disciplinarian on the one hand and also appealed in the part of a theatre artist possessing a strange itch, one that was about as irritating as it was funny.
Dulhe Raja
It could be said that embedded deep in the life of many Kader Khan movies was the presence of Govinda. It's needless to say, therefore, that the comedian, actor, dancer regards the passing away of Kader Khan as a loss of a mentor, not only a venerable fellow actor.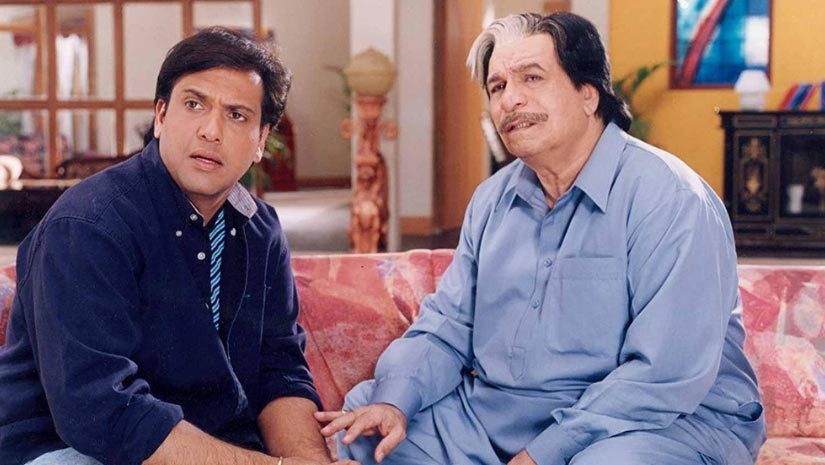 In Dulhe Raja, the hysterical on-screen chemistry between Kader Khan and Govind broke new grounds of rib-tickling comedy.
As the owner of a small but growing dhaba, one that posed a direct threat to the popularity of a successful, well-established hotel, owned by Kader Khan, Govinda rescued what may have been a mildly-humorous offering of the nineties but one that wouldn't have been possible minus Kader Khan, the shining star of another comedy that can be watched and re-watched to this day.
Mujhse Shaadi Karogi
If there's a movie that successfully failed to communicate the importance of Kader Khan and the brand of humor that only he can handle then it's Mujhse Shaadi Karogi.
A film that was extremely witty despite being loaded with unbearable cheesiness, perhaps got restricted to the drool-worthy physique of Akshay Kumar and Salman Khan instead of finding a way to celebrate what was arguably the finest film role of Kader Khan in a long time.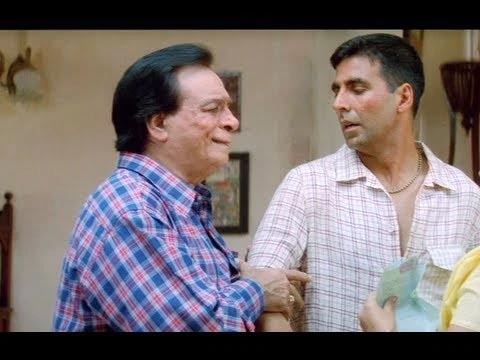 As a victim of strange medical anomalies- a day he is blind, on another, he cannot hear well- Kader Khan left audiences with a confusion: how were they to curb laughter whilst it was impossible to do so and how were they to stop rolling on the floor seeing what was actually a strangely concocted character, whose own standing in the movie may have been actually better instead of an overdone romantic narrative!