Jagjit Singh, the name will surely make you recall a flashback when you heard his captivating voice for the first time. Popularly known as "The Ghazal King" he stood apart in the crowd of singers. His voice was as peaceful as the murmur of an ocean and touched every emotional string one could have in a heart. It has been many years since this legend left us with his memories. All his work is whole heartedly cherished by the people of all age groups around the world. Here, we present some classic all time famous ghazals of the revered Indian artist Sir Jagjit Singh Ji.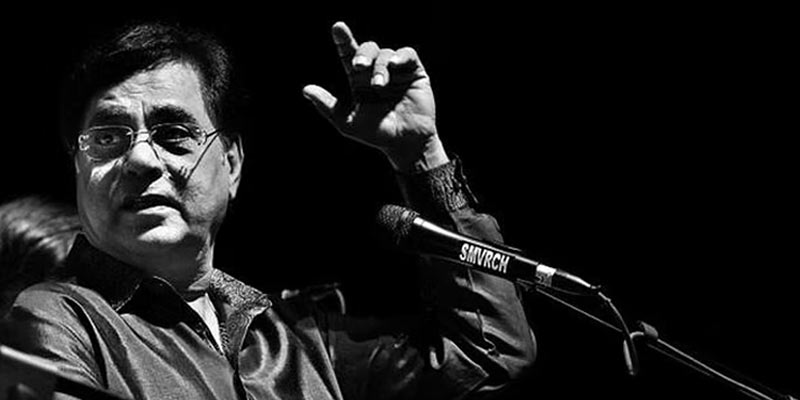 Jagjit Singh or Jagmohan Singh Dhiman was one of his kind, while there were other Ghazal singers, his voice always waved a magic that kept people spellbound. From "Hontho se chulo tum" to "Koi fariyaad", Bollywood can't thank him enough for existing. He wasn't only a Ghazal singer, he was a true musician who composed music with all his heart. Every note of his song is a melody in itself.
In September of 2011, Jagjit Singh returned from the UK to perform with veteran singer Ghulam Ali in Mumbai and lost his life due to a brain haemorrhage. The industry mourned the loss of one of the greatest Ghazal singer. Although no one can fill the void, yet we are grateful that Jagjit Singh's Ghazal continue to exist in the world.
1. Tum Jo Itna Muskura Rahe Ho – Jagjit Singh Ghazals
In his voice, this song is the story of everyone's life. It still is probably the most popular song of his career.
2. Woh Kagaz Ki Kashti, Woh Barish Ka Paani
We bet everyone will connect to this song instantly. The hardship of an adult wrapped in soothing lyrics and his magical voice make this plea sound more convincing.
3. Tumko Dekha Toh Yeh Khayal Aaya – Jagjit Singh Ghazals
The ghazal is from film Saath Saath and it stands as one of the most romantic ghazals ever.
4. Hothon Se Chhoo Lo Tum
Okay, we take the previous words back. Jagjit Singh was a master of romantic ghazals. This one wins between, Tumko Dekha Toh Yeh Khayal Aaya and Hothon Se Chhoo Lo Tum.
5. Jhuki Jhuki Si Nazar Bekaraar Hai Ki Nahin
Another romantic one in his voice. This ghazal was one of the biggest hits of its time.
6. Chithi Na Koi Sandes – Jagjit Singh Ghazals
Every time you hear this ghazal, it will leave you with moist eyes. The pain of a lost one has wrapped in every tune.
7. Koyi Fariyaad Tere Dil Mein Dabi Ho Jaise
If you haven't heard this one, you are living under a rock. Period.
8. Hoshwalon Ko Khabar Kya
"Ishq Kijiye Phir Samajhiye Zindagi Kya Cheez Hai", how could one not fall in love with these lines and that too studded in Jagjit Singh's voice.
9. Hazaaron Khwahishen Aisi Ke Har Khwahish Pe Dum Nikle
The epic poetry of Mirza Ghalib sung by Jagjit Singh sounded like a match made in musical heaven.
Suggested Read: Here Are 10 Songs Of Jagjit Singh That Are Timeless!
No one can fill your place in our heart sir, you will always be missed.