Ever wondered where wisdom comes from? Not always from the most sacred or intellectual of spaces. The beauty of life is that some truths and poignant meanings in life stem from places one may never think much about. For example- the backside of an everyday truck one sees in different parts of India. And truth be told, there was once this heartwarming message that said- "Maavan, Thandi Chaavan!"
The literal meaning of this phrase is that a mother is like the shadow of comfort and relief. And the very fact that few things can even match this epitome of truth offers an idea about the bond between a mother and a child; one that's like no other.
Wherever we look around to seek the true power of love, only a few examples can match this matchless bond. And giving just a small example of this was Hrithik Roshan posting a picture of his adorable mother Pinki Roshan on social media.
In this simple albeit heartfelt picture, Hrithik Roshan has underlined the true essence of his undying love and above anything else, regard for his mother- Pinki. She can be seen engaging in a rather fun-filled activity where she's climbing a tree and sitting all pretty, cutting a nice frame for a cuddly Instagram picture.
That said, think beyond the cute picture of Ms. Pinki Roshan, someone Hritik Roshan describes as the fulcrum around whom his world revolves. What we find is something inspiring.
We see that at an age where a mother who's well into her sixties is seen engaging in what can often be a taxing activity for most lethargic teenagers.
The 65-year-old Pinki Roshan, who could easily restrict herself to cut a picture of opulence and razmataz knowing well the luxuries afforded to stars is engaging in a challenging physical activity. How many women can you name who, at the age of mid-sixties are climbing trees, as a measure of staying fit and active?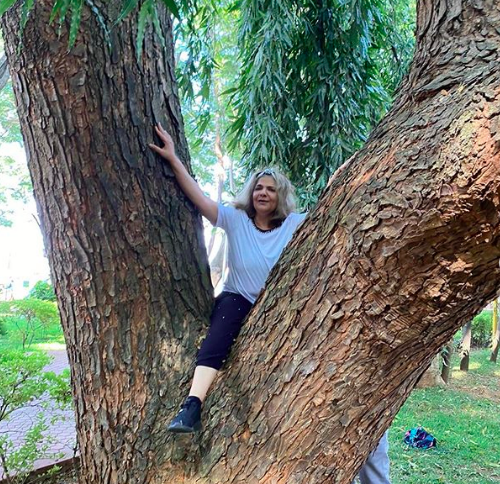 In an age where gym shenanigans and needless selfies clicked to prove a point are as common as the unfortunate Coronavirus outbreak, just how many women even think of hitting the garden if not for unveiling the most expensive cutlery amid a cherubic group of friends?
But surely, not everyone is like Hrithik Roshan's mum, right?
It's not too hard to see – as indicated in the picture- that Pink Roshan is trying her level best to do the grind; of climbing the tree, perhaps an excellent way to involve the body with some rigor.
That said, following is the response made by Hrithik Roshan to Pink Roshan's inspiring gesture:
This water machine has magnetic pull. It's a high impact full workout without loading the knee."
Reacting to her posts, Hrithik Roshan shared that his sons Hridhaan and Hrehaan are inspired by their grandmother's videos and pictures of working out "Ray and Ridz are very inspired watching you," he commented.
Now surely it may not be wrong to say that the efforts of Pinki Roshan, not that her son is a slouch when it comes to being incredibly fit and agile, may give a lot many ladies around some fitness goals. What do you think?